The Dream Team M 2018 Master Fundraiser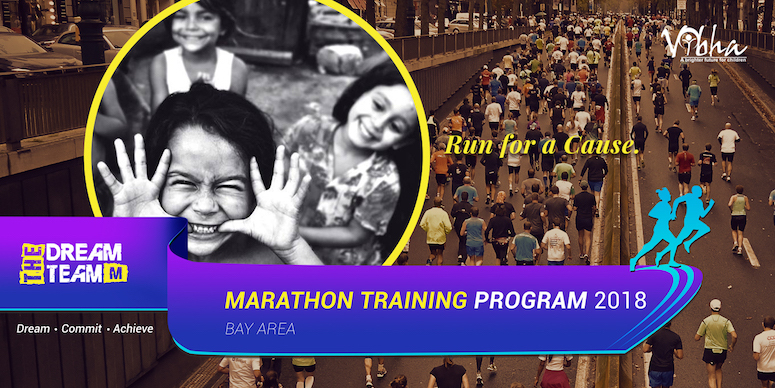 Vibha's Dream Team M 2018 is raising money for Door Steps School - a grass root level project impacting lives of underprivileged kids.
Door Step School brings education to the very doorstep of underprivileged migrant workers' children and prevent them from falling out of the formal education system by providing complete support - books, meals, and childcare.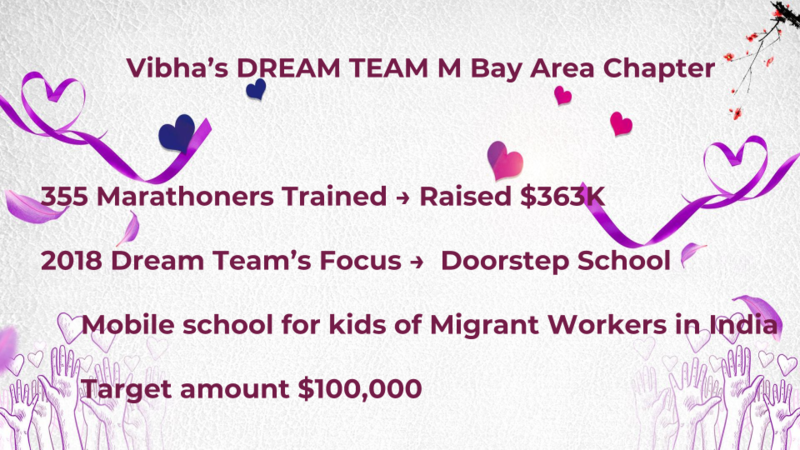 About Vibha
Vibha's vision is to ensure that every underprivileged child attains his, or her right to health, education and opportunity. Vibha educates, enables and empowers, individuals who wish to make a positive impact on the lives of underprivileged children. Since our inception in 1991, Vibha has supported more than 250 projects in India and 10 projects in the US. As a result, Vibha has been able to reach out to and provide opportunities for over 2.3 million underprivileged children. Currently, Vibha supports 30 projects in India and 7 projects in the US.
All donations to Vibha are tax deductible. Vibha is a 501(c)(3) organization, registered in the USA in the State of New Jersey. Vibha's Tax ID is 22-3122761.
Goal
Loading...
Donations
| | |
| --- | --- |
| Anonymous | $1,490 |
| Vinu Srivatsan | $750 |
| Suchitra Pari | $315 |
| Anonymous | $845 |
| Ajay Nair | $100 |
| Adithya Sagar | $200 |
| Sahil Pujari | $20 |
| Alex RN | $250 |
| Roopa Rajaretnam | $250 |
| Akshay Bhat | $20 |
| Mubarak Seyed | $20 |
| Sahil Pujari | $10 |
| bruno martin | $250 |
| bruno martin | $250 |
| Anonymous | $390 |
| Anonymous | $100 |
| Nishant Dubey | $250 |
| Anonymous | $905 |
| Anonymous | $285 |
| Naimish and Manisha Anarkat | $220 |
| Shubhangg Tripaathi | $17 |
| Manisha Anarkat | $499 |
| Naimish and Manisha Anarkat | $40 |
| Naimish and Manisha Anarkat | $750 |
| Anonymous | $100 |
| Yilmaz Oztanir | $500 |
| Apple Match | $514 |
| Archana Nanda | $400 |
| Arunima panigraghy | $50 |
| CG bam | $36 |
| rina panigarhy | $50 |
| priti pandya | $28 |
| bhavana agarwal | $20 |
| puja singh | $50 |
| rachna tripathi | $100 |
| nithya lakshmanan | $20 |
| Sheela Sreekanth | $20 |
| sarika Agrawal | $50 |
| gita Aggarwal | $50 |
| pooja chaddha | $50 |
| ekta kandelwal | $20 |
| Prabhakar Kotla | $20 |
| Anu Mantripragada | $20 |
| aruna Mantripragada | $50 |
| ritu mishra | $50 |
| Suchitra Pari | $200 |
| NISHANT DUBEY | $250 |
| Mayuri Khanna | $250 |
| saumil patel | $900 |
| Ritu Vohra | $50 |
| Prashanthi Padmanabhan | $100 |
| Anonymous | $102 |
| Mubarak Seyed | $510 |
| Aparna Chatterjee | $250 |
| Anonymous | $50 |
| Anonymous | $60 |
| Anonymous | $20 |
| Anonymous | $50 |
| Anonymous | $50 |
| Anonymous | $200 |
| Anonymous | $100 |
| Anonymous | $100 |
| Anonymous | $50 |
| Anonymous | $50 |
| Anonymous | $100 |
| Anonymous | $20 |
| Anonymous | $50 |
| MP Singh | ₹4,999 |
| Rushita Rupareliya | $95 |
| Moez Virani | $500 |
| Sanjay Mandloi | $100 |
| Sudha Rani | $100 |
| Sheeba Radhakrishnan | $25 |
| Lakhsmi Rao | $50 |
| Namrata Grover | $50 |
| Eric Wiedenfeld | $50 |
| Awartika Pandey | $645 |
| Anonymous | $50 |
| Anonymous | $400 |
| Anonymous | $200 |
| Seema Meethale | $20 |
| Assel Tul | $100 |
| Rahul Srinivasan | $50 |
| Krithika Swaminathan | $50 |
| Subha Shetty | $51 |
| Krishnan Subrahmanyam | $50 |
| Deepa Shetty | $31 |
| Rita Sharma | $50 |
| Aruna Iyer | $50 |
| Rajrupa Ghosh | $20 |
| Sujata Suresh | $50 |
| Sheetal Vartak | $35 |
| Reema Mahamood | $405 |
| Michelle Martin | $30 |
| Maria Siamwalla | $20 |
| Anonymous | $100 |
| Asif Hoda | $80 |
| Anil Chandran | $400 |
| Mubarak Seyed Ibrahim | $300 |
| Anonymous | $150 |
| Kannan Ramanathan | $25 |
| Bhupeshraj Senthilkumar | $50 |
| Aditi Sengupta | $25 |
| Ming-Hui Huang | $50 |
| Shanti Subramanyam | $500 |
| Kalpana Aron | $250 |
| Anonymous | $200 |
| Anonymous | $20 |
| Anonymous | $100 |
| Pearl Driver | $30 |
| Ruchir Singh | $50 |
| Sanjay Bharadhwaj Vijayaraghava | $20 |
| Algappan Subramanian | $25 |
| Anonymous | ₹1,000 |
| Akshay Vyas | $50 |
| Mamta Byakod | $80 |
| Mark Barrett | $50 |
| Aruna Unni | $500 |
| Kishore Kumar Anand | $20 |
| Anonymous | $500 |
| Kamal Rupareliya | $115 |
| Shobhna Sinha | $30 |
| Vijay Parwal | $300 |
| Apple Inc | $100 |
| Majula Gupta | $50 |
| Rajesh Parasuraman | $35 |
| Anonymous | $40 |
| Anonymous | $525 |
| Anonymous | $25 |
| Archana Sadwelkar | $20 |
| Puja Angal | $50 |
| Bikrant & Debesh Das Sharma | $50 |
| Nafeeza Satta | $275 |
| Jayasree Nayar | $20 |
| Dipasusita Chundur | $500 |
| Sandeep Sunia | $11 |
| Roo Lewis | $600 |
| Sreedhar Narayanaswamy | $100 |
| Anonymous | $600 |
| Anonymous | $300 |
| Yarah Beddawi | $50 |
| Manish Baliga | $20 |
| Manali Davis | $50 |
| Saumil Patel | $1,050 |
| Saumil Patel | $400 |
| Saumil Patel | $150 |
| Saumil Patel | $200 |
| Prashanta K Jha | $50 |
| Prashanta K Jha | $50 |
| Mahalakshmi Vedula | $999 |
| Abishek Ramasubramanian | $240 |
| Oracle Corporation | $40 |
| Monica Kumar | $40 |
| Archana Sadwelkar | $20 |
| Shashi Hunagund | $35 |
| Parul Dhingra | $50 |
| Parul Dhingra | $50 |
| Sandhya Shetty | $750 |
| Anonymous | $94 |
| Sandeep Mohanty | $50 |
| Shilpa Narawade | $50 |
| Hardev Singh | $50 |
| Kathy Lam | $50 |
| Milind Patil | $10 |
| James Dumay | $23 |
| Anonymous | $1,000 |
| Urmila Bhide | $50 |
| Swaphna Srihari | $15 |
| Balagopalan Ramakrishnan | $100 |
| Yamini Narayanan | $50 |
| Anonymous | $50 |
| Swaphna Srihari | $15 |
| Balaji Srinivasan | $40 |
| John Franklin | $50 |
| Devayani Patil | $50 |
| Shivu Vibhuti | $50 |
| Mahadev Karadigudda | $50 |
| Ashwini Sabnis | $10 |
| Rupal Vithlani | $100 |
| Rajesh Parasuraman | $35 |
| Rashmi Singh | $20 |
| Anonymous | $20 |
| Anonymous | $51 |
| Chaitanya Khairnar | $200 |
| Eric Wiedenfeld | $25 |
| Helen Sebhatu | $10 |
| Sandeep Sunia | $26 |
| Joy Basu | ₹5,000 |
| Bharti Sharma | $10 |
| Enza Sebastini | $50 |
| Ankit Shah | $50 |
| Anonymous | $50 |
| Anonymous | $100 |
| Shobhalatha Pattanashetty | $10 |
| Elena Suzuki | $25 |
| sameer mehta | $200 |
| Pragya Jain | $50 |
| Natasha Singh | $450 |
| Anonymous | $50 |
| Gayatri Chugh | $20 |
| Rajul Avalani | $300 |
| Rajul Avalani | $445 |
| Pratibha Amath | $25 |
| Puja Singh | $25 |
| Arun Tsf Patel | $20 |
| Samson Koletkar | $20 |
| Anonymous | $50 |
| Anonymous | $520 |
| Mubarak Seyed | $20 |
| Mubarak Seyed | $600 |
| Anil Chandran | $200 |
| Anil Chandran | $100 |
| Anonymous | $900 |
| Neel Viswanathan | $50 |
| Swaphna Srihari | $10 |
| Anonymous | $975 |
| Pallavi Angampally | $684 |
| Sachin Agarwal | $600 |
| Nishesh Jambudi | $200 |
| Shipra Sharma | $122 |
| Namrata Singhal | $50 |
| Vani Kulkarni | $10 |
| Anonymous | $30 |
| Atindriyo Sanyal | $257 |
| Sally Wignall | $50 |
| Shilpi Sharma | $10 |
| Anonymous | $260 |
| Sunil Ravipati | $25 |
| Deepak Raja Muniappan | $25 |
| Rupa Murdeshwar | $20 |
| Swati Kamath | $30 |
| Wali Popal | $500 |
| Consuelo Hernandez | $20 |
| Vaidyanathan Sridhar | $50 |
| Carrie McDowell | $20 |
| Eloiza Murillo-Garcia | $40 |
| Anonymous | $100 |
| Sunil Kulkarni | $200 |
| Deepti Kannan | $50 |
| Jagannath Surpure | $100 |
| RAMKUMAR RAMALINGAM | $50 |
| Chingchun Chien | $25 |
| Anonymous | $50 |
| Ruchika Aggarwal | $50 |
| Geetika Tewari | $25 |
| Pallabi Bordoloi | $40 |
| Indraja Vemana | $100 |
| Bharath Kaimal | $100 |
| Barkha Agrawal Harpale | $20 |
| Tharun Kuppireddy | $200 |
| Anuradha Chandramouli | $100 |
| Sachin Agarwal | $300 |
| Apple Inc Corporate via Anil C | $200 |
| Elsa Chang | $5 |
| Jan Tutaj | $25 |
| Toni Scripps | $20 |
| Shantanu Sharma | $100 |
| Shyam Emani | $500 |
| Anonymous | $20 |
| Gaurangi Chinmulgund | $20 |
| Subrahmanya Pattoor | $50 |
| Stephanie Sassoon | $50 |
| Sandy Yogendran | $40 |
| Michelle Strand | $20 |
| Andrea Rosenfeld | $55 |
| Rosaline Wong | $20 |
| Susie & Fred Sedlacek | $200 |
| Roshni Easley | $20 |
| Emma Rawnsley | $50 |
| Solarzar Dellaporta | $50 |
| Shantanu Sharma | $100 |
| Bhaskar Sreedharan | $25 |
| Sunil Boddapati | $200 |
| Alpana Chatterji | $250 |
| Sunil Boddapati | $200 |
| Bhavana Bajaj | $525 |
| Monali Jain | $100 |
| Jayne Emnert | $5 |
| Anonymous | $1,000 |
| Anonymous | $80 |
| Shobana Ramamurthi | $25 |
| Jai Rawat | $20 |
| Keerthy Mahesh | $25 |
| Anonymous | $50 |
| Mayuresh Karanjkar | $121 |
| vin Agarwal | $50 |
| Anonymous | $450 |
| Sujit Bob Chakravorti | $100 |
| Ena Sarkar | $50 |
| Ketan Shah | $20 |
| Ashish Mahadwar | $50 |
| Rajesh Agarwal | $20 |
| Anoop Ahuja Judge | $50 |
| Aihui Ong | $20 |
| Gopal Ashok | $100 |
| Neha Desai | $50 |
| Himanshu Bhatnagar | $100 |
| Anonymous | $375 |
| Anonymous | $100 |
| Biju Basil | $50 |
| Manimaran Sundaresan | ₹2,000 |
| Ming-Hui Huang | $1,080 |
| maggie jin | $100 |
| Ashwini Awatiger | $20 |
| Subbiah Vignesh Subbiah Muthusamy | $25 |
| Krishnanand Srinivasan | $100 |
| Sesha Munukutla | $50 |
| Kiran Sontakke | $42 |
| Poonamq Gaur | $42 |
| Krishna Anantha Padmanabhan | $20 |
| Shyam Emani | $500 |
| Linda Amos | $50 |
| Muralikrishna Marimganti | $50 |
| Pavithra Rajkumar | $50 |
| Naina JINDAL | ₹2,100 |
| Mariko Ujam | $5 |
| Ana Morjig | $40 |
| Charlene Whelan | $30 |
| Doris Valadeo | $24 |
| Anonymous | ₹3,000 |
| DEEPAK SHARMA | $100 |
| Anonymous | $100 |
| Akshaya Mahapatra | $35 |
| Anonymous | $200 |
| Natasha Perez | $50 |
| Mahantesh Surpur | $50 |
| Girish Surpur | $50 |
| Vishal Malakar | $20 |
| Kamla Subramanium | $200 |
| Yarah Beddawi | $50 |
| Jaisheela Rati | $15 |
| Pradnya Gadkari | $14 |
| Jayalaxmi Rampur | $50 |
| Pratap Whig | $100 |
| Madhavi Jain | $50 |
| traci pickering | $50 |
| Joanna Bennet | $20 |
| himika Shergill | $50 |
| raj raheja | $30 |
| Aarti awasthi | $20 |
| Pam Suekawa-Reynolds | $20 |
| Chrissy Brooks-Knipp | $20 |
| Sachin Saranathan | $50 |
| Shubhra Sinha | $50 |
| Neeta Mhatre | $250 |
| Aditi Kapur Goel | $50 |
| Nazneen Jagtiani | $20 |
| Samir Gehani | $100 |
| Aparna Whig | $20 |
| Anonymous | $101 |
| Maheshwari Hatte | $20 |
| Shivani Amar | $50 |
| Sushama Kunnathil | $100 |
| Anonymous | $1,500 |
| Preethi Sama | $600 |
| Gopal Ashok | $100 |
| Mahantesh Surpur | $20 |
| Sachin Agarwal | $200 |
| Sachin Agarwal | $100 |
| Ashish Agrawal | $50 |
| Tushar Singla | $5 |
| Anonymous | $20 |
| Jaya Kopalle | $50 |
| Cipi Jain | $100 |
| Anonymous | $60 |
| Anonymous | $1,998 |
| Anonymous | $100 |
| Chetan Surve | $100 |
| Ted Cruz | $20 |
| Snehashis Choudhury | $30 |
| Shruthi Padala | $20 |
| Mai Thao | $250 |
| Sneha Shah | $20 |
| Smita Dhingra | $50 |
| Leena Shelke | $10 |
| Namita Singh | $100 |
| Sharad Gupta | $50 |
| Prajakta Joshi | $20 |
| Meenu Seth | $20 |
| Shilpi Agarwal | $50 |
| Sapna Rao | $50 |
| Bob Berger | $20 |
| Atul Gupta | $20 |
| Rama Gupta | $50 |
| Chanchal` Sahai | $50 |
| MAdhoo Budhavarapu | $20 |
| Navneet Srinivasan | $50 |
| Sirisha Yerroju | $20 |
| Sumit Wattal | $20 |
| Mubarak Seyed | $20 |
| Nitin Nahata | $50 |
| Preeti Rana | $20 |
| Uday Suri | $50 |
| Sachi Singh | $50 |
| Shipra Sharma | $101 |
| Shipra Sharma | $21 |
| Marla Reiner | $40 |
| Bridget Hough | $50 |
| Chana Genya Bam | $35 |
| Blanche and Paul Whelan | $50 |
| Dave Whelan | $100 |
| Kelly Whelan | $25 |
| Alexandra Lee | $20 |
| Manoj Rana | $50 |
| Yi Ding | $50 |
| Manoj Kotibhaskar | $50 |
| Bharat Patel | $100 |
| Emily Silberstein | $400 |
| Ace Vu | $100 |
| Ajay Gupta | $100 |
| Anonymous | $450 |
| Lakshmi Jayaraman | $20 |
| Lovita Sharma | $20 |
| Kamala Subramanian | $200 |
| Kamala Subramanian | $200 |
| Ashesh Shah | $200 |
| Neetu Mehta | $30 |
| Monika Aluwalia | $80 |
| Jay Singh | $20 |
| Lakshmi Jayaramn | $20 |
| Nidhi Sharma | $50 |
| Chetan Patwardhan | $50 |
| Arati Chavan | $50 |
| Anonymous | $20 |
| Anonymous | $25 |
| Parthiban Thilagar | $250 |
| Mrinalini Vittal | $950 |
| Mrinalini Vittal | $900 |
| Yogesh Sontakke | $130 |
| Shruti Kulkarni | $21 |
| Anonymous | $20 |
| Prashanthi Padmanabhan | $100 |
| Mini Vatsala | $50 |
| Parthiban Thilagar | $250 |
| Manisha P Murjani | $100 |
| Himanshu Agarwal | $50 |
| Waseem Shaikh | $20 |
| Anjana Sinha Rekhi | $20 |
| Prashanth Subrahmanyam | $100 |
| Aditi Sinha | $100 |
| Archana Nanda | $30 |
| Alka Phulwani | $50 |
| Abhinandan Das | $75 |
| Abhinandan Das | $75 |
| Sheetal Vartal | $35 |
| Alka Phulwani | $50 |
| Shweta Jain | $50 |
| Aruna Iyer | $50 |
| Karthik Vasudevan | $100 |
| Anoop Kundra | $100 |
| Pooja Srinivasan | $100 |
| Anne Leilani Palmer Peterson | $20 |
| Karen Neyman | $50 |
| Ekta Khandelwal | $20 |
| Sara Roumani | $20 |
| Leslie Whelan | $100 |
| Vijay Parwal | $600 |
| Aruna Sontakke | $15 |
| Niraj Sontakke | $15 |
| Rakesh Monga | $27 |
| Sam Semwal | $27 |
| Phil Golz | $28 |
| Parthivi Patel | $35 |
| Kajal Hirlekar | $50 |
| Ibrahim Rashdan | $100 |
| Neel Viswanathan | $50 |
| Eric Santos | $50 |
| Indu Iyer | $100 |
| Nimali Withana | $25 |
| Jitin Joshi | $50 |
| Nimali Withana | $25 |
| Monika Bhandare | $50 |
| Vijay Sundaram | $50 |
| Anastacio Flores | $50 |
| Sunita Merchia | $50 |
| Smitha Rao | $25 |
| Aditi Kapur Goel | $50 |
| Kim Eaglin | $50 |
| Chiradeep Vittal | $100 |
| Neeta Mhatre | $250 |
| Subhash Rajagopal | $10 |
| Joyson Lewis | $100 |
| Sandhiya Ramanathan | $50 |
| Anonymous | $50 |
| Anonymous | $50 |
| Bidisha Silveira | $100 |
| Yogesh SONTAKKE | $70 |
| Minu Josi | $20 |
| Yogesh Sontakke | $100 |
| Arun Patel | $20 |
| Anurag Vijay | $21 |
| Rakesh Jaiswal | $14 |
| Shafi Mani | $27 |
| Bidisha Silveira | $100 |
| Kunal Bhatia | $100 |
| Raj Sambivasan | $50 |
| Anish Tulsian | $20 |
| Swaphna Srihari | $25 |
| Deepak Balasubramaniam | $500.04 |
| Bhaskar Sreedharan | $25 |
| Vaishalee Kotecha | $20 |
| James Lucas | $20 |
| Pratap Whig | $100 |
| Anonymous | $80 |
| Kim Eaglin | $50 |
| Marie Rivera | $100 |
| Ganga Nair | $20 |
| Elizabeth Schweinsberg | $20 |
| Mayuresh Kadu | $21 |
| Mayuresh Kadu | $21 |
| Aamod Pradhan | $23 |
| Trang Ho | $50 |
| Anonymous | $100 |
| Priyadarshini Narendra | ₹5,000 |
| Aditya Mayya | $200 |
| Indumathi Shankar | $25 |
| Anonymous | $50 |
| Vijay Parwal | $300 |
| Avijit Moitra | $50 |
| Vidya Maniyath | $50 |
| Anonymous | $60 |
| Anonymous | $100 |
| Hanisha Koneru | $200 |
| Divya Jayaramdas | ₹500 |
| Ritu Mishra | $50 |
| Cathy Herman | $20 |
| Surbhi Vaidya | $20 |
| Vijay Meduri | $50 |
| Vrinda Padma | $50 |
| Suresh Doki | $50 |
| Neha Desai | $25 |
| Vijay Meduri | $50 |
| Krithika Swaminathan | $50 |
| Radhika Venkat | $20 |
| Minoti Merchant | $100 |
| Anonymous | $100 |
| Anitha Menon | $50 |
| Karen Jackson | $50 |
| Biju Srinivasan | $50 |
| Biju Srinivasan | $50 |
| Edgar Almeida | $50 |
| Marie-Christine Balabanian | $200 |
| Anonymous | $800 |
| VIPin Maheshwary | $50 |
| Sudarshan jadhav | $50 |
| Prachi Parashar | $20 |
| Jay Sivarajah | $25 |
| Ruchi Dholakia | $700 |
| Millie Roy | $50 |
| Rai Sanyal | $20 |
| Parul Govil | $1,000 |
| Anonymous | $20 |
| Ema Patki | $35 |
| Kinshuk Govil | $250 |
| Monica Goyal | $35 |
| Ruchi Dholakia | $350 |
| Krupa Karvat | $100 |
| Tulsi Kapadia | $21 |
| Dmitry Vaskovskyi | $7 |
| Rupali Surti | $50 |
| Anonymous | $25 |
| Anonymous | $50 |
| Soumya Sanyal | $20 |
| Mubarak Seyed | $20 |
| Vidya Bharathi R | $50 |
| Hiren Kotadia | $600 |
| Tanu Khanna | $50 |
| Anna Modlin | $101 |
| Becky Conner | $40 |
| Kathleen Raiff | $50 |
| Lynne Whelan | $100 |
| Mari Matsumura | $10 |
| Michelle Pearl | $25 |
| Ed Barker | $50 |
| Reena Sasikumar | $20 |
| Sarah Gauvin | $70 |
| Dmitry Grishin | $256 |
| Anonymous | $400 |
| Anand Rao | $50 |
| Manohar Vittal | $50 |
| Manjula Banda | $50 |
| Raghavan Embar | $1,500 |
| Mohamed Saleem | $100 |
| Pallavi Angampally | $684 |
| Mila Lopez | $55 |
| Aditya Mayya | $100 |
| Dheeraj Malik | $50 |
| Prasanth Saraswatula | $50 |
| Chiradeep Vittal | $100 |
| Madhu Adhvaryu | $10 |
| Anonymous | $50 |
| Ed Barker | $50 |
| Alan Ku | $20 |
| Chaitanya Pothineni | $20 |
| Anonymous | $50 |
| Anonymous | $50 |
| Anonymous | $50 |
| Hitesh Shah | $50 |
| Kavi Randaria | $151 |
| Vinod Baya | $250 |
| Niral Patel | $50 |
| Sanjay Sahgal | $50 |
| Samvit Raina | $100 |
| Rachna Gandhi | $5 |
| Manveen Kalyanpur | $1,000 |
| Hanisha Koneru | $250 |
| FNU Venkatesh Gopinath | $999 |
| Sinead Borgersen | $50 |
| Mrinalini Vittal | $50 |
| Vijitha Mohan | $50 |
| Ishma Ahluwalia | $20 |
| Roopa Kesharwani | $15 |
| Pallavi Bhowmick | $50 |
| Iniavel Kumaravelu | $100 |
| Ananth Narayanan | $50 |
| Nidhi Duggal | $10 |
| Varun Rajagopalan | $100 |
| Test Donation | $3.14 |
| Chenchu Chilamakuri | $50 |
| Pradnya Goil | $50 |
| Vandana Sukhija | $25 |
| Minu Joshi | $20 |
| Yogesh Sontakke | $100 |
| Anonymous | $200 |
| Harsh Bhola | ₹1,000 |
| Gaurav Duggal | ₹5,000 |
| Anonymous | ₹1,000 |
| Janani Vaidhy | $10 |
| Sapna Patel | $20 |
| Pratibha Shettigar | $20 |
| Anonymous | $100 |
| Maithili Bobde | $50 |
| Sarang Beley | $50 |
| Hiren Kotadia | $300 |
| Annika Fain | $40 |
| Reema Mahamood | $100 |
| Anonymous | $20 |
| Shabnam Richardson | $25 |
| Julia Christy | $25 |
| Anonymous | $100 |
| Himanshu Agrawal | $50 |
| Anonymous | $50 |
| Madan Ahluwalia | $50 |
| Vani Allamsetti | $100 |
| Devasana Reddy | $50 |
| Anandam Ganapathy | $100 |
| Anonymous | $20 |
| Preethika Rajagopal | $50 |
| Madhumati Vellamuri | $50 |
| Anonymous | $150 |
| Mubarak Seyed | $350 |
| Mubarak Seyed | $175 |
| Vani Allamsetti | $100 |
| Deven Raut | $10 |
Fundraisers for The Dream Team M 2018 Master Fundraiser