Nidhi Duggal's Fundraiser For The Dream Team M
Want to join me in supporting a good cause? For the first time in my life I will participate in a Half Marathon , raise funds and help Vibha fund many projects.
I'm raising money for Vibha and your contribution will make an impact, whether you donate $5 or $500. No amount is too small. Any and all donations will be appreciated. If your company has a matching program, your donation is doubled!!
40 Million children In India lack education, healthcare, and opportunities that we take for granted. Since 1991, Vibha has touched and improved the lives of 300,000+ children. Educate, empower and enable every individual who wishes to make a positive difference in the life of the underprivileged child.
Together we can create a brighter future for these kids. Please visit http://www.vibha.org/ to learn about the organization and its services.
"The best way to find yourself is ,in the service of others" - Mohandas Gandhi.
Thank you for your support. I've included information about Vibha below.
Founded in 1991, today Vibha has a volunteer network of 2200 volunteers spread across 18 Action Centers across the US and India. Till date, we have supported about 250 projects in India and the US. Read more about our current projects at http://www.vibha.org/projects.
Vibha is a 501 (c) (3) organization, registered as Help Them Grow, Inc., in the State of New Jersey. Vibha's Tax id is 22-3122761. Vibha Tube: http://www.youtube.com/helpthe... Vibha Blog: http://vibhablog.wordpress.com...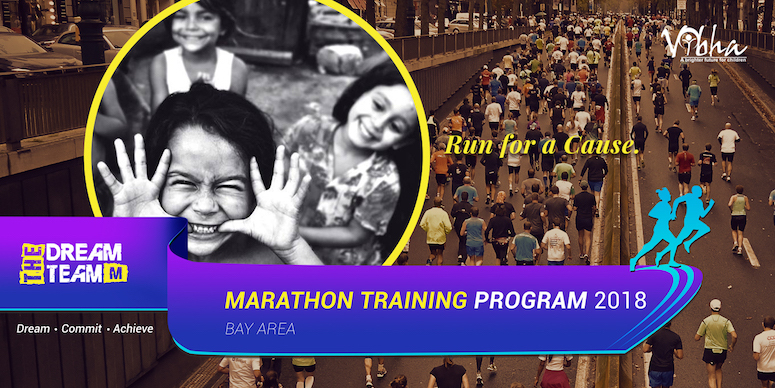 Vibha's Dream Team M 2018 is raising money for Door Steps School - a grass root level project impacting lives of underprivileged kids.
Door Step School brings education to the very doorstep of underprivileged migrant workers' children and prevent them from falling out of the formal education system by providing complete support - books, meals, and childcare.
About Vibha
Vibha's vision is to ensure that every underprivileged child attains his, or her right to health, education and opportunity. Vibha educates, enables and empowers, individuals who wish to make a positive impact on the lives of underprivileged children. Since our inception in 1991, Vibha has supported more than 250 projects in India and 10 projects in the US. As a result, Vibha has been able to reach out to and provide opportunities for over 2.3 million underprivileged children. Currently, Vibha supports 30 projects in India and 7 projects in the US.
All donations to Vibha are tax deductible. Vibha is a 501(c)(3) organization, registered in the USA in the State of New Jersey. Vibha's Tax ID is 22-3122761.
Goal
Loading...
Donations
| | |
| --- | --- |
| Nishesh Jambudi | $200 |
| Shipra Sharma | $122 |
| Shipra Sharma | $101 |
| Shipra Sharma | $21 |
| Reena Sasikumar | $20 |
| Dheeraj Malik | $50 |
| Vijitha Mohan | $50 |
| Ishma Ahluwalia | $20 |
| Roopa Kesharwani | $15 |
| Anonymous | $200 |
| Harsh Bhola | ₹1,000 |
| Gaurav Duggal | ₹5,000 |
| Anonymous | ₹1,000 |
| Janani Vaidhy | $10 |
| Sapna Patel | $20 |
| Pratibha Shettigar | $20 |