Ming Hui Huang's Fundraiser For The Dream Team M

Please join me in supporting a great cause! I'm running my first ever marathon while raising money for Vibha which helps to educate and enable underprivileged children in India. I feel strongly for every child that will not have a safe and nurturing environment to learn and grow. This is our chance to help in changing and enriching the lives of at least a few of them. I hope you will join me on this journey of giving back to the community and support me as I pursue my personal wellness goal as well. Please contribute what you can - your contribution will make an impact, whether you donate $5 or $50. Every little bit helps. My personal pledge is to match every contribution I get from a friend, dollar for dollar, till I hit $1000. Thank you for your support.
Vibha's Dream Team M 2018 is raising money for Door Steps School - a grass root level project impacting lives of underprivileged kids.
Door Step School brings education to the very doorstep of underprivileged migrant workers' children and prevent them from falling out of the formal education system by providing complete support - books, meals, and childcare.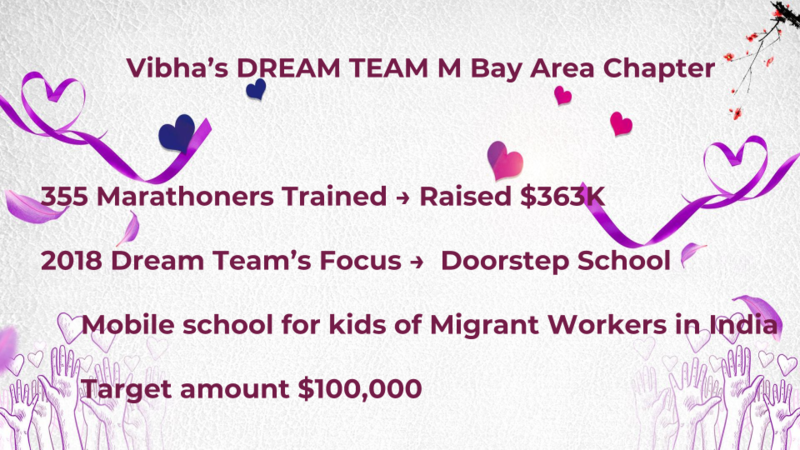 About Vibha
Vibha's vision is to ensure that every underprivileged child attains his, or her right to health, education and opportunity. Vibha educates, enables and empowers, individuals who wish to make a positive impact on the lives of underprivileged children. Since our inception in 1991, Vibha has supported more than 250 projects in India and 10 projects in the US. As a result, Vibha has been able to reach out to and provide opportunities for over 2.3 million underprivileged children. Currently, Vibha supports 30 projects in India and 7 projects in the US.
All donations to Vibha are tax deductible. Vibha is a 501(c)(3) organization, registered in the USA in the State of New Jersey. Vibha's Tax ID is 22-3122761.
Goal
Loading...
Donations
| | |
| --- | --- |
| Lakhsmi Rao | $50 |
| Ming-Hui Huang | $50 |
| Ming-Hui Huang | $1,080 |