Vibha India: Financial Year End Campaign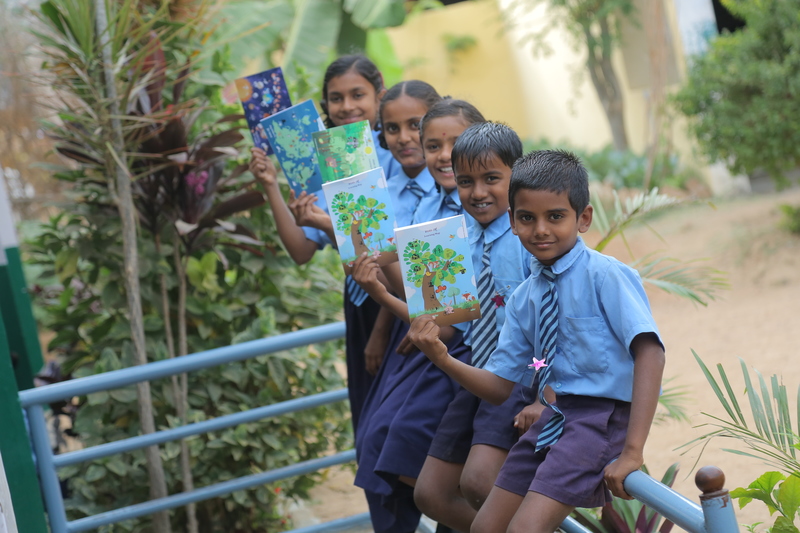 At Vibha, we believe that every child deserves an equal opportunity, and we strive to ensure that we do exactly that. One child at a time.
Save the Children reports that there are 33 million children between ages 5-18 who are working and almost one third of the school going age (under 15) form this group of child labours. On the global front this makes India the home to one of the highest concentrations of child workers! And this goes against our beliefs and led us to start Vibha. Our vision, therefore, is to ensure that every underprivileged child attains his or her right to education, health and opportunity.
Our mission is to educate, empower and enable every individual who wishes to make a positive difference in the life of the underprivileged child. Vibha brings together the combined skills and actions of volunteers, donors, social entrepreneurs and NGOs to a common platform to find sustainable solutions to the problems faced by these underprivileged children.
And, YOU can help with this! Are you ready to make 2018 the most fulfilling one for yourself? Remember, you gain more by giving! Through Vibha India's first ever Financial Year End Drive, we invite you to join us in raising funds towards our projects and to contribute in the growth of the children in our country. Our collective target towards this drive is an ambitious INR 40,00,000 (40 Lakhs), to be raised by March 31, 2018. Our journey is a long one but not unachievable because we know YOU are by our side! With your tax-deductible donation, YOU CAN MAKE IT POSSIBLE!
About Vibha
Vibha's vision is to ensure that every underprivileged child attains his, or her right to health, education and opportunity. Vibha educates, enables and empowers, individuals who wish to make a positive impact on the lives of underprivileged children. Since our inception in 1991, Vibha has supported more than 250 projects in India and 10 projects in the US. As a result, Vibha has been able to reach out to and provide opportunities for over 2.3 million underprivileged children. Currently, Vibha supports 30 projects in India and 7 projects in the US.
All donations to Vibha are tax deductible. Vibha is a charitable trust registered under section 80G of the Income Tax Act of India.
Goal
Loading...
Donations
| | |
| --- | --- |
| Chitra Gurjar | ₹5,000 |
| Shahrukh Shaikh | ₹1,000 |
| Subodh Deolekar | ₹1,000 |
| Abusaad Lazi | ₹800 |
| Vallari Sheel | ₹1,000 |
| Navya Tathawadekar | ₹4,999 |
| ASHISH MHADESHWAR | $150 |
| Lakshmi Prasannakumar | ₹2,000 |
| Donna Villareal | $35 |
| Jayanth Mysore | $50 |
| Aditya Bedekar | $20 |
| Nilesh NT | ₹4,999 |
| Yashas Jayasimha | ₹501 |
| Priya Srinivasan | $50 |
| Preeti Parthasarathy | $16 |
| Nayan Mehta | ₹3,000 |
| Ashutosh Jerath | $100 |
| Ajay Shrivastava | ₹5,000 |
| Ambarish Guota | ₹4,999 |
| Anonymous | ₹2,500 |
| Sandeep Upadhyay | ₹1,000 |
| Anonymous | $250 |
| Pallavi Kiran | ₹1,000 |
| SATISH KUMAR SAMPATH | $100 |
| Sudhir Chandra | ₹2,000 |
| Anonymous | ₹1,000 |
| Anonymous | $50 |
| Sudhakara Rao Patibandla | ₹2,000 |
| Kaushalendra Yadav | ₹5,000 |
| Umesh Jalan | $100 |
| Ashwini Kumar | $100 |
| Ashwini Kumar | $100 |
| Vedevyasa NAYAK | ₹3,000 |
| Preeti Gupta | ₹5,000 |
| Anonymous | ₹2,000 |
| Vidya Wadekar | ₹1,000 |
| Manasee Javadekar | ₹1,000 |
| Kanchana Narayanan | $100 |
| Anonymous | $15 |
| Pradnya Karbhari | ₹100,000 |
| Milly Parekh | $150 |
| Nishant Gupta | $20 |
| Anika Rudy | ₹3,000 |
| Ashwin Rudy | ₹3,000 |
| Vivienne Vidyasagar | ₹10,000 |
| Ember Lights | ₹10,000 |
| Vijay Tadepalli | ₹4,000 |
| Anonymous | $40 |
| Sridevi Upadhyayula | ₹5,000 |
| Moushami Dighe | $50 |
| Vanya Ananya Yakthumba | ₹4,999 |
| Arthi Venkatapathy | $25 |
| Sindhu Nair | $30 |
| Himabindu Gajula | ₹200 |
| Venkateswara Peri | ₹5,000 |
| prabhakar Nukala | ₹10,000 |
| Srinivas Ganti | ₹5,000 |
| Subhash Ranadive | ₹5,000 |
| Santosh Nandagiri | $100 |
| Labdhi Vora | ₹500 |
| Twinkal Shah | ₹500 |
| Kaustub Dasgupta | ₹4,999 |
| Tejasavi Gupta | ₹1,000 |
| Anonymous | ₹25,000 |
| Alpana Dighe | ₹1,000 |
| Maya Evelyn Rai | ₹3,000 |
| Joy Dasgupta | ₹4,999 |
| CYNTHIA GIFTSON | ₹4,999 |
| SAKUNTALA AZARIAH | ₹4,999 |
| ARUNA AZARIAH | ₹10,000 |
| Sam Gathia | ₹2,000 |
| Anonymous | $50 |
| Anoop Saha | $50 |
| Neela and Prakash Donde | $100 |
| Jayashri Rane | $25 |
| Jayashri Rane | $25 |
| Tejaswini Remella | $50 |
| Anonymous | $50 |
| Venugopal Raikal | ₹20,000 |
| Meenakshi Naren | ₹5,000 |
| Sasi Challa Tadepalli | ₹10,000 |
| Venkateswarlu Ganti | ₹15,000 |
| Prasanth Nandigala | ₹50,000 |
| Anshuman Vatsyayayan | ₹5,000 |
| Anonymous | $25 |
| Rani Upadhya | $100 |
| Anonymous | $1,551 |
| devineni venkata Ramanarao | ₹5,000 |
| Anonymous | ₹28,000 |
| Durga Maya Rai | ₹25,000 |
| Ramesh Singh | ₹10,000.11 |
| Anonymous | ₹4,900 |
| Loren Nyflot | $75 |
| Sri Jandhyala | $100 |
| rajesh desai | ₹5,000 |
| Anonymous | $50 |
| Anonymous | $50 |
| Goda Badarinarayan | ₹1,000 |
| Anonymous | $16 |
| JV Nagabhushana Rao | ₹10,000 |
| Anonymous | ₹15,000 |
| Shiv Pratap Raghuwanshi | ₹15,000 |
| Anonymous | $150 |
| Raghvendra Kushwah | ₹12,000 |
| Anonymous | $20 |
| Nitin Gupta | ₹1,000 |
| Srinivasarao Vanukuru | ₹2,000 |
| Anonymous | $25 |
| Hitesh Gajaria | ₹50,000 |
| Prasanna Mainkar | $100 |
| PRATAP RANA | ₹4,500 |
| Julio Lobo | $500 |
| PRATAP RANA | ₹500 |
| Anonymous | ₹4,999 |
| Anonymous | ₹2,000 |
| Anonymous | ₹2,000 |
| Sheetal Venkatesh | $250 |
| Sheetal Yelimeli | $250 |
| Avnindra Shah | ₹14,000 |
| Sonali Shah | ₹12,000 |
| Anonymous | ₹1,001 |
| Abhishek Anand | $100 |
| SRINIVAS MEDASANI | ₹4,500 |
| Sambasivan Swaminathan | $100 |
| Suneel Sawant | $200 |
| Jaitegan Singh | ₹100 |
| Girish Kamat | ₹25,000 |
| Reshma D'souza | ₹1,000 |
| Anonymous | $50 |
| Janice Barrett | ₹4,999 |
| Aspi Siganporia | $101 |
| Aspi Siganporia | $101 |
| Abraham Matthews | $500 |
| Abraham Matthews | $500 |
| Anonymous | $400 |
| Vijay Vemulapalli | $400 |
| Nikhil Madan | $75 |
| Anonymous | $250 |
| Anonymous | $250 |
| Anonymous | $50 |
| Shail Stephens | ₹1,000 |
| Anonymous | ₹1,000 |
| Anonymous | $150 |
| Anonymous | $150 |
| Sreeram Ramachandran | $1,000 |
| Anonymous | $201 |
| Anonymous | ₹5,000 |
| Anonymous | $15 |
| Nikhil Davda | ₹1,200 |
| Anonymous | $100 |
| Sejal Vijayakar | $500 |
| Abhishek Dasgupta | ₹3,000 |
| Anonymous | ₹20,000 |
| Rashmi Dewan | ₹4,000 |
| Sudhir Mehta | ₹25,000 |
| Ravinder Reddy | ₹100,000 |
| Himanshu Kehar | $100 |
| Megha Mohabey | $50 |
| Anonymous | $1,000 |
| Anonymous | ₹1,000 |
| Anonymous | $300 |
| Rinkoo Gupta | ₹1,000 |
| Anonymous | ₹5,000 |
| Saurabh Goyal | ₹10,000 |
| Saurabh Goyal | ₹10,000 |
| Himali Manjrekar | ₹2,000 |
| Archana Navelkar | ₹2,000 |
| Tanvi Taneja | ₹1,000 |
| Sujit Sudhanan | ₹10,000 |
| Yeshwant Kamat | $100 |
| Anonymous | $50 |
| Anonymous | ₹10,000 |
| Anonymous | ₹10,000 |
| Paullomi Thomas | ₹5,000 |
| Shivani Chandok | ₹3,000 |
| Neha Tiwari | ₹1,000 |
| Prachi Worlikar | ₹4,999 |
| Kishori Visaria | ₹36,000 |
| Pooja Dasturi | ₹36,000 |
| B S Praveen | ₹5,000 |
| Vaishali Prabhu | $50 |
| Anonymous | ₹1,200 |
| Abhijit Supekar | $16 |
| Rashmi Jha | ₹3,000 |
| Ankit Saxena | ₹1,000 |
| Tulika Patil | ₹2,000 |
| Niket Sourabh | $100 |
| Anonymous | ₹1,000 |
| Yogendra Saxena | ₹5,000 |
| Anonymous | $75 |
| Paresh Puhan | $400 |
| Praveen B R | ₹3,000 |
| Gaganjot Sidhu | $50 |
| Anonymous | $10 |
| Smita Bakshi | $100 |
| Rohini Rajeev | ₹10,000 |
| Farida Alibhoy | ₹10,000 |
| Ramakrishna Ankmareddi | ₹20,000 |
| Praveen Kumar Marikuppam | $50 |
| Anonymous | ₹1,000 |
| Ratna Babu Vemulapalli | ₹5,000 |
| Concepcion Debusmann | $75 |
| Anonymous | ₹1,000 |
| Shweta Gupta | ₹10,000 |
| Subash Chandar Govindarajan | ₹10,000 |
| Virendra Dhungel | $100 |
| Dheeraj Sanghi | ₹4,000 |
| Megha Mohabey | $50 |
| Rohan Saxena | ₹1,000 |
| Ravi Purohit | ₹2,500 |
| Anonymous | ₹4,000 |
| Nazia Masood | ₹2,500 |
| Mayank Kumar | ₹1,000 |
| jayanti dedhia | ₹11,000 |
| Kirant Rai | ₹1,008 |
| Yogendra Saxena | ₹5,000 |
| Anonymous | ₹40,000 |
| Poornima Govindrao | ₹5,000 |
| Nilesh Naseet | ₹10,001 |
| Anonymous | $100 |
| Sejal Vijayakar | $500 |
| Sneha Yelimeli | $100 |
| Jitesh Jain | $100 |
| chandar gurumurthy | ₹6,000 |
| Khushnum Rabadi | ₹3,000 |
| Aishwarya Chhetri | ₹1,000 |
| Ananya & Aditya Kannan | $25 |
| Anne Talbot | $25 |
| Anonymous | ₹10,000 |
| Anagha Karbhari | ₹20,000 |
| Ajit Karbhari | ₹10,000 |
| Anonymous | ₹1,000 |
| jerrick Ebiston | ₹4,999 |
| Anonymous | ₹4,000 |
| Anonymous | $1,000 |
| Ritesh Gupta | ₹5,000 |
| Mrinalini Rai | ₹4,999 |
| Anonymous | ₹10,000 |
| Anonymous | $150 |
| Anonymous | ₹5,000 |
| Gosagan Padmanabhan | ₹3,000 |
| Maryma Scotlin | ₹10,000 |
| Tarun Gupta | ₹5,000 |
| Anonymous | ₹2,000 |
| Deep Rai | ₹18,996 |
| poornima neroorkar | ₹6,000 |
| deepak neroorkar | ₹6,000 |
| Pranav Tiwari | ₹20,000 |
| Rohit Ananthakrishna | ₹2,000 |
| Anonymous | ₹1,000 |
| Sachin Shenoy | ₹20,000 |
| Sateesh Kaisare | ₹5,000 |
| Umesh Jalan | $100 |
| Sreeram Ramachandran | $1,000 |
| Aparna Shinde | ₹10,000 |
| Poorva Kulkarni | $40 |
| Nilesh NT | ₹4,999 |
| KP GEORGE | ₹4,900 |
| Ankit Soni | ₹501 |
| Shobhana Jayakar | ₹1,000 |
| Anonymous | ₹1,000 |
| Brajesh Katare | ₹50,000 |
| Abhijit Sudhakar | ₹1,000 |
| Anonymous | $15 |
| Abirami Muralidharan | $100 |
| Nishant Sawant | $50 |
| Anonymous | $50 |
| Anonymous | $300 |
| Anonymous | ₹1,000 |
| Anonymous | ₹1,000 |
| Anonymous | ₹2,000 |
| Anonymous | $100 |
| Suhail kazmi | ₹10,000 |
| Piyush Mehta | ₹1,000 |
| Anonymous | ₹2,000 |
| Anonymous | ₹4,999 |
| Chezereen Williams | ₹2,000 |
| Dyuti Barma | $15 |
| Sushmita John | $50 |
| Purav Mody | $90 |
| Anonymous | $100 |
| Shruti Karbhari | $200 |
| Sumant Kowshik | $201 |
| Saritha Dwarakapuram | $25 |
| Jatin Mehta | $100 |
| Sachin Thakur | ₹5,000 |
| Siddharth Mundkur | $100 |
| Arvind Pai | $100 |
| Grace Belekar | ₹15,000 |
| Sailaja Vemuru | $100 |
| Prasad Challa | $100 |
| Anonymous | $50 |
| Venkatesh Raghavendra | $100 |
| Harsh Savla | ₹2,000 |
| Sandhya Guntreddy | ₹5,000 |
| Rahul Mehta | ₹3,000 |
| Pratik Parekh | ₹1,000 |
| Ramya Prabhakar | ₹3,000 |
| Shiba George | ₹2,000 |
| Ram Kumar Kakani | ₹2,222 |
| Srinivas Tatiraju | ₹3,000 |
| Sri krishna praveen Bhima | $50 |
| Karthik Naidu | ₹3,000 |
| Anonymous | ₹500 |
| Anonymous | ₹1,000 |
| Hyacinth Paul | $50 |
| Amar Parekh | ₹2,000 |
| Aravind Nayak | $50 |
| Srilakshmi Narasipur | $35 |
| Anonymous | $20 |
| Anonymous | ₹5,000 |
| Ishani Mohapatra | ₹25,000 |
| Kavitha Somanath | ₹25,000 |
| Vivek Kwatra | ₹4,999 |
| Parth Parikh | ₹2,000 |
| Anonymous | ₹500 |
| Anonymous | $300 |
| Sumedha Singla | ₹1,294.21 |
| Anonymous | ₹10,000 |
| Anonymous | ₹3,000 |
| Anonymous | ₹5,000 |
| Anonymous | ₹5,000 |
| Hardik Parekh | ₹5,000 |
| Anonymous | $251 |
| ADITYA BEDEKAR | $20 |
| Jeffrey Kappen | $50 |
| Shiva Gopalakrishnan | ₹2,000 |
| Jackson D'souza | ₹2,000 |
| Anonymous | $100 |
| Radhika Chalemela | $50 |
| vinit gupta | ₹26,000 |
| Sailata Reddy | $50 |
| Sarat Krishnan | $25 |
| Anonymous | $1,000 |
| Anonymous | $15 |
| Anonymous | ₹500 |
| Santosh Jagdhane | ₹1,000 |
| Ketan Jain | ₹2,000 |
| Anonymous | ₹1,000 |
| Girish kumar | ₹1,000 |
| Shailesh Balgam | $190 |
| Neha Jain | ₹4,999 |
| ADITYA LAKSHMI NOWLURI | ₹3,500 |
| pug spots | ₹3,000 |
| Arushi Gupta | ₹1,622.88 |
| Neha Gudi | $30 |
| Neha Gudi | $30 |
| Nikhil Madan | $75 |
| Karthik Subramanian | ₹2,500 |
| Anonymous | ₹500 |
| Anonymous | ₹100,000 |
| Vaishali Shinde | ₹2,000 |
| Viashali Shinde | ₹1,000 |
| Nimesh Sanghi | ₹2,000 |
| Suman Sanghi | ₹3,000 |
| Subrangshu Das | ₹2,000 |
| Anonymous | ₹10,000 |
| Mangesh Kulkarni | ₹5,000 |
| Harinee Sampath | $200 |
| Sanjayan Mani | ₹2,000 |
| Joseph Padiyara | $150 |
| Sudhir Chathaveetil | ₹10,000 |
| Yuvaraj Kandasamy | $100 |
| Arun Ramarathnam | ₹20,000 |
| Sanjay Awari | ₹5,000 |
| Tony Thoudam | ₹25,000 |
| Rajesh Patil | ₹1,000 |
| Lalitha Subramanian | ₹25,000 |
| Anonymous | ₹125,000 |
| Latha Sekar | ₹3,000 |
| Raja V | ₹5,000 |
| Thiyagarajan Rajaraman | ₹3,000 |
| V S venkatesan | ₹5,000 |
| Pablo Tachil | ₹10,000 |
| KUMAR NEERAJ | ₹5,000 |
| Arjun VEIRAIAH | ₹5,000 |
| Sarasa Kumar | ₹1,000 |
| Kiran Wadmare | ₹5,000 |
| Anonymous | $100 |
| Prebagarane Jaine | $100 |
| PURUSH VANKIREDDY | $200 |
| Dickson Pereira | ₹1,000 |
| sandhya meduri | $50 |
| Neethu Madayi Veetil | ₹2,500 |
| Shiva Shankar Naga Roddam | ₹1,000 |
| Sangeetha Bulusu | $100 |
| Dipesh Dimble | $100 |
| Anu Bhat | ₹1,000 |
| Rama Ayalasomayajula | ₹2,000 |
| Anonymous | ₹50,000 |
| Bhushan Kanekar | ₹5,000 |
| Sucheta Vipradas | ₹2,000 |
| FELICE WILLAT | $50 |
| Shanker Viswanath | ₹1,000 |
| Sourav Modi | $20 |
| Ramya Gopala | ₹1,000 |
| Amey Mhatre | ₹1,000 |
| Ravindra Dunna | ₹10,000 |
| Madhuri Duggirala | ₹10,000 |
| Anonymous | $50 |
| Anonymous | ₹100 |
| Nilesh Ingle | ₹1,000 |
| Anonymous | ₹2,500 |
| Anonymous | $100 |
| Anonymous | $50 |
| Monika Gupta | ₹10,000 |
| Srinivas Pyla | $50 |
| Hitesh Bhandari | ₹2,000 |
| Anonymous | ₹10,000 |
| Anonymous | ₹10,000 |
| Prajyot Mayekar | $50 |
| VEERABHADRAIAH GUDIDENI | ₹5,000 |
| Anonymous | ₹10,000 |
| Archana Mittal | ₹1,000 |
| SRINIVASA NOOLU | $100 |
| Neela Ayalasomayajula | ₹3,000 |
| Bhujanga Allina | ₹2,000 |
| Charu Srinivasan | ₹10,000 |
| Jyothirmayi Kasisomayajula | ₹100,000 |
| Anonymous | $116 |
| Sharada Jarugumilli | ₹11,232 |
| Sarma Musty | $100 |
| Venu Mallavarapu | $75 |
| Anonymous | ₹10,000 |
| Rashmi Trivedi | ₹2,000 |
| Archana Vanmali | ₹1,000 |
| Saraswathi Challa | ₹4,999 |
| Satyavani Challa | ₹4,999 |
| Raja V | ₹5,000 |
| Ruchita Dudani | $100 |
| Latha Sekar | ₹1,000 |
| kshitij neroorkar | ₹2,000 |
| Anonymous | $100 |
| Damo Govind | $200 |
| Anonymous | ₹25,000 |
| Swathy Kothapalli | $100 |
| Prameela Susarla | $1,000 |
| Ramya Nagarajan | $100 |
| Dhruv Sharma | $500 |
| Lakshmi Ramakrishnan | $100 |
| Kunal Sabnis | ₹5,000 |
| Anonymous | ₹2,500 |
| Ashwini Balaraman | $30 |
| Dennis Raphel | ₹500 |
| Anonymous | ₹2,000 |
| Anonymous | ₹24,000 |
| Anonymous | ₹20,000 |
| Anonymous | ₹5,000 |
| Anonymous | ₹10,000 |
| Joby Chacko | ₹1,000 |
| Aruna Balachandra | ₹10,000 |
| Narendra Singh Mahara | ₹4,000 |
| Anonymous | ₹5,000 |
| Anonymous | $50 |
| Anonymous | ₹10,000 |
| Anonymous | ₹10,254 |
| Kaustav Chatterjee | ₹2,000 |
| Vibha Dhume | ₹5,000 |
| Anonymous | $100 |
| Manikumar Ravula | ₹1,000 |
| Michele Andina | $100 |
| Mayur Khetre | ₹1,700 |
| Sesh Kodavanti | $100 |
| jovita gerlincreda | ₹100 |
| Shyamsundar Marepalli | ₹3,000 |
| Prasad YCSV | ₹10,000 |
| Anonymous | $100 |
| Salver Family | $50 |
| GIFTSON MANUEL EBENEZERSARGUNAM | ₹4,000 |
| kyriaki petriti | ₹10,000 |
| Anonymous | ₹100 |
| Venkatesh Subramanian | ₹140 |
| Venkatesh Subramanian | ₹130 |
| Nagi Reddy Yenumula | ₹1,000 |
| Dnyanesh Digraskar | $25 |
| Prashant Gupta | ₹1,000 |
| Manoj Agarwal | ₹6,000 |
| Anonymous | ₹4,500 |
| Anonymous | ₹5,000 |
| Lindsay Shields | ₹6,300 |
| Marsha bailey | ₹12,600 |
| Maryma Scotlin | ₹500 |
| Ebby Vidyasagar | ₹14 |
| maryma Scotlin | ₹500 |
| Ebenezer Vidyasagar | ₹12 |
| Venkatesh Subramanian | ₹100 |
| Kalika Bali | ₹4,999 |
| Sasi Tadepalli | ₹102 |
| Arvind Menon | ₹100 |
| Gouthami Kanukuntla | $150 |
| Ravi Tadepalli | ₹1,000 |
| Anonymous | ₹1,002 |
| Anonymous | ₹1,001 |
| Savitri Vemulapalli | ₹100 |
| Surendra Vemulapalli | ₹1,001 |
| Sundeep Vemulapalli | ₹100 |
| Anonymous | ₹2,000 |
| Anonymous | ₹1,500 |
| Anonymous | ₹1,000 |
| Anonymous | $100 |
| Test test | ₹1 |
| Bianca Fochesato | ₹560 |
| Ebby Vidyasagar | ₹10 |
| Kshitij Neroorkar | ₹100 |
| Anonymous | $150 |
| Shyamsundar Marepalli | ₹2,000 |
| Padma sonti | $100 |
| Kalyani Avula | $100 |
| Anonymous | ₹2,000 |
| Akash Budhia | ₹2,000 |
| veeramani viswanathan | ₹1,000 |
| Gubbala Udaya | ₹4,000 |
| Monika Gupta | ₹5,000 |
| Suresh Pasumarthy | ₹2,000 |
| Gubbala Udaya | ₹1,000 |
| Aparna Kommaraju | $100 |
| Nalini Krishnan | ₹1,000 |
| Anonymous | ₹4,999 |
| Anonymous | ₹1,000 |
| bankim ghelani | $5 |
Fundraisers for Vibha India: Financial Year End Campaign