Celebrate To Educate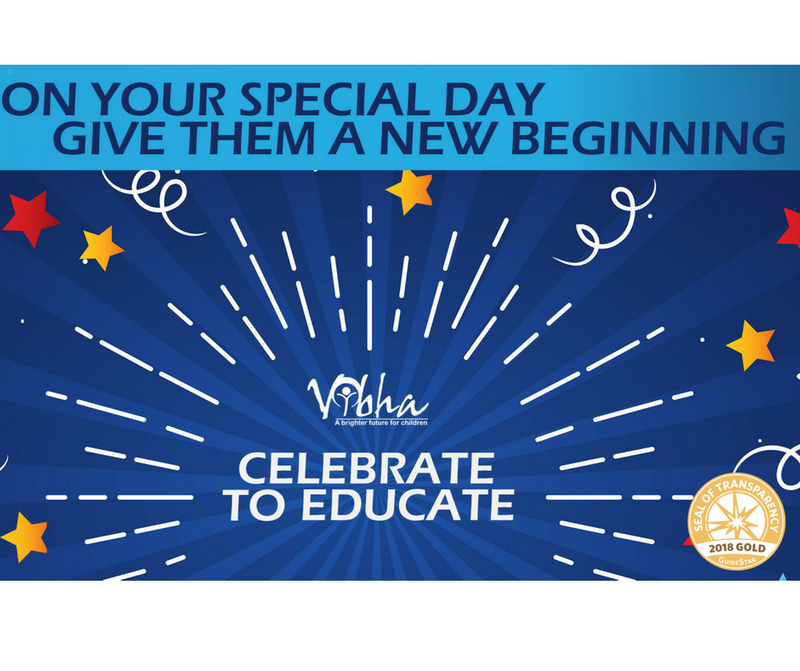 Birthday, Wedding, Anniversary, Graduation..

Whatever your special occasion is, when you celebrate it with Vibha, you are helping thousands of children live a better future, celebrate their own brighter tomorrows. Create your own fundraiser or honor your friend or loved one by making a donation to Vibha in their name.
How to setup a fundraiser


Click on the 'Fundraise' button on the right side, and you'll be asked to create an account if you do not already have one. On the next screen you'll get a chance to personalize your message, and the link you can share with your friends and family.

About Vibha
Vibha's vision is to ensure every underprivileged attains quality education. Vibha educates, enables and empowers, individuals who wish to make a positive impact on the lives of underprivileged children. Since our inception in 1991, Vibha has supported more than 250 projects in India and 10 projects in the US. As a result, Vibha has been able to reach out to and provide opportunities for over 2.3 million underprivileged children. Currently, Vibha supports 15 projects in India and 3 projects in the US.
All donations to Vibha are tax deductible. Vibha is a 501(c)(3) organization, registered in the USA in the State of New Jersey. Vibha's Tax ID is 22-3122761.
Goal
Loading...
Thank You Donors
| | |
| --- | --- |
| Priyanka Subramanian | $50 |
| Divya Bhargava | $50 |
| Zaiba Khanam | $40 |
| Puneet Maheshwari | $50 |
| Shraddha Kamat | $51 |
| Namita Goel | $51 |
| Anonymous | $31 |
| Ayansh Anika Bansal | $40 |
| Anubha Sewlani | $51 |
| Apurvakumar Kansara | $51 |
| Bhavna Gurmukhani | $51 |
| Leena Ghosh | $150 |
| Narayanan and Latha Ramesh | $101 |
| Karuna Gaur | $50 |
| Olagappan Manickam | $201 |
| Palaniappan Karuppan | $101 |
| Thiru Rajagopal | $100 |
| Anonymous | $50 |
| Lakshmipriyanka Subramanian | $30 |
| Anonymous | $30 |
| Anonymous | $35 |
| Anonymous | $50 |
| Anjul Gurmukhani | $75 |
| Anoushka Rathi | $50 |
| Prajakta Gokhale | $25 |
| Supriya Kaledhonkar | $25 |
| Samantha Shiraishi | $50 |
| dipti irla | $20 |
| Naveen Hiremath | $40 |
| Snehal Naik | $25 |
| Anonymous | $15 |
| Anonymous | $50 |
| Ajayram Gopu | $20 |
| Aslam Chandiwalla | $500 |
| Anonymous | $200 |
| Vinay Chawla | $200 |
| Anonymous | $200 |
| Anonymous | $100 |
| Anonymous | $15 |
| Seema SHRIKHANDE | $150 |
| Aadi Singh | $50 |
| Nimesh Nagar | $25 |
| Anonymous | $100 |
| Shila Desai | $50 |
| Anu Mehra | $50 |
| Akshat & Jayshri Patel | $50 |
| Devang Naik | $50 |
| Hem Desai | $100 |
| Shetal Patel | $50 |
| Neeraj Jain | $50 |
| Usha Bajpai | $100 |
| Kuldip Patel | $50 |
| Shipra Jain | $50 |
| Sonal Patel | $50 |
| Raya Shah | $50 |
| Shashin Desai | $50 |
| Hemal Surti | $50 |
| Mehul Desai | $250 |
| Anish Kantawala | $25 |
| Shukan Kanuga | $25 |
| Om & Shayna Patel | $21 |
| Nehal Shah | $20 |
| Yerin Kye | $5 |
| Yerin Kye | $20 |
| Niara, Shruti and Tanvi - Mrs Y's Class | $40 |
| Misha Reshamwala | $25 |
| DIGEESHA Shah | $25 |
| Neha Marupudi | $4,650 |
| Durgesh Das | $60 |
| Raja & Gayathri Company Match | $50 |
| Sachin Ruchi | $40 |
| Gayathri Gatamaneni | $50 |
| Anuja Patil | $40 |
| Sapna Patel | $170 |
| Suresh Vemulamada | $500 |
| Jagadeesh Gummella | $150 |
| Chitralekha Thomas | $25 |
| Radhika Pebbeti | $30 |
| Sapna Patel | $130 |
| Murthy Munagavalasa | $428.70 |
| Dwaraka & Sai Vangala | $50 |
| Abha Malhotra | $100 |
| Sabitha Reddy | $30 |
| Srikanth Tholupunoori | $20 |
| Ram Bhatia | $50 |
| Venkata Janardhana | $100 |
| Chandra Palla | $100 |
| Eshan P | $25 |
| Aroon K Viswanathan | $20 |
| Sridevi Koritala | $20 |
| Ashish Malik | $50 |
| Neha Charlly | $10 |
| Shalini Shailesh | $10 |
| Wes Allen | $1,000 |
| Ashwini Songyan | $250 |
| Ravi Pratipati | $250 |
| Rashmi Dhal | $500 |
| Tanuja Penmetcha | $15 |
| Seema Singh | $101 |
| Leena Chugh | $20 |
Fundraisers for Celebrate To Educate