This Year End, Let's Invest In Brighter Futures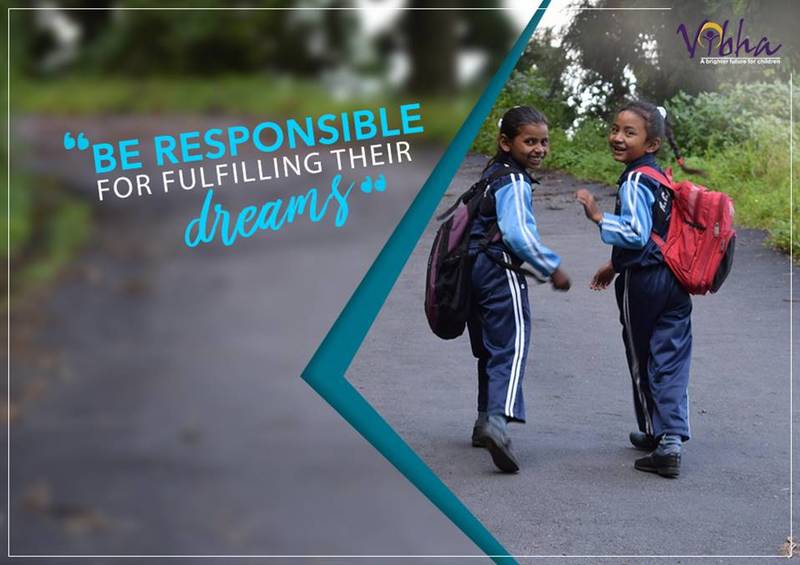 In 2018, we at Vibha continued to work on our efforts as a social catalyst and invest in solutions and ideas instead of just being a funding organization. To ensure quality education is accessible, the key is to identify the root cause of the problem and implement a solution to mitigate it The solution should also be able to scale up and be replicable at other projects.
About Vibha
Vibha's vision is to ensure that every underprivileged child attains his, or her right to health, education and opportunity. Vibha educates, enables and empowers, individuals who wish to make a positive impact on the lives of underprivileged children. Since our inception in 1991, Vibha has supported more than 250 projects in India and 10 projects in the US. As a result, Vibha has been able to reach out to and provide opportunities for over 2.3 million underprivileged children. Currently, Vibha supports 30 projects in India and 7 projects in the US.
All donations to Vibha are tax deductible. Vibha is a 501(c)(3) organization, registered in the USA in the State of New Jersey. Vibha's Tax ID is 22-3122761.
Goal
Loading...
Donations
| | |
| --- | --- |
| Anonymous | $200 |
| Anil Prabhakar | $50 |
| Shrikant Pradhan | $100 |
| SRINIVAS KILAMBI | $10 |
| Stephen Howarth | $50 |
| Venkata Seelam | $10 |
| Anima Gupta | $100 |
| Sreedhar Swayampakula | $100 |
| Jaishree Knauff | $4,000 |
| Anonymous | $100 |
| Anonymous | $300 |
| samir pirani | $20 |
| Senthilkumar Gunalan | ₹15,000 |
| Atul Agarwal | ₹3,500 |
| Vijay Desai | ₹70,000 |
| Senthilnathan Velayudham | $500 |
| Anonymous | ₹10,000 |
| Anonymous | $30 |
| Anonymous | $201 |
| Anonymous | $50 |
| Meghna Kukreja | $100 |
| Sathya Dorairaj | $100 |
| Madhusudan Chari | $50 |
| Madhusudan Chari | $50 |
| Pavanachand Chigurupati | $1,500 |
| Anonymous | $251 |
| Georges daniel Mercadal | $20 |
| Ravikumar Dharumarajan | $250 |
| Sateesh Donti | ₹5,000 |
| Parthasarathy Munagapati | $250 |
| Archana Mohan | $200 |
| Neela Saikrishnan | $200 |
| Bhargavi Godavarthi | $350 |
| Anonymous | $50 |
| Anonymous | $75 |
| Anonymous | $250 |
| Shridhar Venkatraman | $250 |
| Anonymous | $100 |
| venkatasai vangala | $100 |
| Anandarup Dasgupta | $100 |
| Venkateswar Kowkutla | $101 |
| Cynthia Irons | $25 |
| Narayanan Thiagarajan | $50 |
| Sanjay Parikh | $200 |
| Anonymous | $200 |
| Anonymous | $100 |
| David Lippi | $50 |
| Rachna Sood | $100 |
| Anonymous | $100 |
| Anonymous | $500 |
| Sudhakara Karegowdra | $250 |
| Anonymous | $1,000 |
| Madhavan Swaminathan | $250 |
| Paritosh Kulkarni | $1,000 |
| Anonymous | $25 |
| Govind Deshpande | $500 |
| Anonymous | $25 |
| Archit Patel | $50 |
| Shailesh Sahasrabuddhe | $100 |
| Anonymous | $500 |
| Ashish and Rupa Udani | $31 |
| Keerthi Mayakrishnan | $25 |
| Liza Kuliar | $25 |
| Anonymous | $25 |
| Preeti Chandra | $150 |
| Anonymous | $250 |
| Sanjay Parthasarathy | $1,500 |
| Dwaipayan Saha | $150 |
| Rakesh Malik | ₹3,000 |
| Yogeshwar Gokhale | ₹7,200 |
| Sanjeev Gupta | $100 |
| Anonymous | $200 |
| Srikanth Gopalan | $100 |
| Ragini Pandey | $301 |
| Anonymous | $100 |
| Anand Thiagaraj | $100 |
| Apurva Shah | $250 |
| Vikram Karvat | $300 |
| Vipul Dholakia | $100 |
| Anonymous | $2,500 |
| Anonymous | $2,500 |
| Ron Victor | $2,000 |
| Shashikant Valecha | $150 |
| Preetha Iyer | $760 |
| SHRIKRISHNA KULKARNI | $100 |
| Alka Mahendrakar | $100 |
| Sivaram Pillarisetti | $40 |
| Ajay Gupta | $200 |
| Srinivasa Ratnakaram | $50 |
| Anonymous | $25 |
| Naresh Salguti | $20 |
| Raj Sharma | $20 |
| Raja Kandru | $1,000 |
| Vaishnavi Pattabiraman | $20 |
| hymavati mikkilineni | $300 |
| Krishnamohana Pinnamananeni | $100 |
| urvish bidkar | $100 |
| Giri Iyengar | $500 |
| Leena Ghosh | $300 |
| Sridhar Panchapakesan | $100 |
| Prasad Alluri | $250 |
| Anonymous | $20 |
| Anonymous | $500 |
| Devang Vadhar | $10 |
| Geetha Shirol | $100 |
| Sriram Kalyanasundaram | $150 |
| Meetali Desai | $300 |
| Radha Patel | $500 |
| Gautam Kumaran | $225 |
| Raksha Krishna | $25 |
| Raghavan Minnasandran | $25 |
| Amaresh Malipatil | $200 |
| Pankaj Patel | $1,000 |
| Kalyan Ponnam | $70 |
| Devesh Khatu | $50 |
| Viresh Ratnakar | $100 |
| Krishna Avadhanula | $400 |
| Prakash Raman | $1,000 |
| Sandeep Asthana | ₹5,000 |
| Ashish Naik | $100 |
| Jignesh Thakkar | $170 |
| Anonymous | $100 |
| Anuradha Narasimhan | $250 |
| Anonymous | $1,000 |
| Anonymous | $2,000 |
| Anonymous | $1,000 |
| R M Amin | $350 |
| Anonymous | $300 |
| Anonymous | $100 |
| Rajeswari Itharaju | $50 |
| Arvind Raman | $100 |
| Prashanth Modi | $500 |
| Tanuj Mohan | $250 |
| Anonymous | $100 |
| Neetha Rao | $500 |
| Anonymous | $25 |
| Anonymous | $2,600 |
| Velraj Jeyam | $100 |
| Anonymous | $39 |
| KISHORE KRISHNAKUMAR | $60 |
| KISHORE KRISHNAKUMAR | $1,000 |
| Pawan Mirchandani | $11 |
| Anonymous | $100 |
| Anonymous | $500 |
| Deepak Kamra | $1,000 |
| Sitharam Motamarry | $108 |
| bankim ghelani | $4 |
| bankim ghelani | $4 |
| Anonymous | $25 |
| Sagar Laghate | $500 |
| Seema Chetal | $286 |
| Manpreet Singh | $2,999 |
| venkata moturi | $286 |
| Ira Jain | ₹2,000 |
| Shweta Desai | $286 |
| Jesal Gadhia | $50 |
| Anonymous | $200 |
| Anonymous | $286 |
| Anurag Sharadendu | $100 |
| Vinay Chawla | $200 |
| Vijay Desai | ₹70,000 |
| Chandrasekhar Madathil | $100 |
| Dinesh Chandran | $250 |
| Paresh and Shobha Desai | $500 |
| Ann Patel | $1,000 |
| Mahesh Shah | $250 |
| Sanjiv Kumar | $2,000 |
| SCJohnson donation for employee volunteer hours Murthy Munagavalasa | $500 |
| Murthy Munagavalasa | $1,500 |
| Shubh Agarwal | $250 |
| Balaji Srinivasan | $1,000 |
| Anonymous | $100 |
| Archana Chaudhary | $51 |
| Anonymous | $100 |
| Anonymous | $4,500 |
| Anonymous | $125 |
| Babu Vatti | $150 |
| Jyoti Nair | $100 |
| abhay shah | $25 |
| Anonymous | $50 |
| Anupama Vallabhaneni | $300 |
| Chandrashekhar KORGAONKAR | $25 |
| Rama Sriramoju | $250 |
| veenod kurup | $500 |
| AMIT SHAH | $30 |
| Mukunthan Santhanakrishnan | $100 |
| Amit Kesarwani | $500 |
| yogini pevekar | $70 |
| Manu Gupta | $200 |
| Priyanka Kamath Bannadi | $70 |
| Atam D Singh | $75 |
| Sridhar Gopalakrishna | $100 |
| Mustaque Ahamad | $200 |
| Seema Shrikhande | $100 |
| Sandhya Hemakumar | $50 |
| Yvonne Covello | $35 |
| Anonymous | $25 |
| Anonymous | $999 |
| Sreemala Pannala | $50 |
| Nilesh Amin | $25 |
| ramesh sharma | $100 |
| Shailaja Racha | $251 |
| Sheila Nayak | $1,501 |
| Anonymous | $510 |
| Anonymous | $100 |
| Anonymous | $50 |
| Anonymous | $5,000 |
| Gulshan Malik | $100 |
| Michael Hutson | $30 |
| Anonymous | ₹5,000 |
| Anonymous | $30 |
| Prabhjot Bhandal | $100 |
| Anonymous | $200 |
| Shailesh Sarda | $100 |
| Goetz Veser | $100 |
| APARNA KADAKIA | $25 |
| Krishnarao HAriprasad | $100 |
| Anonymous | $10 |
| Kapil Mehrotra | $250 |
| Hanumantha Gadila | $501 |
| Navinchandra Prabhu | $50 |
| Amit Kesarwani | $500 |
| Pranshu Adavadkar | $151 |
| Rao Garapaty | $1,000 |
| Ratnang & Sheetal Desai | $1,000 |
| Srini & Sunanda Devireddy Munagavalasa | $250 |
| Anup Agrawal | $50 |
| Vijay Jayaram | $25 |
| Badri Gopalan | $50 |
| Shelly Nanda | $50 |
| Anonymous | $300 |
| Jyoti Mayadev | $1,101 |
| Anonymous | $251 |
| Jeannine Relly | $50 |
| Facebook #GivingTuesday Donation | $10,538.72 |
| THIYAGARAJAN RAJAGOPALAN | ₹1,000 |
| Marcelo Marcos | $30 |
| Shruti Tari | ₹1,200 |
| Facebook Donations | $110 |
| Milly Parekh | $200 |
| Facebook Donations | $2,500 |
| Spraclen Fanily | $125 |
| NARASINGA RAO TELIDEVARA | $1,000 |
| Anonymous | $20 |
| Kailash Kothari | $2,000 |
| Ashok Kumar | $50 |
| Swati Mankikar | $100 |
| Vishal Garg | $200 |
| Francois Lu | $300 |
| Usha Ayyappan | $25 |
| Robert Miglani | $100 |
| Kailash Kothari | $2,000 |
| Chandra Palla | $500 |
| Sharath Kottadamane | ₹3,000 |
| Anonymous | $25 |
| Suhas Nehete | $500 |
| Sreenivasulu Sariputi | $100 |
| Anonymous | $50 |
| Swathi Jain | $50 |
| Anonymous Donor | $68.44 |
| Ruby Kalia | $100 |
| Anup Agarwal | $50 |
| Anonymous | $101 |
| Anonymous | $101 |
| Swati Jain | $50 |
| Anonymous | ₹5,000 |
| Anup Agrawal | $50 |
| RUBY KALIA | $100 |
| Murthy Munagavalasa | $1,500 |
| Anonymous | $1,500 |
| Anonymous | $50 |
| Anonymous | $10 |
Fundraisers for This Year End, Let's Invest In Brighter Futures