This Diwali, Let's Light Up Their Future!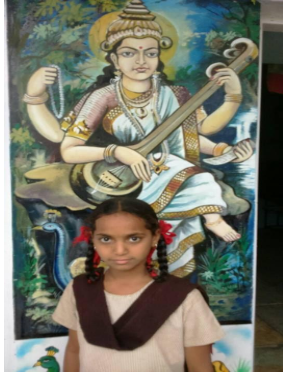 However, her teachers at RACHANA, a VIBHA supported project right outside of Pune, saw these traits as assets that could be channeled to great advantage. They encouraged Sakshi to pick up a lot of the activities organized at the center such as singing, games and sports, educational excursions, awareness seminars etc. to channel the hyperactivity. Once she was able to gain some measure of confidence and calmness, Sakshi was made the Student leader due to her keen IQ and abilities to multitask. Today, Sakshi is confident, active and a very bright young girl who has the ability to really affect change in the world around her, starting right at home.
Sakshi's dad drives an auto rickshaw and her mother is a homemaker. Grinning widely, Sakshi's mom talks about the many changes in her household, due in large part to Sakshi's exposure and learning, especially around practices of hygiene. She says that the family is using fewer plastics and engaged in recycling. Additionally, due to pressure from Sakshi, there is a much more equitable distribution of domestic chores among the genders. Her brothers are badgered into helping a lot more with household chores.
When she grows up, Sakshi has grand plans to study agriculture and help empower farmers in the rural sector through scientific farming methodology and practices.
How Vibha and Rachana are Connected?
Vibha and Rachana joined hands in 2003 in supportive education and integrated development programs to the children from 12 remote villages in Mulshi, Haveli and Panshet talukas of Pune District.The integrated development program works with school going and drop-outs of the age group of 10 to 18 years. 960 children from the 12 villages take part in skill workshops, educational projects and short vocational courses. The combined efforts have driven down the dropout rates in several villages down to 0 and attendance in primary school is around 95%. More girls from these villages are studying until class 10th and beyond. Rachana staff have been trained and are extremely proficient in creating their own teaching material.
You made this possible for Sakshi and many more need your help! On an average it takes just $18 per child per year to fund the supportive education and integrated development programs through Rachana. This Diwali, our goal is to support 1000 more children through RACHANA in 2019 by raising $18000 with your support.
Together, let's lighten up the futures of many more children like Sakshi!
We Wish You a Very Happy and Prosperous Diwali!
About Vibha
Vibha's vision is to ensure that every underprivileged child attains his, or her right to health, education and opportunity. Vibha educates, enables and empowers, individuals who wish to make a positive impact on the lives of underprivileged children. Since our inception in 1991, Vibha has supported more than 250 projects in India and 10 projects in the US. As a result, Vibha has been able to reach out to and provide opportunities for over 2.3 million underprivileged children. Currently, Vibha supports 30 projects in India and 7 projects in the US.
All donations to Vibha are tax deductible. Vibha is a 501(c)(3) organization, registered in the USA in the State of New Jersey. Vibha's Tax ID is 22-3122761.
Goal
Loading...
Donations
| | |
| --- | --- |
| Anonymous | $50 |
| Swathi Jain | $50 |
| Anonymous Donor | $68.44 |
| Ruby Kalia | $100 |
| Anup Agarwal | $50 |
| Anonymous | $101 |