Vibha Striders 2020 Master Fundraiser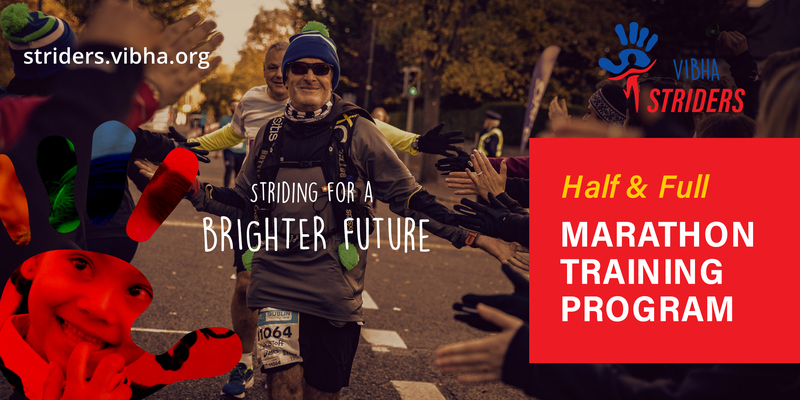 Vibha Striders 2020 is raising funds to help address the problem of education of underprivileged children through Vibha's projects.

Vibha is committed to bringing together both the public and private sector to strengthen infrastructure and provide mechanisms for sustainable access to education. Through Vibha's model of seed, scale, and grow, our projects, as an example, have helped expand public education programs from 15 to 43,000 schools in one state in India. As a result, this success has now become the template to expand to other states.

As Vibha Striders, we believe that moulding young minds will give them the freedom to choose a better life. Every mile we run and every dollar we raise, is another massive step to helping these kids achieve their dreams.
About Vibha
Vibha's vision is to ensure that every underprivileged child attains his, or her right to health, education and opportunity. Vibha educates, enables and empowers, individuals who wish to make a positive impact on the lives of underprivileged children. Since our inception in 1991, Vibha has supported more than 250 projects in India and 10 projects in the US. As a result, Vibha has been able to reach out to and provide opportunities for over 2.3 million underprivileged children. Currently, Vibha supports 30 projects in India and 7 projects in the US.
All donations to Vibha are tax deductible. Vibha is a 501(c)(3) organization, registered in the USA in the State of New Jersey. Vibha's Tax ID is 22-3122761.
Goal
Loading...
Donations
| | |
| --- | --- |
| Anonymous | $50 |
| Chris Lewis | $10 |
| PARINEETA SINHA | $250 |
| Anonymous | $500 |
| Bidisha Silveira | $100 |
| Bidisha Silveira | $100 |
| Jasneet Anand | $50 |
| Mruanlini Joshi | $250 |
| Mrunalini Joshi | $250 |
| Harish Babu | $100 |
| Harish Babu | $300 |
| Shenba Vishnubhatt | $100 |
| Shenba Vishnubhatt | $100 |
| Rajeev Patel | $50 |
| Jitesh Vidhani | $50 |
| Alka Rao | $100 |
| Anonymous | $1,500 |
| Anonymous | $1,050 |
| Anonymous | $100 |
| Radhika Krishnan | $100 |
| Reshma Mistry | $51 |
| Raj Tuplur | $50 |
| Ravi Ramachandran | $50 |
| Ravi Ramachandran | $50 |
| Souvik Banerjee | $100 |
| Kiron Valluri | $50 |
| HARNATH KANUKOLANU | $50 |
| Anonymous | $485 |
| Sasidhar Jampani | $51 |
| Suresh Jinkal | $50 |
| Anonymous | $100 |
| Anonymous | $25 |
| Satheesh Gannamraju | $100 |
| Pradosh Mohapatra | $100 |
| Anonymous | $50 |
| Makarand Malu | $50 |
| Raj Tuplur | $50 |
| Shabbir Shahpurwala | $100 |
| DEEPAK KADADI | $25 |
| Murali Mutyala | $50 |
| Rami Soppa | $25 |
| Jay Putcha | $100 |
| Sid Maity | $100 |
| Sarab Singh | $100 |
| Omkumar Bhatt | $250 |
| JAYANT KOTALWAR | $100 |
| Phal Nanda | $100 |
| Phal Nanda | $500 |
| Bhaskar Tetali | $100 |
| Digvijay Richhariya | $50 |
| Anonymous | $500 |
| Kavita Gaitonde | $1,000 |
| Anonymous | $50 |
| Satheesh Gannamraju | $100 |
| Rebecca Jepsen | $100 |
| Rakesh Notani | $300 |
| Anonymous | $100 |
| Stuti Khanna | $50 |
| Jatin Verma | $100 |
| Anonymous | $50 |
| Sudhakar Koppisetti | $50 |
| Niraj Shah | $50 |
| Anonymous | $100 |
| Mahesh Halady | $100 |
| Sachin Saranathan | $100 |
| Pratap Whig | $450 |
| Balaji Ganesan | $50 |
| Pooja Kohli | $200 |
| Anonymous | $220 |
| aparna singaraju | $150 |
| Sharmila Pusarla | $100 |
| Sharon Calhoun | $100 |
| Praveen Selvaraj | $20 |
| Anonymous | $50 |
| Anonymous | $100 |
| Kislay Shrivastava | $40 |
| Tim Mahota | $100 |
| Rahul Kudithipudi | $50 |
| Catherine Chen | $25 |
| Debbie Woodward | $50 |
| Anonymous | $60 |
| Tapan Nanawati | $100 |
| Anonymous | $100 |
| Bharat Jayakumar | $50 |
| Tamar Serna | $50 |
| Anonymous | $20 |
| Anonymous | $50 |
| Bart Giordano | $100 |
| Anonymous | $25 |
| Udyan Kumar | $100 |
| Jeanette Lee | $100 |
| Edith Laird | $50 |
| Anup Katariya | $25 |
| Anonymous | $50 |
| rosie go | $50 |
| Ashish Mudgil | $25 |
| Anonymous | $50 |
| Anonymous | $50 |
| Bennett Cardwell | $50 |
| Anonymous | ₹4,999 |
| Kristen Shumate | $30 |
| Richard Fogg | $50 |
| Anonymous | $20 |
| Pramoda Shetty | $50 |
| Siva Babu | $50 |
| Tulsi Kapadia | $52 |
| Mayuresh Kadu | $13 |
| Smruti Nalawadi | $50 |
| Anu Singh | $110 |
| Yogesh Sontakke | $100 |
| Padma Murthi | $100 |
| Shweta Murthi | $100 |
| VIKAS GAUTAM | $1,000 |
| Anonymous | $50 |
| Sridhar Venkata-Narayana | $100 |
| Anonymous | $100 |
| Anonymous | $25 |
| Balaji Natarajan | $25 |
| Anonymous | $75 |
| Anonymous | $206 |
| Malav Patel | $100 |
| Makarand Malu | $275 |
| Anonymous | $500 |
| Cyril Mecwan | $100 |
| Sharmila Pusarla | $100 |
| Aparna Singaraju | $150 |
| Deepak Balasubramaniam | $200 |
| Sandhya Acharya | $250 |
| Anonymous | $50 |
| Mayuri Khanna | $250 |
| Anonymous | $40 |
| Anonymous | $50 |
| Anonymous | $50 |
| Anonymous | $30 |
| Anonymous | $50 |
| Makarand Malu | $275 |
| Kishore Prahllad | $900 |
| Akta Mistry | $250 |
| Anonymous | $50 |
| Nitin Mehendale | $65 |
| Nitin Mehendale | $65 |
| Anonymous | $50 |
| Archana Nanda | $600 |
| Mayuri Khanna | $250 |
| Saurbh Khera | $100 |
| indu singla | $40 |
| Sandhya Acharya | $250 |
| V Velinenisrinivasa Velinenisrinivasa | $750 |
| Anonymous | $50 |
| Varun Parmar | $100 |
| Priyanka Bapat | $75 |
| Sameer Padhye | $100 |
| Bharat Kona | $200 |
| Bharat Kona | $100 |
| Satheesh Gannamraju | $100 |
| Rajeev Patel | $300 |
| Mubarak Seyed | $15 |
| Sivalingan Babu | $25 |
| Vandana Thirumale | $150 |
| Anu Singh | $60 |
| Anil Rao | $95 |
| Leslie Trdinich | $50 |
| Anil Rao | $50 |
| Ramprakash Guduri | $25 |
| Akhil Khera | $100 |
| Chetan Gulati | $150 |
| Ashwin Vaidyanathan | $500 |
| Yogesh Joglekar | $200 |
| Prateek Gokhale | $70 |
| Yogesh Joglekar | $100 |
| Anonymous | $100 |
| Janak Vipul Mehta | $100 |
| Sameer Yami | $25 |
| Jacky Gehani | $50 |
| Anonymous | $150 |
| Nikhil Kelkar | $75 |
| Sumeet Punjabi | $100 |
| Nitin Mehendale | $100 |
| Vipul Sanghvi | $25 |
| Medha & Satish Deo | $100 |
| Nitin Mehendale | $100 |
| Renuka Chadha | $50 |
| Anonymous Anonymous | $25 |
| Prabhat Dalmia | $25 |
| Beau Alexander | $25 |
| Anil K Patri | $116 |
| Makarand Malu | $50 |
| Praveen Kamisetty | $50 |
| Ranga Maringanti | $25 |
| Makarand Malu | $200 |
| Srikanth Kottakota | $50 |
| Anonymous | $50 |
| Siddharth Gupta | $525 |
| Anu Singh | $85 |
| Raashina Humayun | $20 |
| Panna Chowdhury | $350 |
| PANNA CHOWDHURY | $350 |
| Renuka Chadha | $100 |
| KANNAN SHUNMUGARAJ | $100 |
| Sridhar Kothapalli | $100 |
| Hari Madanaraj | $150 |
| Anonymous | $300 |
| Anonymous | $150 |
| Subbu Ponnuswamy | $50 |
| Pratap Whig | $150 |
| Roopika Injarapu | $200 |
| Subbu Ponnuswamy | $150 |
| Makarand Malu | $50 |
| Makarand Malu | $200 |
| Makarand Malu | $30 |
| Tanu Pant | $25 |
| Vijay Meduri | $100 |
| Karthik Injarapu | $200 |
| Renuka Chadha | $100 |
| Aruna Ashok | $30 |
| Jung Hu | $50 |
| Poornima Bhat | $250 |
| Anonymous | $100 |
| Anonymous | $50 |
| Anonymous | $1,000 |
| Anonymous | $50 |
| Deepak Balasubramaniam | $200 |
| Chris Wilson | $30 |
| Gopal Bhandarkar | $1,000 |
| MOHAMED SALEEM | $200 |
| Anonymous | $101 |
| Jaisheela Kandgal | $200 |
| Rattan Dodeja | $250 |
| Sapana Majmudar | $100 |
| Anonymous | $50 |
| Satheesh Gannamraju | $100 |
| Neeraj Arora | $50 |
| Aruna Ashok | $25 |
| Shaguna Mittu | $25 |
| Hitendra Shah | $100 |
| Sanjita Dhingra | $35 |
| Mitesh Shah | $100 |
| Amrish Kaushik | $100 |
| Shantanu Sharma | $50 |
| Sunila Bakhru | $450 |
| Atul Tomar | $100 |
| Anonymous | $125 |
| Anonymous | $250 |
| Anonymous | $250 |
| Shantanu Sharma | $50 |
| Anonymous | $100 |
| Renuka Chadha | $100 |
| Sandy Kaur | $20 |
| Priyanka Sinha | $70 |
| Swaphna Srihari | $101 |
| Meghana Rao | $600 |
| Anonymous | $10 |
| Soujanya Swamy | $600 |
| Anonymous | $20 |
| Anonymous | $50 |
| Kishore Kaparaboyna | $50 |
| Shyju Mohan | $50 |
| Ajay Aggarwal | $50 |
| Anonymous | $100 |
| Anita Shankar | $50 |
| Urmila Javlekar | $270 |
| Urmila Javlekar | $135 |
| Anonymous | $100 |
| Anupama Kalidindi | $50 |
| Arjun Bhupathi raju | $100 |
| Ashutosh Tripathi | $40 |
| Tera Reddy | $100 |
| Tera Reddy | $100 |
| Anonymous | $100 |
| Bharat Kona | $300 |
| Sabrina Rodriguez | $250 |
| Vikrant Karnik | $100 |
| Victor Ma | $1,050 |
| Anonymous | $100 |
| Vivek Sagi | $250 |
| Sri Ravishankar | $100 |
| Mrinalini Vittal | $250 |
| Mrinalini Vittal | $250 |
| Varsha Pendse | $10 |
| Sanjay Khunti | $151 |
| Prajakta Vartak | $500 |
| Arti Badani | $50 |
| Delwar Khan | $100 |
| Nilesh Mistry | $250 |
| Kamal Acharya | $50 |
| Anonymous | $50 |
| Anonymous | $25 |
| Nita Ganapathi | $50 |
| Lalitha Narayanam | ₹7,500 |
| Kavindra Randeria | $100 |
| Prajakta Vartak | $500 |
| Sangeetha Eyunni | $170 |
| Sangeetha Eyunni | $50 |
| Anonymous | $500 |
| Anonymous | $151 |
| LAYLA & RAINA PATEL | $101 |
| Gary Harpell | $250 |
| Anonymous | $200 |
| Anonymous | $170 |
| Anonymous | $250 |
| Anonymous | $51 |
| Anonymous | $50 |
| Sangeetha Eyunni | $50 |
| Ian Honmyo | $80 |
| Theresa Ende | $100 |
| Duc Vo | $50 |
| Sheetal Devidasani | $25 |
| Leena Shelke | $50 |
| Ishu Jaiswal | $50 |
| KShama Nidhi | $5 |
| Suman Kedarisetty | $60 |
| Charles Aden | $100 |
| Shashi Kumar | $75 |
| Max Vit | $75 |
| Anonymous | $30 |
| Srikanthi Addala | $200 |
| Anonymous | $30 |
| Anonymous | $25 |
| Anonymous | $25 |
Fundraisers for Vibha Striders 2020 Master Fundraiser