GISH Fest: Change A Life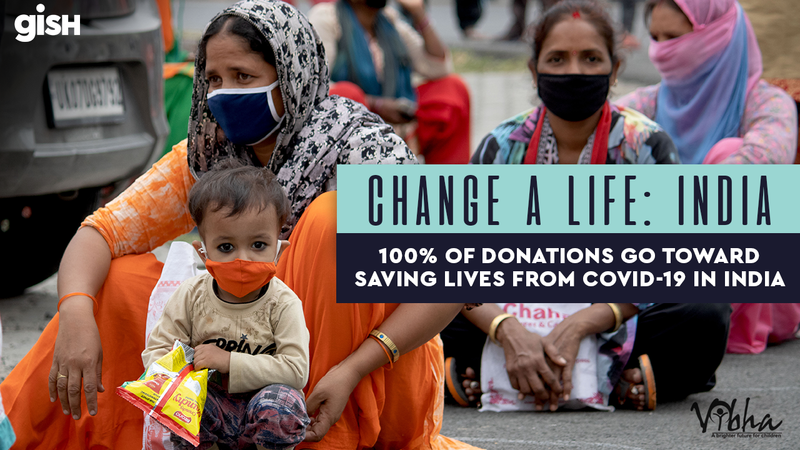 During each GISH Hunt, Gishers come together from around the globe to "Change A Life", making a profound difference in the lives of people facing extraordinary hardship. In the past, we've rescued homeless Syrian refugee families from dire living conditions, helped Rwandan female genocide survivors establish co-op farm space to feed their families and gain independence, supported a dedicated group of Laotians to clear unexploded ordnance off rural farms and established a mobile prosthetics unit for child bombing survivors, and helped Indigenous Ecuadorians recover from the effects of a catastrophic oil spill.
For this GISH Fest Hunt, we're helping to save the lives of people currently facing the world's worst COVID-19 outbreak...
We all know this virus has devastated the world, with over 165 million cases and 3.4 million deaths to date. But after more than a year of heartbreaking loss, there's some hope on the horizon. Vaccinations are on the rise, reported cases are dropping, and the US and many other countries are finally starting to reopen to some degree.

Except that's not the whole story, and not all are so fortunate.
India is in crisis. COVID-19 cases are skyrocketing, with over a quarter of a million new cases reported and thousands of people dying every day. Hospitals are overwhelmed, leaving people to suffer or die due to a lack of access to simple supplies. The situation is so dire that even cremation supplies are scarce, leaving people with no choice but to bury their loved ones in the Ganges river, which is now swollen with deceased bodies. As so many of us breathe a sigh of relief in our countries, the people of India are suffering in the hallways of hospitals that lack equipment to care for them or fighting for their lives in their homes, unable to do the most basic thing: breathe. We're going to help them.
YOUR MISSION:
GISH is joining forces with Vibha to raise $50,000 to help people in India fight COVID-19. These funds will provide meals, PPE, and oxygen concentrators to over 1000 families in rural communities. Together, we can help give people in India a fighting chance of survival in the face of COVID-19, but it will take all of us to make it happen.
YOUR GISH ITEM:
So, here's the deal: we want you to get OTHERS to donate to your fundraiser page!
Create a Fundraising page for your team, and get 5 friends, family members or others to donate a minimum of $10 each. To create a fundraising team, click the FUNDRAISE button. WE ARE NOT ASKING YOU OR YOUR TEAMMATES TO DONATE. We know you don't need "points" as an incentive to help these families, but since it is part of the Hunt, we want to maximize the power of these points to heal. (For non-US countries, tax deduction eligibility will be contingent on your regional laws.)
There is no minimum amount to donate for GISH purposes, but let's all please encourage others to be generous so we can make a profound impact. Submit a screenshot of your team's page with a minimum of 5 donations on it.
WHAT YOUR DONATIONS DO:
You are providing material support to the people of India by providing oxygen concentrators, PPE and food and hygiene supplies to rural hospitals and families. Oxygen concentrators draw in regular air, filter out nitrogen and deliver ongoing, renewable oxygen to patients in dire condition. Unlike oxygen canisters, concentrators do not deplete and can be used for multiple patients, so each oxygen concentrator can potentially help save hundreds of patients — and without this oxygen, they may not survive.
Additionally, as we have all experienced first-hand, COVID is not only making people sick — it impacts every facet of daily life. So not only are we raising money for oxygen concentrators and PPE, we will also be working with Vibha's network in rural communities to provide food and hygiene kits to families impacted by the pandemic.
Note: If for any reason your team is unable to (or chooses not to) join this campaign, you may still get points for this Item by volunteering at least two hours of your time with any relief organization providing relief to any community that has been impacted by COVID-19. SUBMIT PROOF YOU HAVE DONE THIS.
The COVID-19 virus may be tiny, but it hit the world hard. Now, it's our turn to use this tiny Hunt to fight back and make a big impact! Because if this last year has taught us anything, it's that we are all connected — and we're not okay until we're all okay. From the bottom of our hearts, thank you.
All donations to Vibha are tax deductible. Vibha is a charitable trust registered under section 80G of the Income Tax Act of India. In the US, Vibha is a 501(c)(3) organization, registered in the USA in the State of New Jersey. Vibha's Tax ID is 22-3122761.

JOIN US TO AMPLIFY THE EFFORTS BELOW
As of May 15, 2021,
$800K disbursed for COVID relief
$650k - Partnered with Texas Instruments and Govt. of Karnataka to set up a 100-bed modular hospital in Bengaluru
1100 oxygen concentrators procured. First batch distributed to Ambedkarnagar (UP), Meerut (UP), Srungavarapukota (AP), Beed (Maharashtra), Bengaluru (Karnataka), Beawar (Rajasthan)
25k PPE kits, 240k masks and 180k gloves procured
Vaccination clinics in planning
About Vibha
Vibha's vision is to ensure every underprivileged attains quality education. Vibha educates, enables and empowers, individuals who wish to make a positive impact on the lives of underprivileged children. Since our inception in 1991, Vibha has supported more than 250 projects in India and 10 projects in the US. As a result, Vibha has been able to reach out to and provide opportunities for over 2.3 million underprivileged children. Currently, Vibha supports 15 projects in India and 3 projects in the US.
All donations to Vibha are tax deductible. Vibha is a 501(c)(3) organization, registered in the USA in the State of New Jersey. Vibha's Tax ID is 22-3122761.
Goal
Loading...
Thank You Donors
| | |
| --- | --- |
| Heather Evans | $10 |
| Rebecca Flanagan | $10 |
| Anonymous | $100 |
| Faye Giese | $50 |
| Vivian Bentley | $50 |
| Anonymous | $50 |
| Jacqui Fortnum | $10 |
| Alice Healey | $10 |
| Anonymous | $68.74 |
| Carol Mason | $20 |
| Anonymous | $5 |
| Anonymous | $15 |
| Anonymous | $15 |
| Laurene Stone | $25 |
| Stephanie Ayala | $20 |
| Christine Edlund | $20 |
| Tamara Sulc | $190 |
| Brooke Lucas | $15 |
| Marlene Schuska | $20 |
| Stephanie Zappalla | $10 |
| Anonymous | $6.96 |
| Ana Penavic | $20 |
| Anonymous | $25 |
| Anna Martin | $10 |
| Anonymous | $10 |
| Michelle Vorndran | $25 |
| Farah Khan | $10 |
| Sue Williams | $15 |
| Amy Thorman | $10 |
| Lauren Picard | $20 |
| Rhonda Powell | $100 |
| Anonymous | $20 |
| Anonymous | ₹1,000 |
| kita russell | $10 |
| Ken Zeider | $25 |
| Ankita Hanmiah | $15 |
| Michael Burack | $160 |
| Angela Sandlin | $20 |
| Katherine Paik | $10 |
| Nate Hine | $10 |
| Prathima Yeddanapudi | $50 |
| Rachel Lioy | $10 |
| Christopher Dunn | $10 |
| Anni Jokela | $30 |
| Crystal Wilson | $10 |
| Mary Nunaley | $10 |
| Anonymous | $20 |
| Kirsty Matthews | $15 |
| Rachel Langshall | $30 |
| Dan Kahn | $36 |
| Anonymous | $50 |
| Lucia Williams-Young | $20 |
| Layla Dampier | $20 |
| Pavitra Kansal | $25 |
| Anonymous | $450 |
| Neha G K | $100 |
| Franceska Drinkovic | $20 |
| Kelsey Baggs | $15 |
| Erin Rowe | $10 |
| Stephen Hoffmann | $10 |
| Pamela Holmes | $25 |
| Katherine Rocha | $200 |
| Adrianna Runion | $20 |
| Kimberley Wright | $20 |
| Jennifer Bell | $10 |
| Anonymous | $500 |
| Anonymous | $10 |
| Anonymous | $50 |
| savannah green | $10 |
| Kristen Hiestand | $20 |
| Tara Coste | $10 |
| Deborah Goldberg | $25 |
| Anonymous | $20 |
| Patricia Stewart | $25 |
| Anonymous | $500 |
| Cynthia Scott | $25 |
| Anonymous | $50 |
| Mark Linnertson | $10 |
| Anonymous | $30 |
| Sherri Gunderson | $25 |
| Taylor Maciejkow | $40 |
| Michelle Young | $10 |
| Anonymous | $10 |
| Kara Yedinak | $10 |
| Shahrzad Dowlatshahi | $25 |
| Anonymous | $20 |
| shelli oh | $25 |
| Rory Lewis | $100 |
| Denis Yeo | $50 |
| Christopher Price | $25 |
| Anonymous | $20 |
| Anonymous | $10 |
| Dawn Lesperance | $10 |
| Cass Nelson | $30 |
| David Dionne | $10 |
| Anita Crain | $10 |
| Sarah Saryan | $10 |
| Bea Quindlen | $25 |
| Katharine Graham | $25 |
| Dacia Pelligrino | $245 |
Fundraisers for GISH Fest: Change A Life