Oxygen concentrators for rural families in India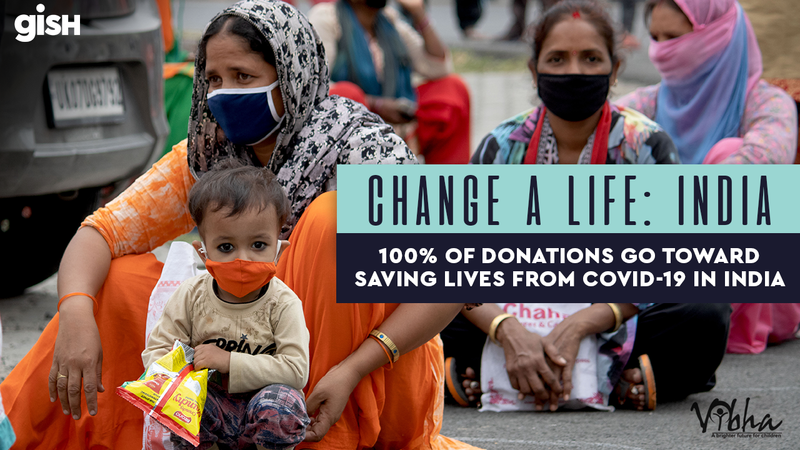 India is in crisis. COVID-19 cases are skyrocketing, with over a quarter of a million new cases reported and thousands of people dying every day. Hospitals are overwhelmed, leaving people to suffer or die due to a lack of access to simple supplies. The situation is so dire that even cremation supplies are scarce, leaving people with no choice but to bury their loved ones in the Ganges river, which is now swollen with deceased bodies. As so many of us breathe a sigh of relief in our countries, the people of India are suffering in the hallways of hospitals that lack equipment to care for them or fighting for their lives in their homes, unable to do the most basic thing: breathe. We're going to help them.
YOUR MISSION:
GISH is joining forces with Vibha to raise $25,000 to help people in India fight COVID-19. These funds will provide meals, PPE, and oxygen concentrators to over 500 families in rural communities. Together, we can help give people in India a fighting chance of survival in the face of COVID-19, but it will take all of us to make it happen.
WHAT YOUR DONATIONS DO:
You are providing material support to the people of India by providing oxygen concentrators, PPE and food and hygiene supplies to rural hospitals and families. Oxygen concentrators draw in regular air, filter out nitrogen and deliver ongoing, renewable oxygen to patients in dire condition. Unlike oxygen canisters, concentrators do not deplete and can be used for multiple patients, so each oxygen concentrator can potentially help save hundreds of patients — and without this oxygen, they may not survive.
Additionally, as we have all experienced first-hand, COVID is not only making people sick — it impacts every facet of daily life. So not only are we raising money for oxygen concentrators and PPE, we will also be working with Vibha's network in rural communities to provide food and hygiene kits to families impacted by the pandemic.
The COVID-19 virus may be tiny, but it hit the world hard. Now, it's our turn to use this tiny Hunt to fight back and make a big impact! Because if this last year has taught us anything, it's that we are all connected — and we're not okay until we're all okay. From the bottom of our hearts, thank you.
All donations to Vibha are tax deductible. Vibha is a charitable trust registered under section 80G of the Income Tax Act of India. In the US, Vibha is a 501(c)(3) organization, registered in the USA in the State of New Jersey. Vibha's Tax ID is 22-3122761.

JOIN US TO AMPLIFY THE EFFORTS BELOW
As of May 15, 2021,
$800K disbursed for COVID relief
$650k - Partnered with Texas Instruments and Govt. of Karnataka to set up a 100-bed modular hospital in Bengaluru
1100 oxygen concentrators procured. First batch distributed to Ambedkarnagar (UP), Meerut (UP), Srungavarapukota (AP), Beed (Maharashtra), Bengaluru (Karnataka), Beawar (Rajasthan)
25k PPE kits, 240k masks and 180k gloves procured
Vaccination clinics in planning
About Vibha
Vibha's vision is to ensure every underprivileged attains quality education. Vibha educates, enables and empowers, individuals who wish to make a positive impact on the lives of underprivileged children. Since our inception in 1991, Vibha has supported more than 250 projects in India and 10 projects in the US. As a result, Vibha has been able to reach out to and provide opportunities for over 2.3 million underprivileged children. Currently, Vibha supports 15 projects in India and 3 projects in the US.
All donations to Vibha are tax deductible. Vibha is a 501(c)(3) organization, registered in the USA in the State of New Jersey. Vibha's Tax ID is 22-3122761.