Vibha Buffalo Cricket 2019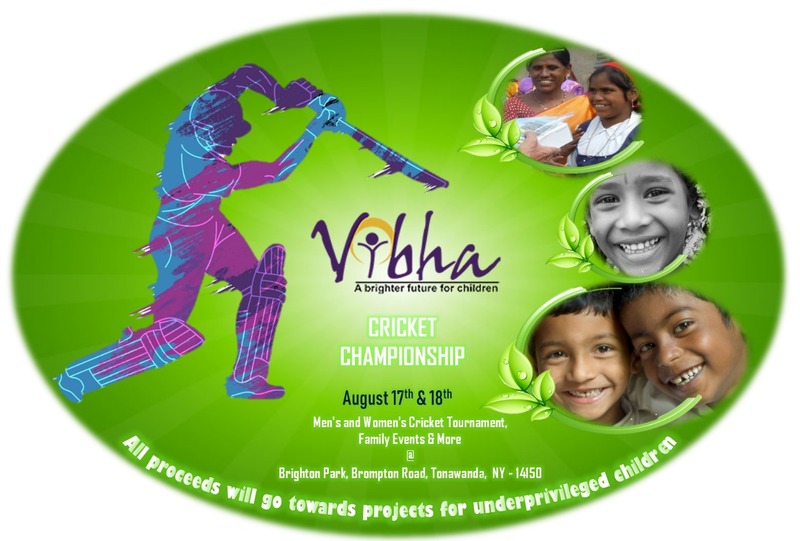 Vibha - Buffalo conducts Men's and Women's cricket tournament every summer to raise funds for underprivileged children. The humble beginnings of this event were back in 2013 when a bunch of enthusiastic volunteers decided to use cricket as a vehicle to raise funds and create awareness towards the cause. Over past 6 years we have brought thousands of people together from all over western New York with the common vision of making a child's dream come true. 2019, like any other year, is no exception.
Come pick your favorite team and pledge an amount wishing for the success of all the children whose lives you will be affecting!!
What can your donation do?
$20 can provide a child with all the educational materials he/she needs for a year
$35 can fund vital immunizations for one child
$50 funds rehabilitation of a child with learning disability
$120 funds quality education for one child for full year
$200 funds libraries with pictorial books in two village
Not every child is fortunate, some need you! Help us spread the SMILE - (S)pread the message, (M)ake a contribution, (I)nvolve everyone, (L)ead for a cause, (E)mpower others.
About Vibha
Vibha's vision is to ensure that every underprivileged child attains his, or her right to health, education and opportunity. Vibha educates, enables and empowers, individuals who wish to make a positive impact on the lives of underprivileged children. Since our inception in 1991, Vibha has supported more than 250 projects in India and 10 projects in the US. As a result, Vibha has been able to reach out to and provide opportunities for over 2.3 million underprivileged children. Currently, Vibha supports 30 projects in India and 7 projects in the US.
All donations to Vibha are tax deductible. Vibha is a 501(c)(3) organization, registered in the USA in the State of New Jersey. Vibha's Tax ID is 22-3122761.
Goal
Loading...
Donations
| | |
| --- | --- |
| Preeti Chandra | $240 |
| Perry Pacouloute | $35 |
| Srikanth Parameswaran | $120 |
| Meenakshi Gupta | $20 |
| Anonymous | $100 |
| Anonymous | $50 |
| Anonymous | $20 |
| Lucie Kafkova | $20 |
| Sushant Dixit | $50 |
| Rimi Das | $20 |
| Sriram Balasubramanian | $20 |
| Rini Mukhopadhyay | $20 |
| Srirupa Chakraborty | $100 |
| Dithi Banerjee | $50 |
| Dipayan Majumder | $35 |
| Manish Gupta | $150 |
| Anonymous | $20 |
| Anonymous | $13 |
| Anonymous | $13 |
| Anonymous | $13 |
| Vidya, Shivy, and Puchka Shah | $20 |
| Meredith Shaul | $30 |
| Anonymous | $20 |
| Divesh Shetty | $50 |
| Apurva Bendre | $20 |
| Gopal Damera | $50 |
| Shankar Chintada | $100 |
| Neha Mehra | $100 |
| Shreshta Jannapureddy | $50 |
| Senthil kumar Sivanandi | $50 |
| Katie Sortino | $10 |
| Aakash jain | $20 |
| Vir Singh | $35 |
| Supriya Abhay | $150 |
| Sudha Sateesh Malreddy | $50 |
| Shyam Mudiraj | $220 |
| Ahona Bhattacharyya | $20 |
| Shivali Kapoor | $50 |
| Sandeepan Dutta | $20 |
| Maheedhara Sastry Achalla | $50 |
| Annapurna Padala | $50 |
| Robert Slick | $10 |
| Shashwat Mishra | $50 |
| Tamil Devendiran | $50 |
| Rakesh Ranjan | $21 |
| susan macro | $25 |
| Anonymous | $10 |
| Anonymous | $20 |
| Anonymous | $20 |
| PHANEENDRA NYSHADHAM | $100 |
| Aakriti Tandon | $100 |
| Padmaroopa Kothandaraman | $30 |
| Jyotsna Dixit | $30 |
| Rushi Patel | $25 |
| Anuj Pania | $20 |
| Anonymous | $60 |
| Bharadwaz Kari | $20 |
| Manuel Gonzalez Munoz | $100 |
| Madhan Babu | $25 |
| Hardeep Purswani | $20 |
| Apratim Bhattacharya | $25 |
| Anonymous | $50 |
| Akhil Pothula | $20 |
| Prathik Kumar Yadav Dokkara | $25 |
| Kalyani Girish | $20 |
| Anonymous | $30 |
| Neel Biswa Das | $30 |
| Deepak Veerupapuram | $50 |
| Divya Nerabetla | $50 |
| Sanhita Joshi | $30 |
| Bharadwaz Kari | $100 |
| Sreejith Kumar Krishnakumar | $40 |
| Ankit Ranjan | $20 |
| James White | $50 |
| Anonymous | $30 |
| Vishal Reddy | $25 |
| ajay antony kliyara philip | $120 |
| Kaushal Nagar | $10 |
| Abhinav Mittal | $150 |
| Viral Gujarati | $75 |
| Anonymous | $25 |
| SMA SAHRIAR | $100 |
| Suvarna Bagde | $50 |
| Girish Swayambhu | $25 |
| Anonymous | $20 |
| Rahul Solunke | $50 |
| Amit Batavia | $20 |
| Pramod Harikumar Warrier | $50 |
| Anonymous | $220 |
| Rufsun Babul | $110 |
| Anonymous | $50 |
| Soni Singh | $50 |
| Anonymous | $50 |
| Alankar Singh | $20 |
| Aadhav Rajaramanathan | $50 |
| Poojith Kalluru | $90 |
| Tanooj Kumar Thutaram | $50 |
| SURESH BABU GURRAM | $400 |
| Abdullah Farabi | $10 |
| Jophis Alias | $250 |
| Sabooh Khan | $30 |
| Furqan Hassan | $30 |
| Amit Gandhi | $50 |
| Anil Raghupatruni | $50 |
| Sagar Jagadale | $50 |
| Corporate Matching | $3,335 |
| Sivaraman Ramaswamy | $25 |
| Prasanna Balasubramanian | $20 |
| Karuna Koppula | $50 |
| Anonymous | $20 |
| Deepak Mahalingappa | $50 |
| Anonymous | $20 |
| Sankar Karanam | $50 |
| Hari Gopalakrishnan | $220 |
| Hari Gopalakrishnan | $50 |
| Subrath Maji | $35 |
| Rahul Jain | $25 |
| Kalyan Ghanta | $50 |
| Raushan Singh | $50 |
| Anu Gupta | $200 |
| Anonymous | $20 |
| Swapnil Gorhe | $30 |
| Aakash Dixit | $20 |
| Utkarsh Bharadwaj | $25 |
| Kaivalya Lal | $21 |
| Sanu Tharayil Raju | $15 |
| ripudaman dixit | $10 |
| Bhasker Vade | $20 |
| Anonymous | $20 |
| Adarsh Raavi | $20 |
| Harish Nanne | $20 |
| Sanjan Mudiganti | $20 |
| Hari Perla | $50 |
| Manaswee Sharma | $25 |
| Darshan Odeyar | $25 |
| Anubhav Khare | $20 |
| Amresh Singh | $20 |
| ravikanth atluri | $120 |
| Vinit Patel | $15 |
| Siri Yenigalla | $120 |
| Event Sponsorship 3 | $200 |
| Sathya Narayanan | $10 |
| theCoderSchool Buffalo | $250 |
| Anuj Atri | $50 |
| Krishna Roy | $15 |
| Anil Bhoosa | $20 |
| Joseph Smith Jr. | $20 |
| Deepika Srivastava | $20 |
| Anonymous | $20 |
| Pradeep Pawar | $35 |
| Event Sponsorship 2 | $350 |
| Kalyan Ghanta | $120 |
| Selvanand Panneerselvam | $120 |
| Jan Naseer Kaur | $25 |
| Nadeen Singh | $20 |
| Sibanisankar Sahoo | $50 |
| Venkat Maddi | $20 |
| Anonymous | $51 |
| Vaisakh Unnithan | $20 |
| Adithya Narayanan | $20 |
| Manasvi Salunkhe | $301 |
| Tanmayee Salunkhe | $50 |
| Kanwalnain Hans | $220 |
| Esfak Khan | $220 |
| sergio flores robles | $25 |
| Madhu S Sinha | $20 |
| Nishanth Gowda | $120 |
| Arundhuti Chaudhuri | $50 |
| Sudesh Ag | $31 |
| Priyank Ladani | $20 |
| SACHIN JADHAV | $220 |
| Amitabh Gupta | $200 |
| Pururva Lakkad | $15 |
| Edward Podniesinski | $10 |
| Soumik Das | $25 |
| Sneh Komal | $25 |
| Ankur Kumar | $25 |
| Manjunath Rama | $30 |
| Rukshanthan Rajendran | $20 |
| Lauren Rosintoski | $25 |
| Swati Venkat | $20 |
| Augustin Jeyakumar | $50 |
| PK Wallace | $50 |
| Rishi OM | $23 |
| Vivek Bhavsar | $15 |
| Apurv Jani | $15 |
| Harsh Shah | $15 |
| Manvijay Lather | $15 |
| Vedant Joshi | $15 |
| Aditya Sherasiya | $15 |
| Sagar Gowda | $30 |
| Shaun LaGrange | $25 |
| Dipak Jadhav | $20 |
| Akhila Damerla | $30 |
| Anonymous | $15 |
| Anonymous | $101 |
| Nischitha Gowda | $20 |
| Hans Gupta | $150 |
| Pranay Kumar Vuppula | $20 |
| Neha Vaze | $7 |
| Sunny Kumar | $20 |
| Swagata Pandit | $20 |
| Biju Mannazhath | $20 |
| Rachel Simpson | $10 |
| Jacqueline Ozzimo | $25 |
| Jan Naseer Kaur | $30 |
| Tim Fusco | $25 |
| Anonymous | $10 |
| Abdul Razzack Syed | $40 |
| Priya Banerjee | $25 |
| Sacheen Patel | $51 |
| Sibi Panneerselvam | $20 |
| Fabio Martins | $50 |
| Pradeep Kodam | $35 |
| Karthik Karne | $35 |
| RobyDodd Family Charitable Foundation Inc. | $1,000 |
| Solomon Dadebo | $200 |
| Nelson Moreira | $50 |
| John Boulden | $50 |
| JIYOUNG NAM | $25 |
| Jennifer Kurzdorfer | $20 |
| Vishal Alimchandani | $40 |
| Vineet Kumar | $100 |
| Bharadwaz Kari | $25 |
| Sree RengaNathan Ayyapalam | $25 |
| Event Sponsorship | $9,300 |
| Nathusingh Rathod | $25 |
| John Peck | $50 |
| Chaitanya Boddeti | $35 |
| Murthy Ganapathy | $25 |
| Kwame B-A | $100 |
| Poojith Kalluru | $50 |
| Priyanka Bhivpathaki | $35 |
| Anonymous | $200 |
| Madhu S Sinha | $100 |
| Pankaj Gupta | $25 |
| Nancy Knechtel | $25 |
| Rajesh Kasireddy | $20 |
| Rajaneesh Kolluri | $35 |
| Xuemei Song | $100 |
| Ira Bhatia | $30 |
| Biswa Das | $30 |
| Adil Khan | $20 |
| Mamta Sable | $25 |
| William Heintz | $50 |
| Anonymous | $25 |
| Nav Vaidhyanathan | $50 |
| Ashwini Sinha | $500 |
| Nikhil Natu | $50 |
| Tushar Vispute | $30 |
| Asmita Pandit | $120 |
| Anand Telgote | $80 |
| Neha Vaze | $50 |
| Rajesh Patnam | $20 |
| Rama Krishna Kallam | $20 |
| Sekhar Kilaparthi | $20 |
| SARTAJ SANDHU | $20 |
| Sreedhar Reddy Peddola | $20 |
| Lawrence Megan | $50 |
| Anurag Sharma | $100 |
| Manish Patel | $100 |
| Dave London | $225 |
| Bharat Patel | $100 |
| Richard Paciej Paciej | $25 |
Fundraisers for Vibha Buffalo Cricket 2019