KidLit Cares
SouthAsianKidlit is with Vibha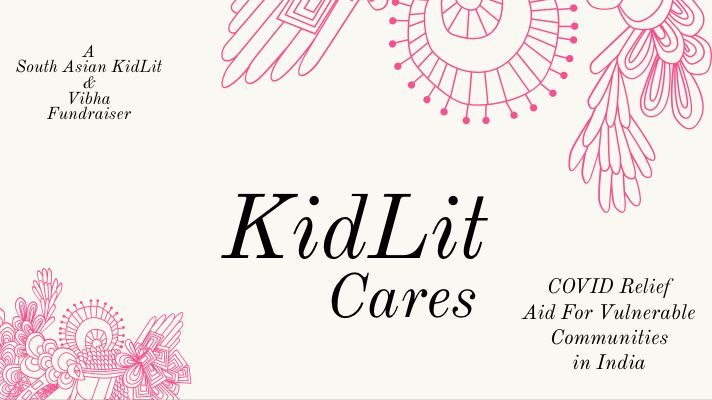 Helping Vulnerable Communities Survive India's COVID Crisis
As creators and advocates of children's literature, we, at SouthAsianKidlit, put our hearts into celebrating people and cultures through stories. As storytellers, we are invested in fostering understanding and empathy in young readers. As illustrators, we open windows into varied lived experiences through art. And as a community of advocates, we work tirelessly to promote values of diversity and equity so everyone's story is celebrated.
We do this because we care deeply about the world we live in.
India is currently seeing a dangerous surge in COVID cases. A staggering number of lives are being lost every day as the health care system buckles under pressure. Statewide lockdowns are already in place, leaving the most vulnerable communities to face hunger as well. Even as relief aid pours in, the need is enormous and growing. It is a devastating humanitarian crisis. Our people are suffering. And our hearts are breaking.
We need your help to change the story.
We are partnering with Vibha, a US-based nonprofit working in partnership with chef Vikas Khanna to raise $2M to support the relief efforts of 40+ grassroots organizations across India. Your donation will be used to effect change in smaller towns and rural areas to support healthcare providers, promote vaccination drives, and provide groceries and food to affected families.
As of May 15, 2021, Vibha has
Raised $1.5M


Disbursed $800K

Procured 1,100 oxygen concentrators--First batch distributed to Ambedkarnagar (UP), Meerut (UP), Srungavarapukota (AP), Beed (Maharashtra), Bengaluru (Karnataka), Beawar (Rajasthan)

Partnered with Texas Instruments and Govt. of Karnataka to set up a 100-bed modular hospital in Bengaluru with $650K

25K PPE kits, 240K masks, 180K gloves procured

Vaccination clinics are being planned across the country.
Your donation today will help Vibha and their local, long-trusted partners expand their reach and continue to offer life-saving support to vulnerable families.
JOIN US today in India's fight against COVID.
NOTE:
- All donations to Vibha are tax-deductible.
- Don't forget to check if your company matches donations; if it does, please make sure to get your donation matched! Your contribution could amplify this effort and help more lives.
Find more details about Vibha's COVID relief work here

Find out more about SouthAsianKidlit here
About Vibha
Vibha's vision is to ensure every underprivileged attains quality education. Vibha educates, enables and empowers, individuals who wish to make a positive impact on the lives of underprivileged children. Since our inception in 1991, Vibha has supported more than 250 projects in India and 10 projects in the US. As a result, Vibha has been able to reach out to and provide opportunities for over 2.3 million underprivileged children. Currently, Vibha supports 15 projects in India and 3 projects in the US.
All donations to Vibha are tax deductible. Vibha is a 501(c)(3) organization, registered in the USA in the State of New Jersey. Vibha's Tax ID is 22-3122761.
Goal
Loading...
Thank You Donors
| | |
| --- | --- |
| Julie Smith | $100 |
| Anonymous | $50 |
| Anonymous | $100 |
| Anonymous | $30 |
| Anu Mercian | $40 |
| Lavanya Rao | $100 |
| Anonymous | $51 |
| FARIDA BORDIWALLA | $50 |
| Anonymous | $100 |
| Anonymous | $150 |
| Jeremy Viegas | $200 |
| Reshma Srinivas | $50 |
| Anonymous | $100 |
| Anonymous | $500 |
| Anonymous | $250 |
| Anonymous | $101 |
| Anonymous | $500 |
| Anonymous | $100 |
| Anonymous | $100 |