Fundraiser for Vibha Golf 2022
Vibha Atlanta's Dream Golf Tournament at St. Ives Country Club on Monday, June 27th benefiting Vibha and Children's Healthcare of Atlanta.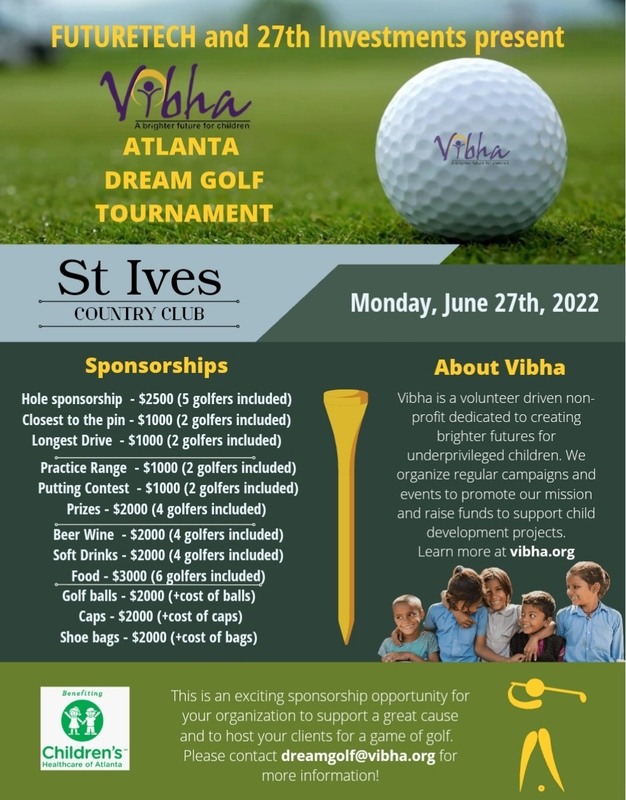 About Vibha
Vibha's vision is to ensure every underprivileged attains quality education. Vibha educates, enables and empowers, individuals who wish to make a positive impact on the lives of underprivileged children. Since our inception in 1991, Vibha has supported more than 250 projects in India and 10 projects in the US. As a result, Vibha has been able to reach out to and provide opportunities for over 2.3 million underprivileged children. Currently, Vibha supports 15 projects in India and 3 projects in the US.
All donations to Vibha are tax deductible. Vibha is a 501(c)(3) organization, registered in the USA in the State of New Jersey. Vibha's Tax ID is 22-3122761.
Goal
Loading...
Thank You Donors
| | |
| --- | --- |
| Bibi Majeed | $75 |
| Vijay Vemulapalli | $5,000 |
| Anonymous | $5,000 |
| Beat The Pro Check Pmt | $545 |
| Beat The Pro Pro | $850 |
| Checks - on registration day Event day | $1,650 |
| Abhaya Gupta | $600 |
| Sanjiv Devraj | $300 |
| Anonymous | $250 |
| Eevntbrite Donations | $300 |
| EventBrite Registrations | $1,800 |
| Sponsorship Golf Total | $50,000 |