Fundraiser for Vibha Cricket 2022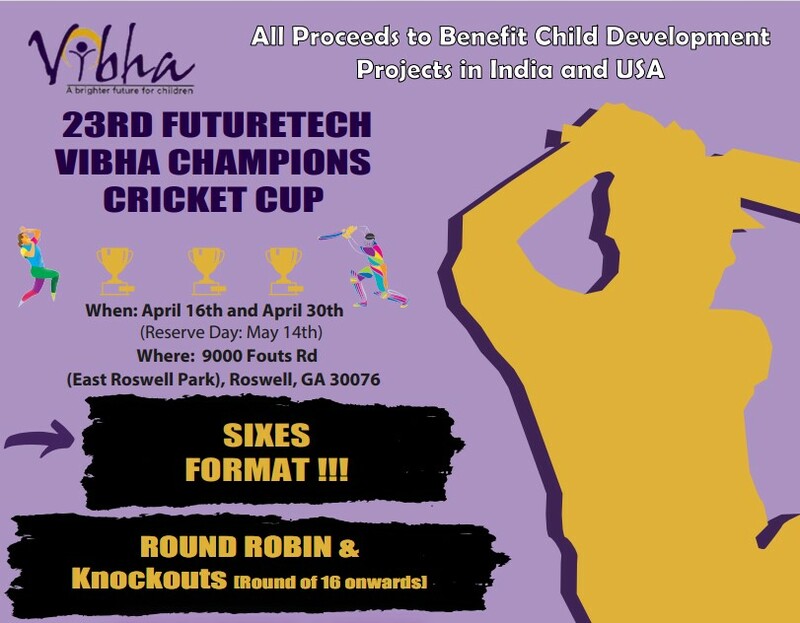 23rd FutureTech Vibha Champions Cricket Cup Be the champion for a cause
In the year 1999 a handful of young and energetic individuals with an appetite for philanthropy and love for cricket decided to host the first Cricket tournament in Atlanta to raise money for underprivileged kids. What started as a humble effort 23 years ago has now grown to become a very popular and privileged cricket tournament in Atlanta. Please donate generously and help children in need.
About Vibha
Vibha's vision is to ensure every underprivileged attains quality education. Vibha educates, enables and empowers, individuals who wish to make a positive impact on the lives of underprivileged children. Since our inception in 1991, Vibha has supported more than 250 projects in India and 10 projects in the US. As a result, Vibha has been able to reach out to and provide opportunities for over 2.3 million underprivileged children. Currently, Vibha supports 15 projects in India and 3 projects in the US.
All donations to Vibha are tax deductible. Vibha is a 501(c)(3) organization, registered in the USA in the State of New Jersey. Vibha's Tax ID is 22-3122761.
Goal
Loading...
Thank You Donors
| | |
| --- | --- |
| ATL Cricket 2022 Sponsorship Sponsorship | $30,000 |
| Nishad Pandarathodi | $40 |
| Siva Athiappan | $1,000 |
| Deepak Tiwari | $302 |
| Nishad Pandarathodi | $350 |
| Ramesh Krishnan | $200 |
| Christy Edward | $1,000 |
| Puru Madhavan | $250 |
| Vivekanand Velmurugan | $250 |
| Pandian Chandrasekaran | $750 |