The Dream Mile -X India September 2020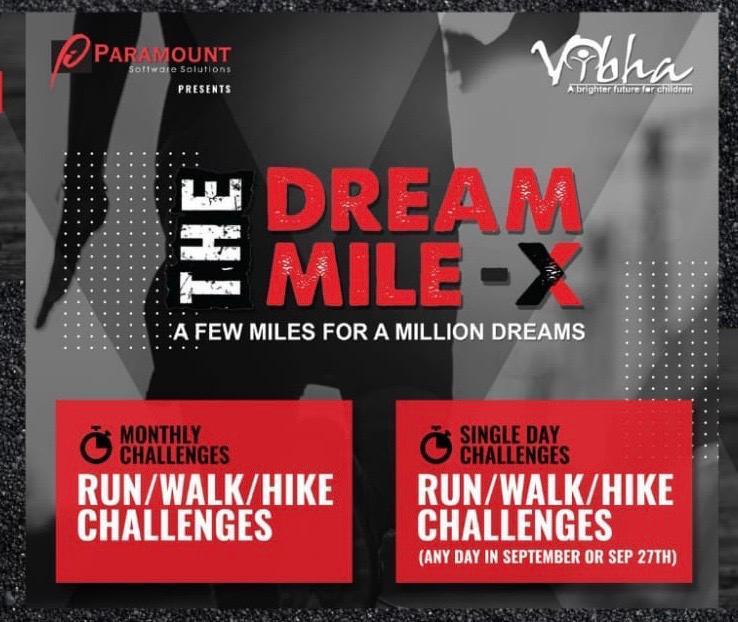 Vibha's Flagship fundraiser Dream Mile. The Dream Mile originated in 1998 in Atlanta and then quickly became a permanent fixture on the calendars of runners in various cities in USA and India. This year we are expanding the event to be a global event and it will allow participants to compete from their own cities by walking/running/jogging/hiking in the month-long event; or in a single day event on any one day during the month of September 2020. The event will begin on September 1st and end on September 30th, 2020.
Since 1991, Vibha has reached out to many children through 250 projects in India and 10 projects in the US. Proceeds of this event will benefit child development projects for underprivileged children in India
About Vibha
Vibha's vision is to ensure that every underprivileged child attains his, or her right to health, education and opportunity. Vibha educates, enables and empowers, individuals who wish to make a positive impact on the lives of underprivileged children. Since our inception in 1991, Vibha has supported more than 250 projects in India and 10 projects in the US. As a result, Vibha has been able to reach out to and provide opportunities for over 2.3 million underprivileged children. Currently, Vibha supports 30 projects in India and 7 projects in the US.
All donations to Vibha are tax deductible. Vibha is a charitable trust registered under section 80G of the Income Tax Act of India.
Goal
Loading...
Donations
| | |
| --- | --- |
| Vibha Shah | ₹450 |
| Kirti Doshi | ₹50,000 |
| Shanmukh Reddy | ₹1,000 |
| Kotha liketh Dheeraj | ₹100 |
| Kasthurappa Kariyappa | ₹400 |
| Anonymous | ₹100 |
| Vibha Shah | ₹450 |
| Vinaya Prakash | ₹500 |
| Sai Saketh reddy Ippagunta | ₹100 |
| Anonymous | ₹450 |
| Anonymous | ₹100 |
| Reecha Kulkarni | ₹1,000 |
| Alok Kothari | ₹100 |
| Vibha Shah | ₹1,350 |
| Anonymous | ₹400 |
| vinay babu Kanthamneni | ₹4,599 |
| Rinal Shah | ₹100 |
| Harsh Kinker | ₹500 |
| Vibha Shah | ₹450 |
| Amal Vartak | ₹500 |
| Anonymous | ₹4,500 |
| Vipin Barthwal | ₹10,000 |
| Chirag Dhawan | ₹100 |
| Namita Shetty | ₹101 |
| Pravin Chavan | ₹450 |
| Avin Shah | ₹100 |
| Anonymous | ₹500 |
| Abhirup Bandyopadhyay | ₹100 |
| Subhash Das | ₹1,000 |
| Sidharth Das | ₹1,000 |
| Prabhudeva Hugar | ₹100 |
| Sreeshaila Athani | ₹100 |
| Toyoja Upadhyay | ₹1,000 |
| NAGABHUSHANA RAO | ₹5,000 |
| VANUKURU SRINIVASA RAO | ₹5,000 |
| Vivienne Vidyasagar | ₹5,000 |
| Anonymous | ₹2,000 |
| Zankhana Patel | ₹25,000 |
| Mobina Challawala | ₹100 |
| Kutbi Challawala | ₹100 |
| Zarina Dhrolia | ₹100 |
| Moiz Dhrolia | ₹100 |
| Abizer Shakruwala | ₹100 |