Ashwini, Arun and Anvi's pledge to educate 100 children

Dear Friends,

Arun and I, Ashwini Kumar, have been Vibha volunteers for nearly 15 years. Vibha is a volunteer-driven organization that aims to break up the poverty cycle by transforming India's education system so that every child gets the opportunities he or she deserves.
While Vibha has already impacted millions of children, hundreds of millions are still deprived of the opportunities they deserve. We have a long way to go, and we cannot do it without support from donors like you.
VIBHA's focus for the year would be to scale our partnerships to provide better public education to all, especially in the following areas:

Bridging learning gaps due to COVID-19
Digital Education
Foundational literacy and numeracy
I invite you to make a generous contribution towards our pledge drive to support 100 children. Together we can make the lives of these children brighter today.
Every donation matters! Your support matters!
Gratefully Yours,

Anvi, Arun, and Ashwini Kumar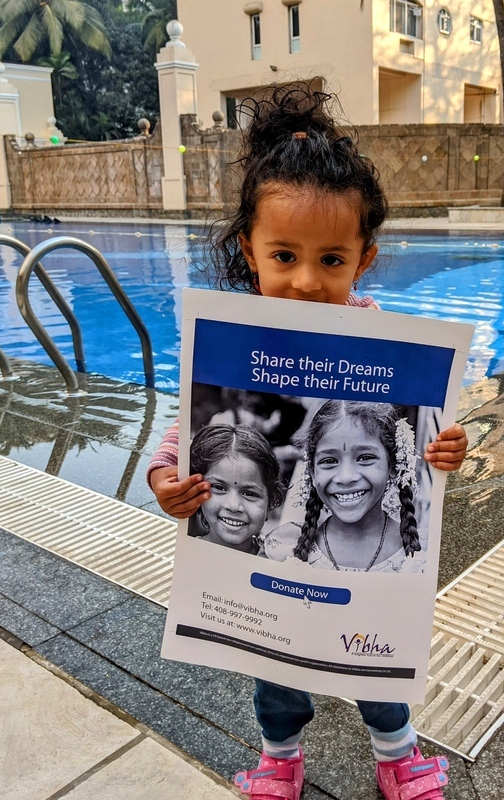 About Vibha
Vibha's vision is to ensure every underprivileged attains quality education. Vibha educates, enables and empowers, individuals who wish to make a positive impact on the lives of underprivileged children. Since our inception in 1991, Vibha has supported more than 250 projects in India and 10 projects in the US. As a result, Vibha has been able to reach out to and provide opportunities for over 2.3 million underprivileged children. Currently, Vibha supports 15 projects in India and 3 projects in the US.
All donations to Vibha are tax deductible. Vibha is a 501(c)(3) organization, registered in the USA in the State of New Jersey. Vibha's Tax ID is 22-3122761.
Goal
Loading...
Thank You Donors
| | |
| --- | --- |
| Nisha Golcha | $50 |
| Veena Agaram | $50 |
| Kanchana Narayanan | $200 |
| Arun Kumar | $200 |