Vibha Minnesota Cricket Carnival 2019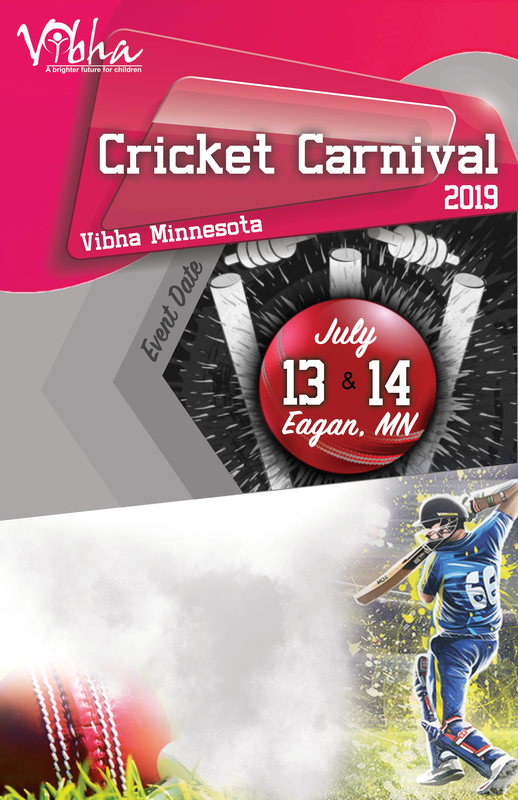 In the year 2007 a handful of young and energetic individuals with an appetite for philanthropy and love for cricket decided to host the first Cricket tournament in Atlanta to raise money for underprivileged kids. What started as a humble effort 10 years ago has now grown to become a very popular and privileged cricket tournament in Minneapolis.
VIBHA is back with the Vibha MN Cricket Carnival, the tournament you all have been waiting for. Bring your gear out, hit the practice grounds, and get ready for scintillating cricket in pleasant weather!. The tournament will be held at Northview Park Athletic Fields, Eagan, MN on Saturday July 13th and Sunday July 14th. All the teams will play in a knock out tournament and top two teams will compete for the Champions Trophy and the teams who raised more donations will be competing for Fundraiser Cup.
To mark 11th year, Vibha has set up a target to raise $40,000 through this event.As you cheer every six and four by your favorite team in their quest for the Vibha MN Champions Cricket Cup, take a moment to think about millions of underprivileged children around the globe. For them every day is a challenge bigger than the last, as they struggle for their basic needs such as food and shelter. But what if you could combine your passion for cricket with a desire to help these children in need?
So pick your favorite team, open up your wallets and and pledge an amount wishing for their success!!
About Vibha
Vibha's vision is to ensure that every underprivileged child attains his, or her right to health, education and opportunity. Vibha educates, enables and empowers, individuals who wish to make a positive impact on the lives of underprivileged children. Since our inception in 1991, Vibha has supported more than 250 projects in India and 10 projects in the US. As a result, Vibha has been able to reach out to and provide opportunities for over 2.3 million underprivileged children. Currently, Vibha supports 30 projects in India and 7 projects in the US.
All donations to Vibha are tax deductible. Vibha is a 501(c)(3) organization, registered in the USA in the State of New Jersey. Vibha's Tax ID is 22-3122761.
Goal
Loading...
Donations
| | |
| --- | --- |
| Anonymous | $250 |
| Anonymous | $50 |
| Venkata Perakam | $100 |
| Srikanth Kodayam | $100 |
| SANTHOSH KASAPURAM | $25 |
| Thirunavukarasu Natarajan | $500 |
| Amith Madhavaram | $100 |
| Srinivasacharyulu Komanduri | $50 |
| Suchit Sundaram | $25 |
| Suchit Sundaram | $25 |
| krinjalkumar patel | $500 |
| Abi Chandrasekaran | $300 |
| Tejesh Reddy | $20 |
| Venkat Madurai | $100 |
| Tejesh Reddy Chinthakuntla | $20 |
| Kamlesh Joshi | $10 |
| Kamlesh Joshi | $10 |
| Apurva Ranjan | $20 |
| Apurva Ranjan | $20 |
| Charanraju Db | $10 |
| Charanraju Db | $10 |
| Prerak Shah | $20 |
| Shivanand Mali | $230 |
| Prerak Shah | $20 |
| Ash Chalu | $26 |
| Vipul Deshpande | $20 |
| Sapthagiri Padmanabhm | $20 |
| DEVENDRA GAJWAY | $20 |
| Shankar Gopalakrishnan | $50 |
| Narasimhan Kidambi | $100 |
| Koteshwar Mulukuntla | $25 |
| Srinivasa Nadimpalli | $25 |
| Sakthivel Kumaravelu | $290 |
| Sakthivel Kumaravelu | $10 |
| Bhave Ashwin Raj Bandi | $90 |
| Anonymous | $50 |
| Venkata Gottipati | $100 |
| Vipul Deshpande | $25 |
| Abhijit Supekar | $50 |
| Bhave Ashwin Raj Bandi | $30 |
| Sapthagiri Padmanabham | $30 |
| Djuana Banks | $40 |
| Djuana Banks | $40 |
| Mahek Laxmipriya | $25 |
| Lorraine Arambu | $20 |
| Mahek Laxmipriya | $25 |
| Lorraine Arambu | $20 |
| Jennifer Tvrdik | $50 |
| Sagar Tolaney | $10 |
| jennifer tvrdik | $50 |
| Sagar Tolaney | $10 |
| Anonymous | $20 |
| Jagadeesh Muppalaneni | $25 |
| Aniruddha Upadhye | $20 |
| Arthi Venkatapathy | $25 |
| Satish Venkatasubramanian | $100 |
| RAMSANKAR SUNDARAM | $50 |
| Kapil Jangir | $30 |
| Kadayam Shriram | $50 |
| Sitaram Lakshmanan | $100 |
| Manimaran Rengadoraisamy | $100 |
| Narendranath Bhokisham | $20 |
| Saurabh Batra | $25 |
| Anonymous | $50 |
| Narasimhan kidambi | $100 |
| Vijay Rajamani | $50 |
| Anonymous | $20 |
| Rohit Gupta | $20 |
| Harsha Jagadish | $40 |
| Sarang Deodhar | $25 |
| Suresh Iyer | $51 |
| Anonymous | $150 |
| Abhishek Srivastava | $40 |
| Guruprasad Somasundaram | $100 |
| MC Ramesh | $100 |
| Kiran Kanukurthy | $50 |
| Lonnie Lofstedt | $25 |
| Cicil Pilli | $50 |
| Devanand Galla | $50 |
| Rasbihari Pal | $10 |
| Chandan Singh Megavath | $50 |
| Anonymous | $20 |
| Deep Singh | $10 |
| Raghavendra Sai Sudheer Uppuluri | $25 |
| Ashwin Sankaran | $20 |
| Jagriti Kalwar | $25 |
| Tarak Konar | $10 |
| Vinita Singhal | $10 |
| Swathi Inturi | $50 |
| Anonymous | $20 |
| Sunil Variyer | $25 |
| Lonnie Lofstedt | $25 |
| Anonymous | $50 |
| SR CH | $100 |
| kranthi polusani | $20 |
| Varma Jampana | $25 |
| deep pratap singh bishen | $10 |
| Naga Thota | $20 |
| Raghavendra Uppuluri | $25 |
| Surya kommireddy | $30 |
| Jagriti Kalwar | $25 |
| Kumar Sonu | $25 |
| Anonymous | $25 |
| Srikanth Manohar PAKKI | $25 |
| Viraj Prajapati | $25 |
| Ravinder Kanger | $30 |
| Shiva Mali | $30 |
| Visakh Madhavan | $30 |
| Jagadeesh Manga | $25 |
| Venkata Chennamsetty | $25 |
| Vivek Krishnan | $50 |
| Arasu Mohan | $20 |
| Dileep Cherlopalle | $20 |
| Max Pham | $20 |
| Gurudath Kudva | $30 |
| Anonymous | $50 |
| Chandrasekhar Nelluri | $25 |
| Prasanna Vegunta | $50 |
| Sudeep Rai | $75 |
| Sai Varala | $25 |
| Akhil Reddy Kontham | $300 |
| Vinita Singhal | $10 |
| Tarak Konar | $10 |
| Rasbihari Pal | $10 |
| Devanand Galla | $50 |
| Ramu Tummala | $100 |
| Vijaya Mannem | $100 |
| Vishwajit Tambade | $30 |
| Ashwin Kumar Sankaran | $20 |
| chakravarthy soma | $250 |
| Jeevan Reddy | $100 |
| Srinivasarao Jummisetti | $25 |
| Shaikh Dahood | $25 |
| Paul Thomas | $25 |
| Murthy Ivaturi | $25 |
| SUBHASH GADDE | $30 |
| Uday Shanker Jothiraju | $40 |
| Rahul Kaila | $30 |
Fundraisers for Vibha Minnesota Cricket Carnival 2019