Vibha's COVID-19 Relief Initiative

Fight COVID-19. Fight Hunger. Rehabilitate children.
If you are reading this, you are probably worried about COVID-19 but probably have a roof over your head and sufficient food to eat during the lockdown or stayhome period. Your children are well taken care of. However, millions of daily-wage earners in India are more afraid of seeing their children die of hunger than COVID-19. With no prospect of income for weeks, they are left distressed, fearful and hungry.
With the lockdown being extended, the problem has compounded.
Government of India and State governments are doing a phenomenal job by rolling out relief programs to poor communities, but there are thousands who are not eligible because they do not have a government issued ID card and are considered non-migrant.

Vibha is joining hands with our trusted NGO partners to feed hungry families with children. These families are connected to our partner NGOs who provide educational support to their children.
We are going to monitor the relief efforts closely and plan to provide regular updates to our donors. Our planned efforts are clearly laid out below.
Please join us as we take care of people who are just like us, as human as can be, but, unfortunately, are born into poverty.
COVID-19 is affecting everyone but there are some who have no support. We have sufficient. Can we share?
For more details contact Vibha India please send us an email at ashwini.kumar@vibha.org or message us through https://www.facebook.com/mumbaivibha

Thanks,
Vibha Family
Vibha India's Success Stories in April, 2020
Partnered with 4 NGOs namely Door Step School and CORP India in Mumbai, Door Step School in Pune and Aid et Action in Hyderabad, to disburse ration & hygine essentials kits to take care of 875 families from street and slum dweller families.
Vibha Mumbai volunteers are in constant communication with various organizations and NGOs around Mumbai, like CORP India, Door Step School, Robinhood Army, Rotary clubs and local corporators to help coordinate relief efforts within Mumbai.
Connected face-mask and hand-sanitizer distributors and donors to Door Step School, Mumbai so that they can distribute in densely populated slums that do not have access to clean water
Informed our 25 NGO partners around India about the various NITI Ayog's initiatives that were rolled out to NGOs helping the un-reached most needy families, like the uniform rate of INR 21 per kg for wheat and INR 22 per kg for rice to all charitable organisations or nonprofits running relief operations for migrant laborers and other vulnerable groups.
Vibha Bangalore, by conducting online events, has engaged close to 100 children from their city, to build awareness about COVID-19 hygiene and social distancing protocols.
Vibha Mumbai, Vibha Pune and Vibha Hyderabad volunteers have stepped up to be dependable partners of the Vibha supported NGOs in their area.
Vibha's Plans:
Vibha is supporting the following trusted and vetted NGOs, some of whom have been Vibha's partners for over a decade, to deliver food supplies (ration kits) and sanitation/hygiene products like soaps, hand-wash, sanitizers and masks.
Door Step School, Mumbai
Door Step School, Pune
Aid et Action, Hyderabad
CORP India, Mumbai
We have successfully raised funds for the above mentioned NGO partners for their relief efforts detailed in the narrative below. We are in the process of lending a hand to more of our NGOs partners and involve in post-lockdown measures/activities that are required to get back to normal operations.
1. NGO Partner: Door Step School, Mumbai and Pune
Beneficiaries: Street, Slum and Construction site dweller families with NO Govt issued ID cards

100 families at Khadakpada near Samna Parivar Goregaon East, Dindoshi in Mumbai. Children attend DSS school on wheels program or other DSS run centers
100 families of Chunapada and Tunipada at Sanjay Gandhi National Park, Borivali east in Mumbai. These are tribal families who are difficult to reach
100 migrant families with children in Pune Urban who are not registered with Govt. (Central/State)
Relief Efforts: To provide cooking supplies to 300 families in April, 2020
Grains and essential cooking supplies for 4 weeks @ 700 per family per week distributed to identified deserving families with children. Tie-up with local grocery stores in the identified area, where the supplies will be packed into bags.
DSS volunteers will conduct the distribution, with the help of local police and municipal corporation. DSS volunteers will make sure the quality of grains and supplies are good. DSS volunteers will ensure that social distancing is practiced and necessary hygiene precautions are undertaken during the distribution process. Vibha volunteers will monitor the distribution at regular intervals.
Ration kit contains Rice 3/5 kg , Atta 3/5 kg, Edible oil 1 ltr, Tea 250 grams, Sugar 1 kg, Dal 1 kg, 1 Soap, Salt and Masala
Budget:
DSS Mumbai : Total of INR 5.6 Lakhs for supporting 200 families for 4 weeks in Mumbai (INR 700 per family per week)
DSS Pune :Total of INR 3.35 Lakhs for supporting 100 families for 4 weeks in Pune. Breakdown is as below:
1. INR 2.8 Lakhs for ration (food supplies) kit 100 families for 4 weeks (INR 700 per family per week)
2. Transportation charges = Rs 5000 X 4 times = Rs 20000 (per trip charges may vary based on distance covered, time of distribution etc as we may have to use private transport)
3. Building awareness about social distancing, better habits of sanitation and cleanliness, various epidemics and taking care of children during that period – Rs 35,000
2. NGO Partner: Aide et Action, Hyderabad
Beneficiaries: Migrant construction workers families and children in the Financial District are of Hyderabad
300 families spread across GAAR Laxmi Infoban (Kokapet), Pranith May Fair (Tellapur) and Rajapushpa Green Dale (Osman Sagar)
Relief Efforts: To provide nutritional supplements, hygiene and cleaning supplies to 300 families in April, 2020
Aide et Action and Vibha have worked with GHMC (Greater Hyderabad Municipal Corporation) to supply government sponsored meals for the 300 families.
However, children, pregnant women and older migrants need additional food supplements like milk, biscuits, eggs and bread. Cleaning supplies like soap, sanitizers and hand-wash are also essential until the COVID-19 situation rests.
Aide et Action volunteers are working with local supermarket chains to get the supplies delivered, while they are also monitoring the distribution of the supplies. The field coordinators are also conducting hygiene awareness drives, while maintaining social distancing. Vibha volunteers will virtually monitor the distribution through regular communication with Aide et Action.
Budget: INR 2,50,000 for 300 families for 4 weeks with food kits and essential hygiene product kits. The food kit would contain milk, biscuits, eggs and bread for families with children and pregnant women. Hygiene products consist of soap, hand-sanitizers and hand-wash.
3. NGO Partner : Community OutReach Program, Mumbai (CORP India)
Beneficiaries : Daily wagers working as domestic help in Thane district
200 daily wage families staying in the slums of Thane district. These 200 needy families are identified by the community leaders and CORP India staff who are staying in the same locality. Out of these 200, around 140 are families of the beneficiaries of Vibha supported projects, 50 are senior citizens who are living alone and the rest of the 10 families are outsiders but very needy.
Relief Efforts To provide cooking supplies to 200 families in need of food for 2 weeks
Arrangements have been made such that the local grocery shops would provide grain kits and with the help of local community leaders these will be home delivered. Logistically this is more suitable in Thane due to smaller size of the slum and a long healthy relation between Corp and the community.

The staff or community leaders will take pic of each beneficiary and send to CORP India Director. Thus, Corp has all mechanism and process in place to operate efficiently complying with the government's guidelines.
The list of the identified 200 families with name, address and contact numbers are ready. For the senior citizens, the neighbors have taken responsibility to coordinate with Corp. The in-charge of Thane CORP center has already contacted TMC (Thane Municipal Corporation) and local police station for all required permission and help. So far, except doing survey, there is no other intervention so far by the government in these Thane slums.
Each family is sent a token number with CORP image, on mobile. They go to the selected grocery store and show the image, give their name and collect the food kit. The shop keeper will click an image of the family with the food kit and send it to the CORP staff. At the end of the month, the grocery store will be reimbursed by CORP via a cheque.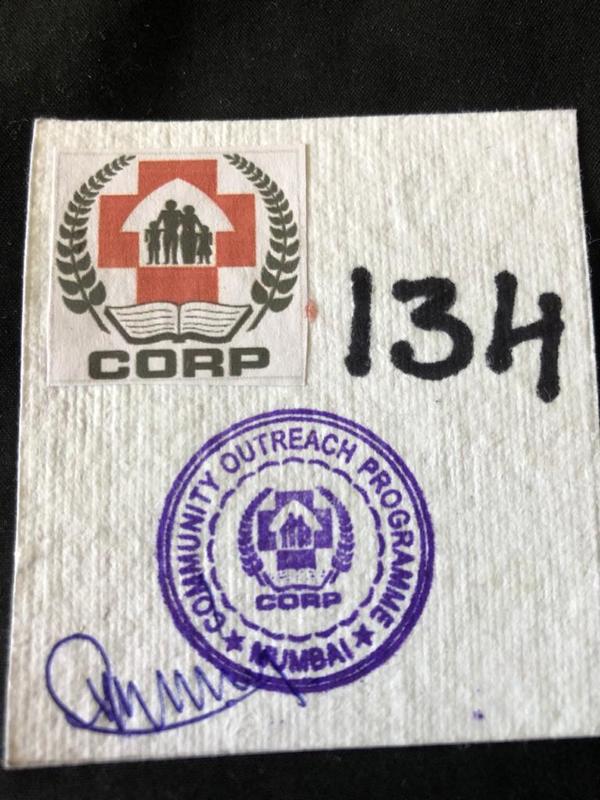 Budget: INR 2,40,000 for 100 families for 2 weeks with food kits Rice 10kg, Wheat 5kg, Edible oil 1ltr, Tea 150gram, Sugar 1kg, Dal - 3 types - 2kg, Poha & Rava - 2kg, Salt and Masala
About Vibha
Vibha's vision is to ensure that every underprivileged child attains his, or her right to health, education and opportunity. Vibha educates, enables and empowers, individuals who wish to make a positive impact on the lives of underprivileged children. Since our inception in 1991, Vibha has supported more than 250 projects in India and 10 projects in the US. As a result, Vibha has been able to reach out to and provide opportunities for over 2.3 million underprivileged children. Currently, Vibha supports 30 projects in India and 7 projects in the US.
All donations to Vibha are tax deductible. Vibha is a charitable trust registered under section 80G of the Income Tax Act of India.
Goal
Loading...
Donations
| | |
| --- | --- |
| Harsh Lakhani | ₹7,000 |
| Anonymous | ₹1,003 |
| Anonymous | $25 |
| Harshit Pratap Pratap | ₹301 |
| Kshitij Neroorkar | ₹7,000 |
| Pradnya Karbhari | ₹50,000 |
| Niket Kaisare | ₹25,000 |
| Priyanka Shahi | ₹501 |
| Vaibhav Anu | $100 |
| Durgesh Das | $300 |
| Foundation for CSR Redington | ₹260,000 |
| Jayashri Rane | $50 |
| Anonymous | ₹2,000 |
| Anonymous | ₹10,000 |
| Anonymous | $50 |
| Vrushali Chavan | $25 |
| Anonymous | ₹3,000 |
| Anupama Shankar | $25 |
| Nilisha Prabhu | $101 |
| Jashma Kadam | $100 |
| Sharmila Surkund | $50 |
| Nilisha Prabhu | ₹101 |
| Lakshmi Narasimhan | $25 |
| MINAL patel | $50 |
| Anonymous | ₹4,900 |
| Shikha Talwar | $100 |
| Sadhana Kini | ₹50 |
| Venkatarama Reddy Sabbella | $2,000 |
| Anonymous | ₹700 |
| Ganesh Shenoy | $50 |
| Ganesh Shenoy | ₹3,500 |
| Anonymous | $100 |
| Indira Batra | $100 |
| Kamesh Nanduri | ₹5,000 |
| Arijit Dey | ₹21,000 |
| Anonymous | $50 |
| Anonymous | $250 |
| Anonymous | $25 |
| Akhila Srinivasan | $25 |
| Deepthi Dyapaiah | $25 |
| Sangita Handa | $30 |
| Indira Mohandoss | $50 |
| Supreet Nahil | $50 |
| Paul Swanson | $100 |
| Anonymous | ₹600 |
| Selvarajan Thiyagarajan | $20 |
| Anonymous | $50 |
| Anonymous | $75 |
| Isha Pulikkottil | $30 |
| Anita Roy | $100 |
| Mira Ladva | $50 |
| Hemanth Bangalore | $50 |
| Renata Zaniratto | $500 |
| Anonymous | ₹116 |
| Tshering Gurung | $50 |
| Mira Ladva | ₹50 |
| Mira Ladva | ₹50 |
| Durga Raja Karimpet | $20 |
| Vipashi Trivedi-Sheth | $50 |
| Anonymous | $250 |
| RAJA Sam | $20 |
| Vijay Dasari | ₹2,000 |
| Vandana Kodandaram | $25 |
| Naresh Bhakta | $101 |
| Hem Subbiyan | $50 |
| Latesh Semlani | $50 |
| Mansi Mehta | ₹11,000 |
| Priya Zachariah | $50 |
| Anonymous | $50 |
| Senthil Natesan | $100 |
| Anonymous | $25 |
| Nilendu Sen | $50 |
| Balaji Thirumeni | $50 |
| Vivek Alluri | $10 |
| Anonymous | $30 |
| Shubhangi Ambre | $25 |
| Kalyani Gopal | $100 |
| Suganya Ramadurai | $50 |
| Srinivas vemulapalli | $50 |
| Bharat Prabhu | $20 |
| Sumanth Appajigowda | $100 |
| Anonymous | $50 |
| Anonymous | $25 |
| Raji & Sagar Vuligonda | $125 |
| Misha Edara | $50 |
| Shruthi Yadalam | $25 |
| Anisha Gupte | $50 |
| Sameera Rao | $25 |
| Anonymous | $20 |
| SATISHCHANDRA RAO PHILAR PHILAR | ₹1,000 |
| SHIVANAND KINI | $25 |
| Jyothi (Nikhat) Kaushik | $50 |
| Anonymous | $10 |
| Anonymous | $25 |
| Vivek Nandakumar | $50 |
| Deepa Pai | $25 |
| Neha Siddana | $50 |
| Sandeep Kulkarni | $50 |
| Narayanan Muralikrishnan | $25 |
| Mahesh Kolur | $50 |
| Priya Rajaram | $25 |
| Jyothi Kaushik | $50 |
| Sanjay Mugwe | $25 |
| Anonymous | $20 |
| Satarupa Das | $150 |
| Sarita Mundh | $50 |
| Anonymous | $10 |
| Varsha praveen | $25 |
| Ashwini Nadig | $100 |
| Zenab Rangwala | $10 |
| Tarun Philar | $100 |
| Rashmi Malik | $10 |
| Anonymous | $50 |
| Kanupriya Salaria | $75 |
| Sangeetha Karthik | $20 |
| Deven & Medha Parlikar | ₹50 |
| Rajee Shavri | $10 |
| Imthiaz Sherriff | $50 |
| Anonymous | $51 |
| Misha Edara | ₹50 |
| Anonymous | $20 |
| Ruchi Madan | $20 |
| Shruthi Dyapaiah | $50 |
| Anonymous | $25 |
| Anonymous | $250 |
| Kavita Khushalani | $20 |
| Raj Vuchatu | $200 |
| Anonymous | $75 |
| Srini M | ₹5,000 |
| Anonymous | $50 |
| nidhi duggal | ₹3,000 |
| Shyam Sundar Marepalli | ₹5,000 |
| Meera Iyer | $20 |
| Anonymous | $20 |
| Sree Duggineni | $25 |
| Ash Rao | $50 |
| Anonymous | ₹21,000 |
| Siddharth Philar | $50 |
| SASI CHALLA TADEPALLI | ₹50,000 |
| JYOTHI KASI | ₹50,000 |
| Anonymous | $100 |
| Sarojam Kuppathil | ₹1,000 |
| Anonymous | ₹1,000 |
| Anonymous | $100 |
| Lokesh Rathod | ₹1,100 |
| Prakash Das | ₹5,000 |
| Shweta Lolage | $250 |
| Anonymous | ₹100 |
| Durgesh Das | $200 |
| Anonymous | ₹501 |
| Vaishnavi Pattabiraman | $20 |
| Sridharan Ravi | $25 |
| Priya Iyer | $50 |
| Karthik Aghoram | $250 |
| Anonymous | ₹2,000 |
| Arun Chandran | $100 |
| Anonymous | ₹504 |
| Hrishikesh Deshmukh | ₹1,605 |
| Monica Jain | ₹500 |
| Narasimhan Kidambi | $150 |
| Anonymous | $100 |
| Vijay Janakiraman | $200 |
| Anamika Talwar | $4,000 |