Vinita's Vibha Vibe 2019 Campaign - Dancing for a Cause!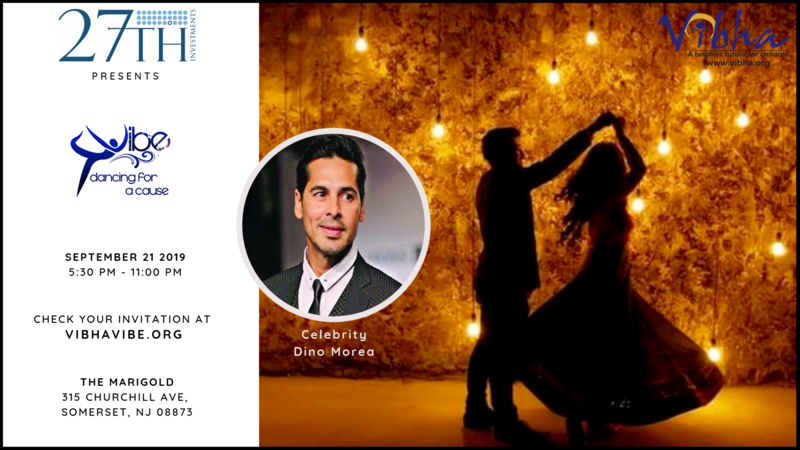 Yes! I'm back and can't wait to Dance for a Cause this year! Some of you may know I broke some bones right before I had the chance to perform last year. It may have discouraged me to come back, but the cause is great and the need is greater! Thus (with a little more caution) I'm coming back with a purpose and more excitement!
I can't wait to take the stage this year with my partner Sapna Advani! Actually it is quite an honor and privilege!
Sapna currently serves as the Assistant Creative Director for AATMA Performing Arts along with being a principal dancer for the Company's Touring Production, Mystic India: The World Tour. Sapna does it all from ballet, jazz to bharatanatyam. Sapna has worked with artists such as Vidya Vox, Shankar Tucker, Francesca Maria and Jonita Gandhi. She has had the privilege of choreographing and performing for the Philadelphia Sixers Half-time Show, New York Knicks Opening Act, and A R Rahman Musical Act (IIFA Rocks 2017)
Why do I keep coming back to participate in Vibe? B/c I believe in Vibha's mission and the fact that 89% of the funds you donate go directly to children in need. I've seen these children...it's touching to see those kids who are personally getting benefit from our donations, hope and positivity.
So let's dance, donate and help make the world a better place for these children!!!!
2019, Dancing for a Cause, is an exciting fundraiser for Vibha. Based roughly on 'Dancing with the Stars' TV show, this event features local celebrities, our "Stars", in a dance face-off on the event night. The event will be held on September 21, 2019 at Marigold in Somerset, New Jersey.
Our Stars comprise of successful entrepreneurs, global executives, professionals and social and community leaders who in their unassuming ways have created a mark in our city and beyond. As they embark the journey towards the gala night, they will raise funds and awareness for Vibha's mission.
It is heartening to see the awareness increasing around the importance of education among the lesser privileged society and Vibha's core goal is to Educate, Empower and Enable children to remain motivated to receive the quality education they deserve – which is their birthright!
Be it a volunteer, donor, sponsor - Vibha's patrons are the reason we are continuously successful in providing opportunities for these children to dream. Let us work together to challenge every shortcomings and pave the way to a brighter future of children in U.S. and in India!
Thank you for your support!
About Vibha
Vibha's vision is to ensure that every underprivileged child attains his, or her right to health, education and opportunity. Vibha educates, enables and empowers, individuals who wish to make a positive impact on the lives of underprivileged children. Since our inception in 1991, Vibha has supported more than 250 projects in India and 10 projects in the US. As a result, Vibha has been able to reach out to and provide opportunities for over 2.3 million underprivileged children. Currently, Vibha supports 30 projects in India and 7 projects in the US.
All donations to Vibha are tax deductible. Vibha is a 501(c)(3) organization, registered in the USA in the State of New Jersey. Vibha's Tax ID is 22-3122761.
Goal
Loading...
Thank You Donors
| | |
| --- | --- |
| Mona Budhiraja (another Corp match prudential) | $100 |
| Vinita Kochhar (fb through Sept 21) | $100 |
| Sarita Verma | $200 |
| Mohini Jaiswal | $50 |
| Ted Kingsbery | $500 |
| Ash Sachdev | $100 |
| Little Nitin Gupta | $200 |
| Nimita (corporate match) Sethi | $100 |
| Vinita Kochhar (fb 9/17) | $50 |
| Mona Budhiraja (company match) | $100 |
| Gagan Budhiraja | $100 |
| Vinita Kochhar (fB 9/16) | $595 |
| Dhaval Seth | $50 |
| Mazar Dhrolia (fb match through 9/14) | $50 |
| Mazar Dhrolia | $50 |
| Vinita (FB through 9/13) Kochhar | $100 |
| Dhaval Sheth | $50 |
| Vriti (university radiology Corp match) Bahirwani | $100 |
| Nimita Sethi | $200 |
| Sameena Shahpurwala | $50 |
| FB through 9/7 Facebook | $200 |
| Manali Shah | $200 |
| FB through 9/4 part 2 FB | $20 |
| Mona Nag (company match) | $100 |
| Manisha Roy (J&J match) | $666 |
| Facebook through Tuesday Sept 4th Kochhar | $2,369 |
| Vishesh Anand | $25 |
| Timothy Mathy | $100 |
| Anonymous | $2,000 |
| Nita Kamdar (J&J Match) | $200 |
| Anonymous | $100 |
| Anonymous | $100 |
| Niraj Gupta | $100 |
| Shyam Gursahani | $100 |
| Shobhana Patel | $100 |
| Shyam Gursahani | $500 |
| Rajesh Dheri | $250 |
| Sangita Dass | $100 |
| Nitin Gupta | $100 |
| Vivek Verma | $100 |