Ruchi Dancing For a Cause for Vibha Vibe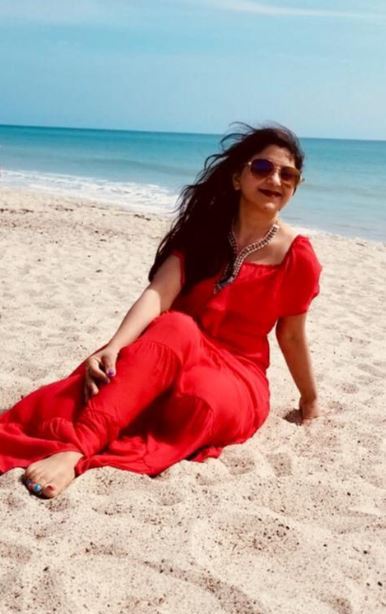 Hello all,
I am Ruchi, and I love my name (it means "loving interest" for something or someone). I love life.
I am a computer engineer by education and profession but I am always interested in artistic and creative endeavors. I used to run a beautiful flower gallery and loved caring for weddings and floral designs. I am lovingly associated with Indian Cultural Society of East Brunswick and am the founding member of East Brunswick Lions Club.
I love to help people and believe in sharing positive energy everywhere. I love to laugh my heart out, and I am certainly not sorry if I fall down while laughing.
I am enjoying a beautiful phase of my life with an outstandingly loving husband, Ashish, and the soul of my life... my angel… my daughter, Mahi. Dance is a passion for me ever since I was born. Hence I find Vibha Vibe 2019, Dancing for a Cause a natural next step for me.
I believe that education is every kid's right. I feel obligated to do something about it. Thanks to Vibha for being there to help such underprivileged children and giving me an opportunity to participate in my own way in this dance fundraiser along with some fantastic and kind-hearted fellow participating stars.
My goal is $4000 for this fundraising. I humbly seek your love and blessing towards my effort to raise the education level of underprivileged children. No donation amount is too small or too big. Every dollar you donate adds up for this good cause.
Thank you for your support!

About Vibha
Vibha's vision is to ensure that every underprivileged child attains his, or her right to health, education and opportunity. Vibha educates, enables and empowers, individuals who wish to make a positive impact on the lives of underprivileged children. Since our inception in 1991, Vibha has supported more than 250 projects in India and 10 projects in the US. As a result, Vibha has been able to reach out to and provide opportunities for over 2.3 million underprivileged children. Currently, Vibha supports 30 projects in India and 7 projects in the US.
All donations to Vibha are tax deductible. Vibha is a 501(c)(3) organization, registered in the USA in the State of New Jersey. Vibha's Tax ID is 22-3122761.
Goal
Loading...
Thank You Donors
| | |
| --- | --- |
| Ruchi-Friends Verma | $500 |
| Jyoti Presswala | $25 |
| Richa Jodha | $20 |
| Sharon Sullivan | $25 |
| Aksh Kodikal | $30 |
| Priyyanka Taneja | $20 |
| Anonymous | $50 |
| Richa Khare | $60 |
| Diva Verma | $50 |
| ASMIT KHARE | ₹2,000 |
| Shenaz Bikanerwals | $20 |
| Anonymous | $500 |
| Shweta Sheth | $10 |
| Smriti Bhasin | $75 |
| Mazhar & Insiya Dhrolia | $100 |
| Varma Varma | $50 |
| Pooja Shrivastava | $50 |
| Disha Shrivastava | ₹1,001 |
| Saiful Siddique | $100 |
| Prabhudayal Khare | $100 |
| Prabhudayal Khare | $100 |
| Bina Sheth | $50 |
| Bina Sheth | $50 |
| Gayatri Desai | $100 |
| Kamal Sharma | $50 |
| Debjani Banerjee | $100 |
| Vriti Bahirwani | $25 |
| Virendra Singh | $50 |
| Virendra Singh | $50 |
| Venu Chalamala | $500 |
| Vijay Penumudi | $100 |
| Prabhat Kumar | $50 |
| Ashish Verma | $200 |
| Nilam Kapadia | $100 |
| kapil shrivastava | $100 |
| Milli Parekh | $100 |
| Indu & Rajeev Shrivastava | $100 |
| Dipalee & Devendra Shastri | $200 |
| Dalveer & Nidhi Rajput | $200 |
| Anonymous | $100 |
| Anonymous | $200 |
| Shanty Kuruvila | $100 |
| Rashmi Khare | ₹5,000 |
| Hardik Khare | ₹2,000 |
| Himanshu Tandon | $20 |
| Rashmi Byreddy | $100 |
| AMIT KHARE | $100 |
| Prachi Khare | $100 |
| Nadia Siddique | $100 |