Make A Difference
Each one of us can make a difference, together we make change!!!
I will be participating in Vibe 2018 and looking for your support! Every little bit helps..so please donate to my campaign.
Vibha's core goal is to Educate, Empower and Enable children to remain motivated to receive the quality education they deserve.
Let us work together to pave the way for a brighter future for children in the U.S. and in India!
Thank you for your support!

Regards,
Vriti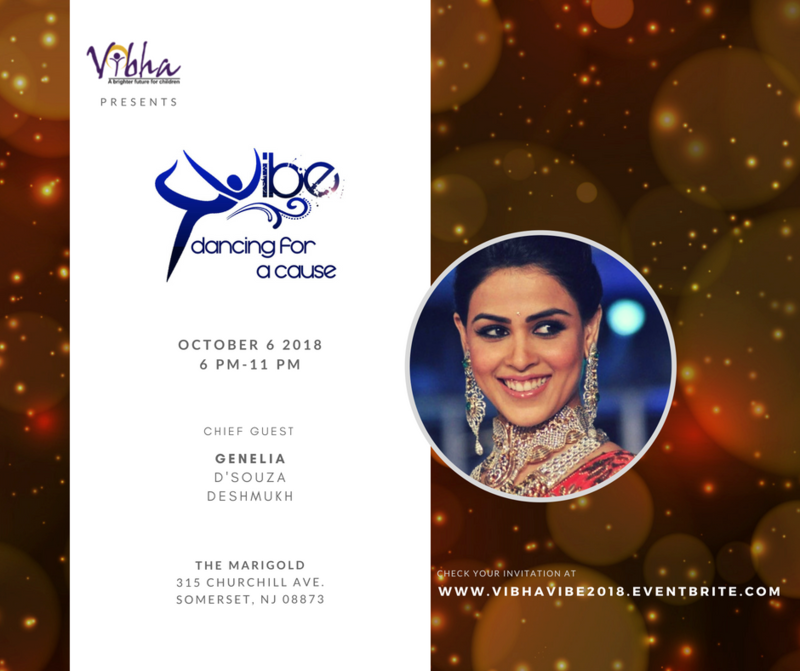 About Vibha
Vibha's vision is to ensure that every underprivileged child attains his, or her right to health, education and opportunity. Vibha educates, enables and empowers, individuals who wish to make a positive impact on the lives of underprivileged children. Since our inception in 1991, Vibha has supported more than 250 projects in India and 10 projects in the US. As a result, Vibha has been able to reach out to and provide opportunities for over 2.3 million underprivileged children. Currently, Vibha supports 30 projects in India and 7 projects in the US.
All donations to Vibha are tax deductible. Vibha is a 501(c)(3) organization, registered in the USA in the State of New Jersey. Vibha's Tax ID is 22-3122761.
Goal
Loading...
Donations
| | |
| --- | --- |
| Facebook donation 10/6/18 facebook | $265 |
| Donation thru 10/05 Facebook | $540 |
| Arti Punjabi | $25 |
| Aiman Laila | $100 |
| Anonymous | $100 |
| Sharad Rao | $50 |
| Saurabh Shah | $100 |
| Divya Banerjee | $10 |
| vriti bahirwani | $50 |
| Anonymous | $25 |
| Vriti Bahirwani | $160 |
| Insiya Dhrolia | $50 |
| Manju Lulla | $20 |
| Facebook donation thru Sept 10 | $290 |
| Deepak Kheskani | $500 |
| Vanisha Kheskani | $300 |
| Lisa Martinez | $50 |
| Anmol Bhambhwani | $150 |
| gayatri desai | $50 |
| Vanisha Kheskani | $100 |
| Facebook danotion (thru 12/24) | $140 |
| Facebook donations (aug 22) | $130 |
| Vriti Bahirwani | $250 |
| nithya Murthy | $50 |
| prathima Neruganti | $50 |
| Jaya Bhambhwani | $100 |
| Lori Martin | $25 |
| Gagan Kumar | ₹5,000 |
| Madhu Manjani | $200 |
| monika koganti | $20 |
| shri shah | $25 |
| Deepika Gupta | $70 |
| Anonymous | $25 |
| Shilpi Mahajan | $20 |
| Smriti Bhasin | $50 |
| Vriti Bahirwani | $100 |
| Neena Gursahani | $50 |