Vibha Vibe 2018 Dancing For A Cause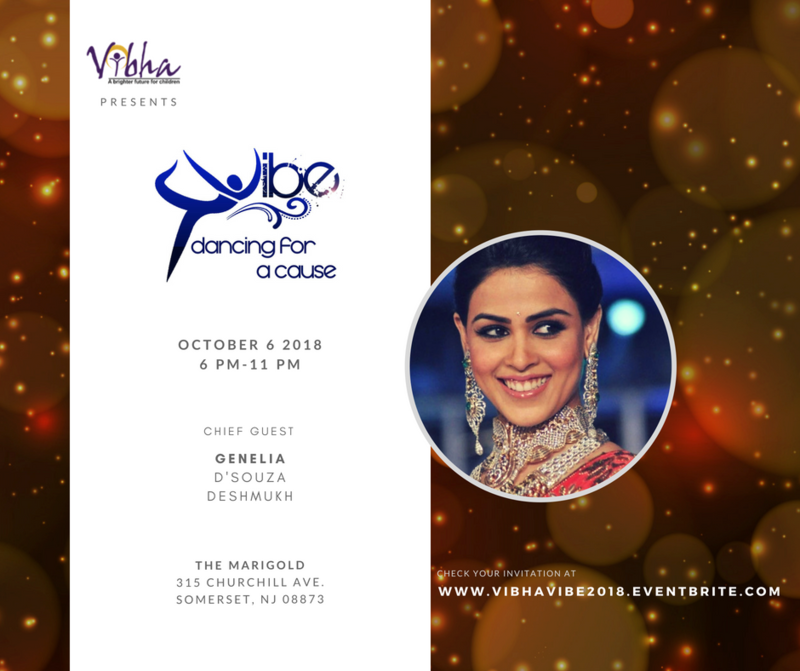 Ensuring The Right To Education, Health And Opportunity For Those In Need
Education is the foundation upon which one builds his or her future. I am participating in Vibha's Vibe 2018 campaign to help the mission in serving the needs of the underprivileged children. Our mission is to educate, empower and enable every individual who wishes to make a positive difference in the lives of the less than fortunate children. Vibha brings together the combined skills and actions of volunteers, donors, social entrepreneurs and NGOs to a common platform to find sustainable solutions to the problems faced by the underprivileged children.
I wish for you to join me this year and together we can make a positive difference. For Vibe 2018, my goal is to raise $3,000 and I know that is achievable with your love and support. Every bit helps to make a difference and gives Vibha the opportunity to help improve the lives in the world.
While I and my family have been fortunate enough to have an easy access to education, health and opportunities, many children do not have this access and I am looking forward to your support for accomplishing the campaign target I have set for myself and helping Vibha in this wonderful effort. I was introduced to Vibha by a dear friend and this event gives me an opportunity to give back to the community, while also helping me pursue my passion for dancing. I am hoping you will contribute to this cause and also grace the occasion with your presence at the upcoming Vibe 2018 event on October 6th, 2018.


"The simplest acts of kindness are by far more powerful than a thousand heads bowing in prayer."
― Mahatma Gandhi
"It's not how much we give but how much love we put in giving."
― Mother Teresa
Vibe 2018, Dancing for a Cause, is an exciting fundraiser for Vibha. Based roughly on 'Dancing with the Stars' TV show, this event features local celebrities, our "Stars", in a dance face-off on the event night. The event will be held on October 6, 2018 at Marigold in Somerset, New Jersey.
Our Stars comprise of successful entrepreneurs, global executives, professionals and social and community leaders who in their unassuming ways have created a mark in our city and beyond. As they embark the journey towards the gala night, they will raise funds and awareness for Vibha's mission.
It is heartening to see the awareness increasing around the importance of education among the lesser privileged society and Vibha's core goal is to Educate, Empower and Enable children to remain motivated to receive the quality education they deserve – which is their birthright!

Be it a volunteer, donor, sponsor - Vibha's patrons are the reason we are continuously successful in providing opportunities and support those in need. Our journey is a long one but not unachievable because we know you are by our side! Let us work together to challenge every shortcomings and pave the way in these hard times.
Thank you for your support!
About Vibha
Vibha's vision is to ensure that every underprivileged child attains his, or her right to health, education and opportunity. Vibha educates, enables and empowers, individuals who wish to make a positive impact on the lives of underprivileged children. Since our inception in 1991, Vibha has supported more than 250 projects in India and 10 projects in the US. As a result, Vibha has been able to reach out to and provide opportunities for over 2.3 million underprivileged children. Currently, Vibha supports 30 projects in India and 7 projects in the US.
All donations to Vibha are tax deductible. Vibha is a 501(c)(3) organization, registered in the USA in the State of New Jersey. Vibha's Tax ID is 22-3122761.
Goal
Loading...
Donations
| | |
| --- | --- |
| Meeta Desai | $50 |
| Erica Mathur | $50 |
| Facebook (as of 10/05) Batra | $5,284 |
| Sherry Gupta | $30 |
| Parshottam and Kamini Mathur | $100 |
| Babita Patel | $100 |
| Surendra Bhatnagar | $250 |
| Sunil Mathur | $30 |
| Madesh Subbanna | $501 |
| Anonymous | $100 |
| Jaswinder Chadha | $100 |
| Anonymous | $30 |
| Sajeev Ravindran | $50 |
| Anisha Sajeev | $100 |
| ritika naik | $100 |
| Ruchi Srivastava | $100 |
| Bhupendra Sharma | $30 |
| Arvind Geeta Mathur | $30 |
| Vikram Batra | $100 |