Rebuild Kerala Fund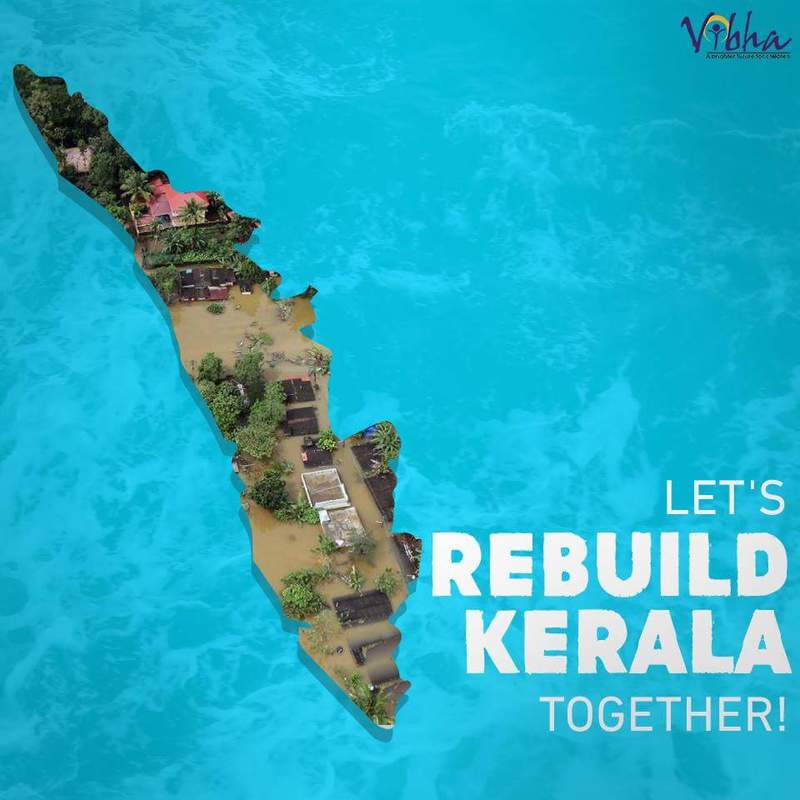 The State of Kerala in India is now facing one of the worst natural disasters in modern history. Widespread floods have left hundreds dead, hundreds of thousands displaced and billions of dollars worth in property and infrastructure damage.

Vibha volunteers across the world stand with the people of Kerala in these testing times and have immediately sanctioned $25,000 towards the 'Rebuild Kerala Fund'. We are now requesting you to generously donate and join us in helping the people of Kerala.

What is the 'Rebuild Kerala Fund' for?

After the immediate needs of the affected communities are handled by the government agencies, and relief organizations, a long road to recovery, rehabilitation and reconstruction of these communities will start. Schools will have to be reconstructed, libraries restocked, study materials replaced etc. Along with relief efforts, Vibha will leverage its past experience in similar efforts to deploy all funds raised to efforts that will make mid-to-long term impact in the affected communities.

What is Vibha's experience in Disaster Relief and Rehabilitation/Reconstruction efforts?

While Vibha's primary focus is child development, we have actively participated in rehabilitation efforts during catastrophic disasters like Hurricane Katrina, the Asian Tsunami, Gujarat Earth Quake, Hudhud Cyclone, Chennai Floods and most recently Hurricane Harvey in Houston, USA.

Are donations to Vibha tax deductible?

Yes they are. Vibha is 501c(3) certified in the US and 80(g) certified with FCRA clearance in India. Vibha's Tax id is 22-3122761.

Can my employer match?

Please check with your HR if you employer matches donations to 501c(3) organizations,. If they do, we highly encourage that you make use of it.

About Vibha
Vibha's vision is to ensure that every underprivileged child attains his, or her right to health, education and opportunity. Vibha educates, enables and empowers, individuals who wish to make a positive impact on the lives of underprivileged children. Since our inception in 1991, Vibha has supported more than 250 projects in India and 10 projects in the US. As a result, Vibha has been able to reach out to and provide opportunities for over 2.3 million underprivileged children. Currently, Vibha supports 30 projects in India and 7 projects in the US.
All donations to Vibha are tax deductible. Vibha is a 501(c)(3) organization, registered in the USA in the State of New Jersey. Vibha's Tax ID is 22-3122761.
Goal
Loading...
Donations
| | |
| --- | --- |
| Chirag Joshi | $501 |
| Vinay Chawla | $100 |
| Chaitanya Divgi | $500 |
| Jason McGhin | $50 |
| Anonymous | $100 |
| Lakshmi Prabhakar Koppolu's Fundraiser | $200 |
| Donations From FB Fundraiser | $21,624 |
| Sheila Nayak | $751 |
| subrahmanya sud bonthala | $50 |
| Swaminathan Murthy | $40 |
| Anonymous | $150 |
| Vikrant Joshi | $150 |
| Mitesh Patel | $100 |
| Nina Srinath | $100 |
| Balaji Srinivasan | $200 |
| Anonymous | $100 |
| Rakesh Bala | $50 |
| Venkatesh Kannedhara | $100 |
| Wipawan Yindeepol | $100 |
| Vikas Saini | $50 |
| Anonymous | $150 |
| Anonymous | $251 |
| H.G Sanjay | $25 |
| Suman Thota | $100 |
| Anonymous | $100 |
| Anonymous | $100 |
| Subramanian Iyer | $100 |
| Sunita Manne | $100 |
| Anonymous | $100 |
| Anonymous | $50 |
| Anonymous | $500 |
| Anonymous | $150 |
| Mavath Anoop | $500 |
| Anonymous | $10 |
| Anonymous | $150 |
| Ashritha Nagavaram | $250 |
| Anonymous | $100 |
| Surender Kumar | $50 |
| Anonymous | $100 |
| Anonymous | $20 |
| Anonymous | $1,000 |
| Ramasurya Reddy | $100 |
| Anonymous | $100 |
| Julia Malkin | $50 |
| Anonymous | $50 |
| Vivek Chhabria | $101 |
| Anonymous | $250 |
| sanchit sharma | $50 |
| Anonymous | $100 |
| Sharanya Karudalingam C | $100 |
| Feroz Bhatt | $51 |
| Anonymous | $40 |
| Anonymous | $100 |
| Sandeep Jaiswal | $100 |
| Mausam Hazarika | $200 |
| Florentina Raducanu-Smadu | $20 |
| Anonymous | $40 |
| Vinod Pulkayath | $50 |
| Dipika Pendyala | $50 |
| Anonymous | ₹2,500 |
| Tomokazu Hada | $20 |
| Anonymous | $250 |
| Anonymous | $50 |
| VIKAS VERMA | ₹3,500 |
| Harish Acharya | $20 |
| Jhilmil Nag | $20 |
| Anonymous | $25 |
| Anonymous | $200 |
| Raj Sethuraman | $75 |
| Usha Venkatraj | $51 |
| Anonymous | $2 |
| Shriganesh Shintre | $11 |
| Anonymous | $100 |
| Prabhakar Krishnamoorthy | $25 |
| Anonymous | $200 |
| Anonymous | $100 |
| Anonymous | $100 |
| Sanjeev Arora | $250 |
| Arvind Menon | $100 |
| Saurabh Chawdhary | $150 |
| Seema Ramchandani | $10 |
| Ruby Hernandez | $25 |
| Dina Bennett | $30 |
| Abishek Marwaha | $15 |
| Seema Ramchandani | $5.30 |
| Anonymous | $5 |
| Anonymous | $1 |
| Seema Ramchandani | $4.56 |
| Anonymous | $51 |
| Anonymous | $5 |
| Seema Ramchandani | $1.23 |
| Seema Ramchandani | $5 |
| Amazon's Pledge | $20,000 |
| Anonymous | $100 |
| Edward Kelly | $100 |
| Ayyappa Akella | $10 |
| Ajantha Tadury Kamala | $100 |
| Anita Morro | $25 |
| Anonymous | $100 |
| Anonymous | $100 |
| Anonymous | $100 |
| Anonymous | $500 |
| Venugopal Menon | $600 |
| Raj Assi | $100 |
| Anonymous | $50 |
| Matthew Pate | $100 |
| Marty Karnett | $50 |
| Cynthia Floyd | $100 |
| Dhruvish Patel | $300 |
| Francis John | $50 |
| Sue McGinnis | $100 |
| Abhijeet Chachad | $100 |
| Senthilnathan Velayudham | $1,000 |
| Moody Akhtar | $100 |
| Buffalo Chapter Cricket Event Proceedings | $2,280 |
| NY/NJ Fundraisers | $10,000 |
| Johnson Kochumuttom | $100 |
| VENKATA NAGA S MYNAMPATI | $100 |
| Anonymous | $250 |
| Vivek Gupta | $200 |
| Ravi Gulati | $100 |
| Anonymous | $500 |
| Anonymous | $100 |
| Haydee Barajas | $100 |
| Kuruvilla Joseph | ₹5,000 |
| Dipa Rao | $200 |
| Rajesh Seth | $25 |
| Balaji Srinivasan | $250 |
| Abhishek Kaukuntla | $100 |
| VIKRAM CHANDRAN | $101 |
| Gunvant Patel | $250 |
| Anish Reghunath | $100 |
| sundaram sangameswaran | $50 |
| Anand Kalathil | $100 |
| Nishanth Ramesh | $100 |
| Anonymous | $50 |
| Sudeep Banerji | $50 |
| Anonymous | $100 |
| Anonymous | $50 |
| Anonymous | $75 |
| Anamika Talwar | $5,000 |
| vana bollineni | $25 |
| Pradeep Chetal | ₹13,000 |
| Anonymous | $50 |
| Anonymous | $200 |
| Kalyan Guntupalli | $100 |
| Terri & Bob VanSlyke | $25 |
| Kashmiri Delory | $100 |
| Anonymous | $100 |
| Anonymous | $100 |
| Anonymous | $150 |
| Anonymous | $100 |
| Prasanna Krishna | $100 |
| Francois Sigot | ₹5,000 |
| Sivaji Tondepu | $50 |
| Saravanan Chinnappa | $25 |
| Rahul Pradhan | $100 |
| Anonymous | $100 |
| Anonymous | $50 |
| Anonymous | $50 |
| Manjunath Gowda | $25 |
| Vasavi Chinnam | $150 |
| Anonymous | $15 |
| Anonymous | $125 |
| Sanjib Sarkar | $100 |
| Sati Banerjee | $100 |
| Ashima Sahgal | $100 |
| Anonymous | $100 |
| Pradnya Karbhari | ₹10,000 |
| Ravi Cheedepudi | $50 |
| Anonymous | $100 |
| Shivani Garcha | $50 |
| Anonymous | $100 |
| SATHYA JONNALAGADDA | $100 |
| Anonymous | $50 |
| Janaki Allu | $500 |
| Pratap Cheekati | $100 |
| Anonymous | $100 |
| HariPrasad Bairaju | $50 |
| Aarabhi Hande | $25 |
| Ritu Mathur | $100 |
| Anonymous | $650 |
| Anonymous | $51 |
| Anonymous | $100 |
| Mani Venkat | $50 |
| Smitha Unni | $100 |
| Nirav Patel | $50 |
| Curtis Kuo | $30 |
| Anonymous | $125 |
| Anonymous | $100 |
| Brahmam Kapalavavi | $10 |
| MEHUL DIXIT | $40 |
| Prasanna Kumar Reddy Velagala | $20 |
| Anonymous | $100 |
| Anonymous | $500 |
| Anonymous | $100 |
| Vikram Reddy Pareddy | $50 |
| Rajesh Nathan | $50 |
| Dattatray Pethe | ₹10,000 |
| Dinesh Sarasam | $100 |
| Shree Kenghe | $50 |
| Venkat Sharma | $100 |
| Anonymous | $10 |
| Nisha Shetty | $25 |
| Anonymous | $25 |
| Deepika Sethi | $50 |
| Shibu Krishnankutty | $100 |
| Shamsudin Charania | $35 |
| Anonymous | $100 |
| Madhu Batchu | $300 |
| Gaston Breaux | $50 |
| Abhishek Jaiswal | $7 |
| Jananee Nair | $150 |
| Anonymous | $50 |
| Jay Duraisamy | $100 |
| Anonymous | $28 |
| Anonymous | $75 |
| Anonymous | $100 |
| Murali Bashyam | $50 |
| Ananth Madabushi | $100 |
| SREE KANTH MELAM | $100 |
| Krishnan sampath | $50 |
| Ajit Nair | $100 |
| Ragin Rajendran | $100 |
| Venkata Ambati | $100 |
| Kishore Krishnan VMWare Matching Donation | $500 |
| bankim ghelani | $5 |
| Anonymous | $100 |
| Vinay Chawla | $100 |
| Anonymous | $25 |
| Divya achtani | $50 |
| Parul Bhavsar | $50 |
| Alex Lakhati | $501 |
| Jyothika Chadaga | $50 |
| Rakesh Singh | $100 |
| Kameswari Konduri | $250 |
| Peddiraju Kambala | $15 |
| Pranshu Adavadkar | $501 |
| Sameer Kasargod | $50 |
| Richa Gupta | ₹2,000 |
| Rahul Shinde | $100 |
| Vibha Kerala Relief Fund | $25,000 |
| Aruna Balachandra | ₹5,000 |
| PARAMESWARA RAO GARIMELLA | ₹10,000 |
| Rajesh Choukse | ₹5,000 |
| Venkat Gottipati | ₹20,000 |
| Anonymous | $500 |
| Venu Dasigi | $50 |
| Jayant Kotalwar | $100 |
| Anonymous | $50 |
| Anonymous | $150 |
| Jagan Manoj Kumar Chitti | $100 |
| Anonymous | $50 |
| Annahita Keravala | $50 |
| Vikas Arora | $55 |
| Anonymous | $100 |
| Debendra Das | $25 |
| Anonymous | $50 |
| Anonymous | $50 |
| Naiju Kavumpurath Visa Corporate Match | $100 |
| Shikha Vatsalan Hyland Corporate Matching | $500 |
| Vinu Srivastan Apple Matching | $3,334 |
| Bobby Ahluwalia | $500 |
| Ram Chintapatlla | $50 |
| Anonymous | $51 |
| Anonymous | $100 |
| Vijay Vemulapalli Equifax Matching Donation | $250 |
| Anonymous | $20 |
| Vitthal Tapse | ₹500 |
| Anonymous | ₹100 |
| Anonymous | ₹100 |
| Anonymous | $10 |
| Anonymous | $25 |