Nidhi's Fundraiser For Vibha Dream Mile 2018 Bayarea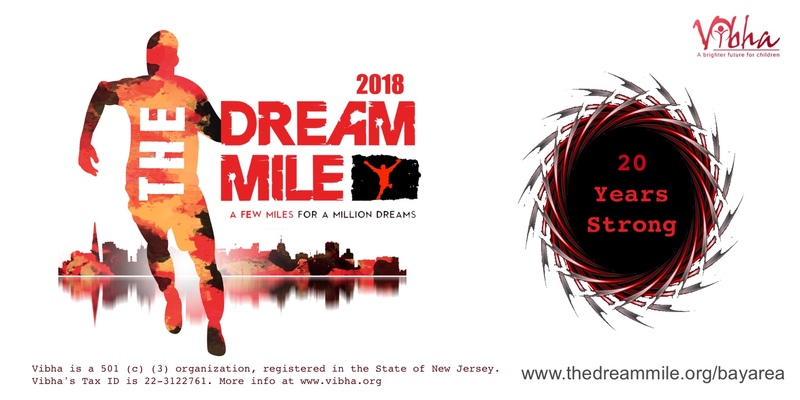 Let's raise funds together for the Vibha Dream Mile - Run and Walk Bay Area. Please setup your fundraising pledge drive today!!!
I'M RAISING MONEY FOR VIBHA AND YOUR CONTRIBUTION WILL MAKE AN IMPACT, WHETHER YOU DONATE $5 OR $500. NO AMOUNT IS TOO SMALL. ANY AND ALL DONATIONS WILL BE APPRECIATED. IF YOUR COMPANY HAS A MATCHING PROGRAM, YOUR DONATION IS DOUBLED!!
40 MILLION CHILDREN IN INDIA LACK EDUCATION, HEALTHCARE, AND OPPORTUNITIES THAT WE TAKE FOR GRANTED. SINCE 1991, VIBHA HAS TOUCHED AND IMPROVED THE LIVES OF 300,000+ CHILDREN. EDUCATE, EMPOWER AND ENABLE EVERY INDIVIDUAL WHO WISHES TO MAKE A POSITIVE DIFFERENCE IN THE LIFE OF THE UNDERPRIVILEGED CHILD.
TOGETHER WE CAN CREATE A BRIGHTER FUTURE FOR THESE KIDS. PLEASE VISIT HTTP://WWW.VIBHA.ORG/ TO LEARN ABOUT THE ORGANIZATION AND ITS SERVICES.
"THE BEST WAY TO FIND YOURSELF IS ,IN THE SERVICE OF OTHERS" - MOHANDAS GANDHI.
THANK YOU FOR YOUR SUPPORT.
About Vibha
Vibha's vision is to ensure that every underprivileged child attains his, or her right to health, education and opportunity. Vibha educates, enables and empowers, individuals who wish to make a positive impact on the lives of underprivileged children. Since our inception in 1991, Vibha has supported more than 250 projects in India and 10 projects in the US. As a result, Vibha has been able to reach out to and provide opportunities for over 2.3 million underprivileged children. Currently, Vibha supports 30 projects in India and 7 projects in the US.
All donations to Vibha are tax deductible. Vibha is a 501(c)(3) organization, registered in the USA in the State of New Jersey. Vibha's Tax ID is 22-3122761.