Durgesh's Fundraiser For Vibha Dream Mile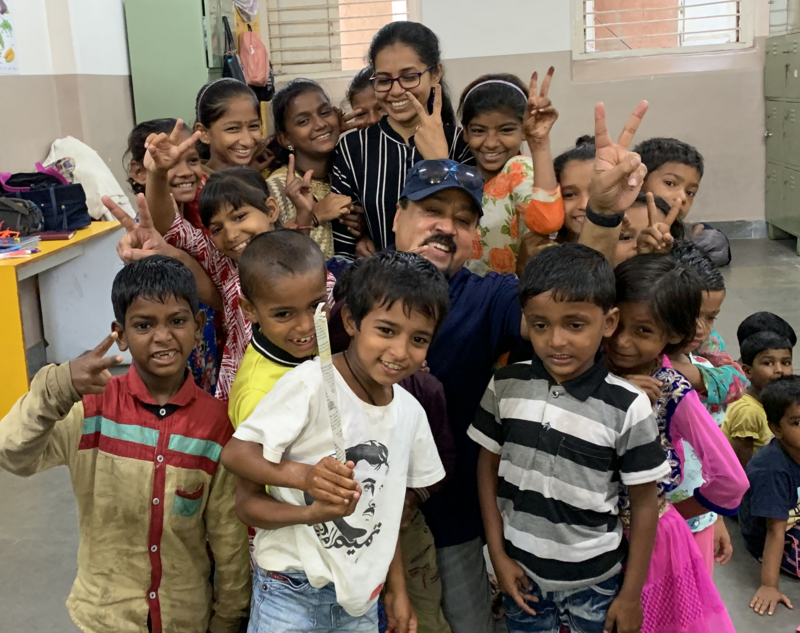 This year, my ask is different for you all. I am asking you to help me connecting to more for the cause of 'quality education for underprivileged children'.
Keep reading to know more on how you can help...
Let's try to resume the learning back for rural & suburban children with no access to online learning. Let's do our best to reduce digital divide in India and also here in USA
We all know CORONA has devastated the world, with over 170 million cases and 4 million deaths to date. But after more than a year of heartbreaking loss, there's some hope on the horizon.
Except that's not the whole story, and not all are so fortunate.
The elementary schools in rural India are shut for more than year and half. The LEARNING for these children has stopped - they are now one year behind. Barring the work being done by NGOs to go to door-to-door or run some community school, they don't have access to any education. Vibha partners are doing a great job so far in getting ahead and work towards bringing the focus back on EDUCATION. We are also working feverishly to get them access to digital devices and content.
We're going to help them.
YOUR MISSION:
I am planning to raise $25,000 to help these children . These funds will provide for
Bringing the children back to school/community school
Provide educational material to them
Reduce Digital Divide
Provide Food Security and Vaccine Awareness
MY WISH:
So, here's the deal: we want you to get OTHERS to donate to your fundraiser page!
Create a Fundraising page for you, and get 5 friends, family members or others to donate a minimum of $20 each. To create a fundraising team, click the FUNDRAISE button on my campaign. Once you create the fundraiser, I will donate $25 to your fundraiser.
There is no minimum amount to donate , but let's all please encourage others to be generous so we can make a profound impact. Please send me a screenshot of your page with a minimum of 5 donations on it and I will donate to your page too.
WHAT YOUR DONATIONS DO:
The funds raised through the Dream Mile go towards supporting child educational projects in India and the USA – education & food security, post COVID-19 relief efforts, orphan support etc. In addition it will support local beneficiaries of the Dream Mile host cities like the Children's Hospital of Atlanta, Communities In Schools Chicago, Inspiredu Atlanta, and School on Wheels, Massachusetts. Over the years, the The Dream Mile has supported more than 180,000 children.
The COVID-19 virus may be tiny, but it hit the world hard. Now, it's our turn to use this tiny TASK to fight back and make a big impact! Because if this last year has taught us anything, it's that we are all connected — and we're not okay until we're all okay. From the bottom of my heart, thank you.
All donations to Vibha are tax deductible. Vibha is a charitable trust registered under section 80G of the Income Tax Act of India. In the US, Vibha is a 501(c)(3) organization, registered in the USA in the State of New Jersey. Vibha's Tax ID is 22-3122761.
The Dream Mile (DM) is Vibha's Flagship Run / Walk Fundraiser event, with an anticipated participation of 5000+ patrons across the world. The Dream Mile originated in 1998 in Atlanta and then quickly became a permanent fixture on the calendars of runners in various cities in USA and India. This year the race will be held in person at various cities in the USA, India and also virtually.
Register for The Dream Mile. Run or Walk a few miles for a million dreams. You can register at https://dreammile.org/
About Vibha
Vibha's vision is to ensure every underprivileged attains quality education. Vibha educates, enables and empowers, individuals who wish to make a positive impact on the lives of underprivileged children. Since our inception in 1991, Vibha has supported more than 250 projects in India and 10 projects in the US. As a result, Vibha has been able to reach out to and provide opportunities for over 2.3 million underprivileged children. Currently, Vibha supports 15 projects in India and 3 projects in the US.
All donations to Vibha are tax deductible. Vibha is a 501(c)(3) organization, registered in the USA in the State of New Jersey. Vibha's Tax ID is 22-3122761.
Goal
Loading...
Thank You Donors
| | |
| --- | --- |
| Anonymous | $1,000 |
| RJ Cummings | $1,000 |
| Durgesh's Facebook Campaign | $2,500 |
| Anonymous | $360 |
| Shama Navalkar | $25 |
| Anonymous | $200 |
| Sachi Pati | $200 |
| Anonymous | $1,000 |
| Anonymous | $1,000 |
| Anonymous | $360 |
| Anonymous | $201 |
| Anonymous | $201 |
| Anonymous | $300 |
| Deborah Zorn | $300 |
| Anonymous | $100 |
| Ramakrishna Gandra | $100 |
| Anonymous | $500 |
| Anonymous | $100 |
| Anonymous | $200 |
| Anonymous | $250 |
| Anonymous | $250 |
| Anonymous | $100 |
| Anonymous | $250 |
| Anonymous | $300 |
| Sagun Tuladhar | $300 |
| Anonymous | $250 |
| Anonymous | $100 |
| Anonymous | $250 |
| Anonymous | $250 |
| Anonymous | $200 |
| Anonymous | $100 |
| Hiren Patel | $500 |
| Pravat Rath | $200 |
| Anonymous | $1,000 |
| Anonymous | $25 |
| Anonymous | $50 |