Cyclone Fani Relief Fund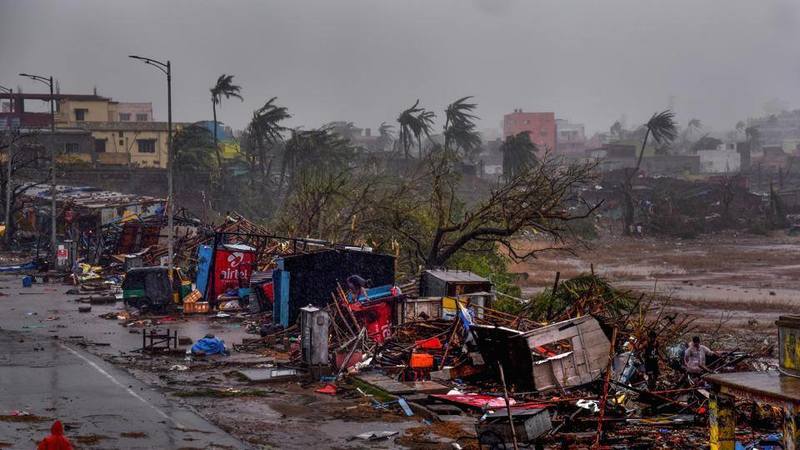 The States of Odisha (Orissa) and West Bengal in India are now facing one of the worst natural disasters in modern history. Cyclone Fani has left more than a million displaced and billions of dollars worth in property and infrastructure damage.

Vibha volunteers across the world stand with the people affected by Cyclone Fani in these testing times and have immediately sanctioned $25,000 towards relief efforts, We are now requesting you to generously donate and join us in helping the people impacted by Cyclone Fani.
What is the 'Cyclone Fani Relief Fund' for?
After the immediate needs of the affected communities are handled by the government agencies, and relief organizations, a long road to recovery, rehabilitation and reconstruction of these communities will start. Schools will have to be reconstructed, libraries restocked, study materials replaced etc. Along with relief efforts, Vibha will leverage its past experience in similar efforts to deploy all funds raised to efforts that will make mid-to-long term impact in the affected communities.
What is Vibha's experience in Disaster Relief and Rehabilitation/Reconstruction efforts?
While Vibha's primary focus is child development, we have actively participated in rehabilitation efforts during catastrophic disasters like the Hurricane Katrina, the Asian Tsunami, Gujarat Earth Quake, Hudhud Cyclone, Chennai Floods Hurricane Harvey in Houston and most recently the Kerala Floods
What is Vibha?
Founded in 1991, Vibha is a completely volunteer driven, Guidestar Gold Rated, 501 c(3) certified, non-political, non-religious, non-profit that focuses on child development efforts in India and the USA.
Are donations to Vibha tax deductible?
Yes they are. Vibha is 501c(3) certified in the US and 80(g) certified with FCRA clearance in India. Vibha's Tax id is 22-3122761.
Can my employer match?
Please check with your HR if you employer matches donations to 501c(3) organizations,. If they do, we highly encourage that you make use of it.
About Vibha
Vibha's vision is to ensure that every underprivileged child attains his, or her right to health, education and opportunity. Vibha educates, enables and empowers, individuals who wish to make a positive impact on the lives of underprivileged children. Since our inception in 1991, Vibha has supported more than 250 projects in India and 10 projects in the US. As a result, Vibha has been able to reach out to and provide opportunities for over 2.3 million underprivileged children. Currently, Vibha supports 30 projects in India and 7 projects in the US.
All donations to Vibha are tax deductible. Vibha is a 501(c)(3) organization, registered in the USA in the State of New Jersey. Vibha's Tax ID is 22-3122761.
Goal
Loading...
Donations
| | |
| --- | --- |
| BHIKHABHAI PATEL | $51 |
| Anonymous | $50 |
| RAHUL SETHI | $10 |
| Ashwini Kovelamudi | $100 |
| Anonymous | $100 |
| Anonymous | $1,000 |
| Anonymous | $101 |
| SATHYA GOURISANKAR | $101 |
| Anonymous | $1,000 |
| Anonymous | $10 |