Celebrate Mothers by Empowering Children!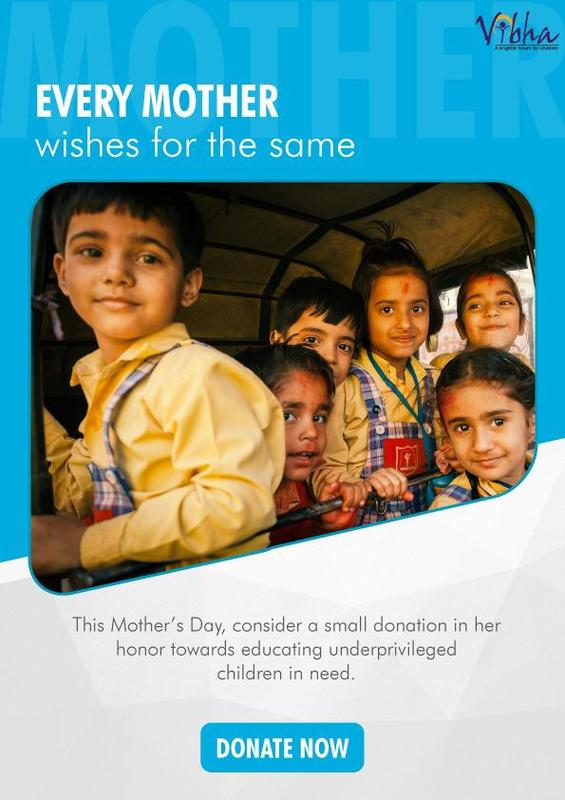 WHAT IF WE RETHINK GIFT-GIVING?
Phyllis Diller once said "I want my children to have all the things I couldn't afford... Then I want to move in with them!"
In spirit of giving this year, celebrate your mom and all of the strong, special women in your life this Mother's Day by making a generous gift in her name that will EDUCATE, ENABLE AND EMPOWER another child!
Your donation will go towards funding educational materials, vocational training, teacher training, setting up libraries, rehabilitation of differently-abled children, basic immunizations and rescue of children from vulnerable situations.

About Vibha
Vibha's vision is to ensure that every underprivileged child attains his, or her right to health, education and opportunity. Vibha educates, enables and empowers, individuals who wish to make a positive impact on the lives of underprivileged children. Since our inception in 1991, Vibha has supported more than 250 projects in India and 10 projects in the US. As a result, Vibha has been able to reach out to and provide opportunities for over 2.3 million underprivileged children. Currently, Vibha supports 30 projects in India and 7 projects in the US.
All donations to Vibha are tax deductible. Vibha is a 501(c)(3) organization, registered in the USA in the State of New Jersey. Vibha's Tax ID is 22-3122761.