Celebrate Dads By Empowering Kids!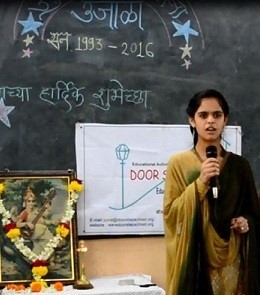 Mehraz Mullani is an intelligent and smart high school student whose journey with Door Step School (DSS) commenced when she was 6 years old. Her parents are construction workers and her family lived in a small room at the construction site. DSS reached out to the children of construction workers in her area, got them enrolled in their school and opened their lives to numerous possibilities ahead by providing a wholesome education inclusive of learning various subjects, drawing, painting, dancing and a number of fun activities geared towards a healthy child development.
When Mehraz turned 7 identifying her academic brilliance, DSS with her parents' permission especially her Father's encouragement, got her enrolled in a full-fledged elementary school. From there on, DSS has been a pillar of support to Mehraz through her life's ups and downs where she has received inexhaustible support to cruise through her difficult subjects in her higher grades, develop her innate talents in music and dance, excel in various extracurriculars such as public speaking and to finally pass out with flying colors in her 10th grade examination. She is eternally grateful and owes all the positive empowering changes in her life to DSS and pays it forward by encouraging every child in her area of residence to get enrolled in a DSS center.
Vibha - Door Step School partnership began in 2006. DSS provides education to construction workers' children through' Balwadi, NFE classes & Study classes at Pune. They work with the age group of 0 to 14 on developing basic academic foundation and making children school ready. The children are later enrolled into the government schools and mainstreamed into formal education system. Vibha has also been involved in an advisory role with DSS. Till date more than 56,000 children have been impacted from 576 construction sites.
This Father's Day, how about making more stories like Mehraz's possible? If you are still looking for that perfect last minute Father's Day present, we request you to make a donation in the honor of your dad and help us address the needs of many more students like Mehraz.
About Vibha
Vibha's vision is to ensure that every underprivileged child attains his, or her right to health, education and opportunity. Vibha educates, enables and empowers, individuals who wish to make a positive impact on the lives of underprivileged children. Since our inception in 1991, Vibha has supported more than 250 projects in India and 10 projects in the US. As a result, Vibha has been able to reach out to and provide opportunities for over 2.3 million underprivileged children. Currently, Vibha supports 30 projects in India and 7 projects in the US.
All donations to Vibha are tax deductible. Vibha is a 501(c)(3) organization, registered in the USA in the State of New Jersey. Vibha's Tax ID is 22-3122761.
Goal
Loading...
Donations
| | |
| --- | --- |
| Vinay Chawla | $100 |
| Anonymous | $10 |