Vibha Bengaluru Dream Mile 2018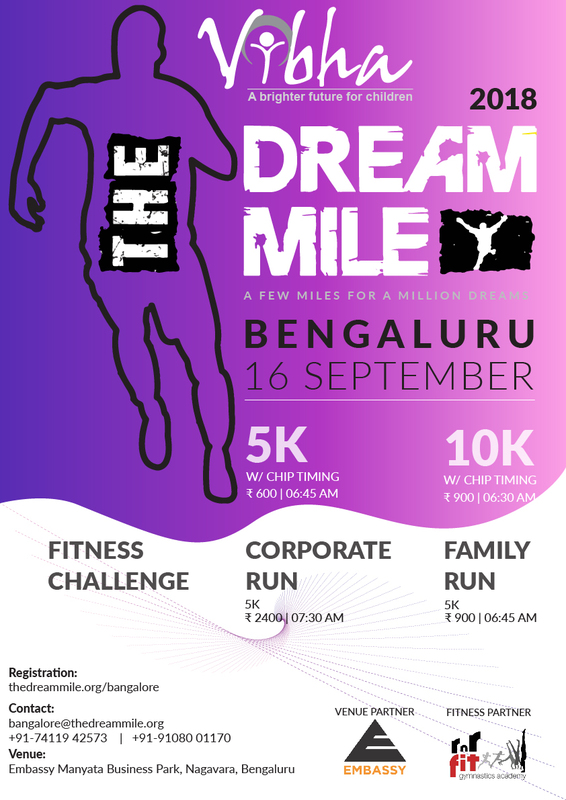 The Dream Mile is the flagship event in Vibha's continued efforts to increase awareness about the plight of underprivileged children. It has come a long way since its inception in 1998. It has grown from being a small event attended primarily by volunteers and friends to a permanent fixture on the calendars of runners in the various cities in America and India. The increasing participation and enthusiasm for this event just goes to show how strongly people feel about the cause of underprivileged children. The Bengaluru chapter is hosting it's 6th edition of Dream Mile 5k,10k walk-run/Family run/Corporate run/India fit challenge- on September 16th,2018.
1. Come and Participate in our Dream Mile: Run or Walk a few miles for a few smiles on Sept 16th, 2018! You can register for the race here
2. Donate to our Pledge Drive: Every year we, the Vibha volunteers pledgeto raise funds and awareness for Vibha's mission. You can also be a part of this solution by donating and supporting the Pledges. No amount is too small (or too big!) to donate. Your dollar goes a long way!
To donate, please click on the "Donate" button.
Tell your friend/family about this awesome gesture of yours by sharing the above link and spreading the word about the Pledge Drive! Help us in getting the word out!
Check with your company if they do Matching Donations/Volunteering hours. It will double up your donation.
3. Become a fundraiser and start your own pledge today! You can either start your own pledge drive or tag along with an already existing volunteer on their team. Click on the "Fundraise" button and follow the steps along to create your own Pledge Page.
As always, a Heartfelt Thank You for your Support!!
About Vibha
Vibha's vision is to ensure that every underprivileged child attains his, or her right to health, education and opportunity. Vibha educates, enables and empowers, individuals who wish to make a positive impact on the lives of underprivileged children. Since our inception in 1991, Vibha has supported more than 250 projects in India and 10 projects in the US. As a result, Vibha has been able to reach out to and provide opportunities for over 2.3 million underprivileged children. Currently, Vibha supports 30 projects in India and 7 projects in the US.
All donations to Vibha are tax deductible. Vibha is a charitable trust registered under section 80G of the Income Tax Act of India.