Rama's Maiden Half Marathon

After a 15 year run hiatus, I started running again July of 2019 after a random conversation with my family about the upcoming Dream Mile event. This is the first year that Vibha is introducing Half Marathon as a part of Dream Mile and for me "If not Vibha what else would motivate me for taking this up" .
So I started in July with one goal, no stamina and no endurance. As I started running and getting into my 7/8th mile I guess my age factor kicked in and all I could think of was Can I do this?? Why am I doing this? There were only 2 things that kept me going :
1) I need to do this : Not for me but to motivate my kids and others around
2) Why am I doing this : For VIbha and what better reason than that.
With that in mind I am setting up a pledge page for $26,200 for the 13.1 miles that I am taking up as a challenge.
I am hoping to reach BOTH the GOALS With your Love and Support.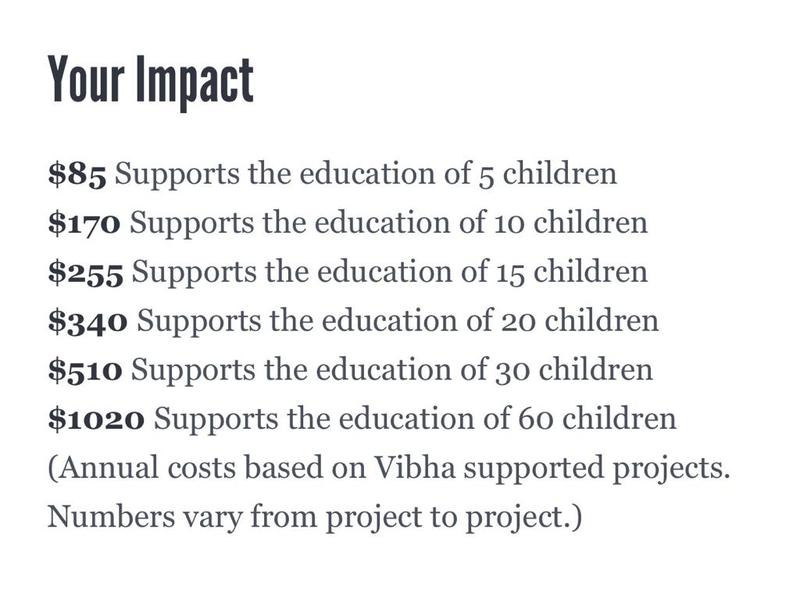 The DREAM MILE is the flagship event in Vibha's continued efforts to increase awareness about the plight of underprivileged children. It was started in 1998 in Atlanta and quickly became a permanent fixture on the calendars of runners in the various cities in America. The Atlanta chapter is hosting it's 21st edition of The Dream Mile 5k/10k walk/run- on Sunday September 22nd, 2019 at Collection at Forsyth, Cumming, GA. We are introducing Half Marathon this year. We are expecting 3000+ participants this year.
Since 1991, Vibha has reached out to many children through 250 projects in India and 10 projects in the US. Proceeds of this event will benefit child development projects for underprivileged children in India and part of the proceeds go to the Children's Healthcare of Atlanta.
As always, a Heartfelt Thank You for your Support!!
About Vibha
Vibha's vision is to ensure that every underprivileged child attains his, or her right to health, education and opportunity. Vibha educates, enables and empowers, individuals who wish to make a positive impact on the lives of underprivileged children. Since our inception in 1991, Vibha has supported more than 250 projects in India and 10 projects in the US. As a result, Vibha has been able to reach out to and provide opportunities for over 2.3 million underprivileged children. Currently, Vibha supports 30 projects in India and 7 projects in the US.
All donations to Vibha are tax deductible. Vibha is a 501(c)(3) organization, registered in the USA in the State of New Jersey. Vibha's Tax ID is 22-3122761.
Goal
Loading...
Donations
| | |
| --- | --- |
| Anonymous | $500 |
| Santosh Reddimalli | $500 |
| Anonymous | $1,500 |
| Anonymous | $1,500 |
| Tulasi Vanapalli | $100 |
| Siva Atchaiah | $300 |
| Vinod Penmetsa | $250 |
| Krishna Vishnubhatla | $85 |
| Anonymous | $150 |
| Sphurthy Bandi | $100 |
| Yuvan Kro | $150 |
| Manoj Mulpuri | $370 |
| Kanthi Kondreddi | $100 |
| Venkata Mulpuru | $370 |
| Ramesh Ravi | $100 |
| Anonymous | $100 |
| Anonymous | $255 |
| Rama Balachandran | $35 |
| Anonymous | $25 |
| Srinivasulu Vangimalla | $100 |
| Sangeetha Baburam | $85 |
| Anonymous | $100 |
| Pavan Penmetsa | $100 |
| Bindu Devarapalli | $100 |
| Vijaya Kalagara | $100 |
| Kanthi Kondreddi | $100 |
| Kusuma Kotte | $177 |
| P B Rao | $170 |
| Sangeetha Rukkannagari | $100 |
| Prashanti & Vijay Madineni | $1,000 |
| Anonymous | $255 |
| Sahithi Atluru | $50 |
| Anonymous | $50 |
| Neelima Surapaneni | $100 |
| Anonymous | $1,500 |
| Sowmya Kaza | $100 |
| Anonymous | $500 |
| brahmini challagulla | $255 |
| Manoraghava Ponnam | $500 |
| Anonymous | $25 |
| Anonymous | $500 |
| Anonymous | $250 |
| Nagesh Potluri | $500 |
| Anonymous | $50 |
| Manoraghava Ponnam | $500 |
| Anonymous | $100 |
| Deepthi Katta | $100 |
| Sabyasachi Kar | $50 |
| Raghavendra Rao Gudipudi | $116 |
| Jayaram Bobba | $250 |
| Dr.Seshu Sarma | $251 |
| Venkat Kanchumarthy | $116 |
| Vikas Bagga | $30 |
| Vikas Bagga | $21 |
| Narahari Kodali | $100 |
| Anonymous | $200 |
| Bapu Aluri | $100 |
| Ajay Kotta | $100 |
| Anonymous | $100 |
| Sinha Family | $500 |
| Sujani Gogineni | $111 |
| Anonymous | $250 |
| Rajesh Kakarla | $21 |
| RAJESH KAKARLA | $21 |
| Kalyan Ponnam | $100 |
| Anonymous | $150 |
| Rao GV | $100 |
| Ravi Bhagam | $100 |
| Usha Mandava | $75 |
| Anonymous | $170 |
| Anonymous | $100 |
| Chakrapani Kankanala | $100 |
| MOHAN & RAJYAM BK | $1,020 |
| Srinivas Kadiyala | $350 |
| SUDHAKAR REDDY MUKKARA | $100 |
| Anonymous | $50 |
| Subba Karnati | $50 |
| Hanumanth Karusala | $170 |
| Ven Guntaka | $58 |
| Anonymous | $100 |
| Vani Yadla | $500 |
| Sparsha Kukunoor | $100 |
| Vimala Balusu | $100 |
| Srinivas Muddana | $100 |
| Anonymous | $50 |
| Phani Tummala | $540 |
| Anonymous | $100 |
| Rushyant Mulpuri | $1,000 |
| Kajendran Jayaraman | $50 |
| Neelima Koganti | $100 |
| Eswaraprasad Dontu | $255 |
| Anonymous | $200 |
| Sannala Srinivas | $85 |
| Anonymous | $450 |
| Prasoona Kota | $100 |
| Veera Javvadi | $100 |
| Gowri Edupuganti | $100 |
| Venkatarama Reddy & Madhavi Sabbella | $510 |
| Sivarama Sunkara | $340 |
| Sairam Surapaneni | $255 |
| Vinay Thotakura | $450 |
| Subbarao Boppana | $300 |
| Shikha Kante | $50 |
| Anonymous | $200 |
| Anonymous | ₹4,000 |
| Anonymous | $510 |
| Akarsh Kotagiri | ₹5,000 |
| Subba Gudavalli | $250 |
| Mallesh Yarlagadda | $200 |
| Vidya Inaganti | $250 |
| Ramesh CHAPARALA | $250 |
| gurinder rathore | $50 |
| Venkat Adusumilli | $100 |
| Anonymous | $100 |
| Ram Alluri | $250 |