Vibha Atlanta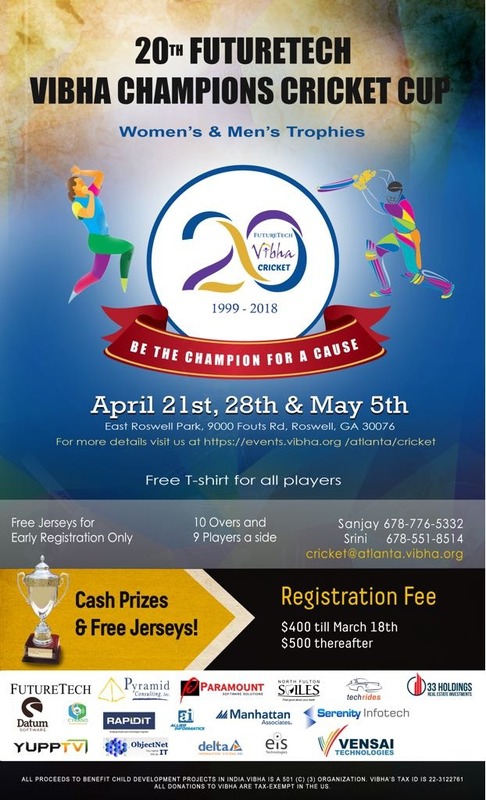 In the year 1999 a handful of young and energetic individuals with an appetite for philanthropy and love for cricket decided to host the first Cricket tournament in Atlanta to raise money for underprivileged kids. What started as a humble effort 20 years ago has now grown to become a very popular and privileged cricket tournament in Atlanta.
VIBHA is back with the FutureTech Vibha Champions Cricket Cup, the tournament you all have been waiting for. Bring your gear out, hit the practice grounds, and get ready for scintillating cricket in pleasant Spring weather!. The tournament will be held at East Roswell and Waller Park Extension Parks in Roswell, GA over three consecutive Saturdays in April starting on the 21st. All the teams will play in a knock out tournament and top two teams will compete for the FutureTech Vibha Champions Cricket Cup.
To mark 20th year, Vibha has set upa a target to raise 100K through this event.As you cheer every six and four by your favorite team in their quest for the Vibha FutureTech Cricket Cup, take a moment to think about millions of underprivileged children around the globe. For them every day is a challenge bigger than the last, as they struggle for their basic needs such as food and shelter. But what if you could combine your passion for cricket with a desire to help these children in need?
So pick your favorite team, open up your wallets and and pledge an amount wishing for their success!
About Vibha
Vibha's vision is to ensure that every underprivileged child attains his, or her right to health, education and opportunity. Vibha educates, enables and empowers, individuals who wish to make a positive impact on the lives of underprivileged children. Since our inception in 1991, Vibha has supported more than 250 projects in India and 10 projects in the US. As a result, Vibha has been able to reach out to and provide opportunities for over 2.3 million underprivileged children. Currently, Vibha supports 30 projects in India and 7 projects in the US.
All donations to Vibha are tax deductible. Vibha is a 501(c)(3) organization, registered in the USA in the State of New Jersey. Vibha's Tax ID is 22-3122761.
Goal
Loading...
Donations
| | |
| --- | --- |
| Apparao Kavuri | $500 |
| Krishna Vishnubhatla | $100 |
| Anonymous | $100 |
| Prinesh Patel | $100 |
| Venkat Kanchumarthy | $116 |
| Ravi Kalla | $1,500 |
| Jagan Vemula | $150 |
| Ram Alluri | $500 |
| Kalyan Chanda | $50 |
| Paul Raj | $50 |
| Anonymous | $200 |
| Muthu Kandasamy | $25 |
| Ram Karanam | $100 |
| Sudhakar Reddy Mukkara | $100 |
| Anonymous | $150 |
| Venkata R Guntaka | $200 |
| Venkatarama reddy Sabbella | $500 |
| Reddi Settipalli | $500 |
| Sunanda Kambham | $200 |
| sindura vemulpalli | $650 |
| Anonymous | $115 |
| Anonymous | $100 |
| Anonymous | $150 |
| Anonymous | $150 |
| Anonymous | $150 |
| Chakrapani Kankanala | $100 |
| Scot sherman | $100 |
| Ramesh Srinivasan | $1,000 |
| Anonymous | $50 |
| Chandra Solipuram (SAP Match) | $300 |
| Chandra Solipuram | $300 |
| Anonymous | $100 |
| kalyan chigurupati | $500 |
| Sunil Shortiya | $100 |
| Bhaskar Gaddam | $20 |
| Sowmya Maya | $25 |
| Srinivas Kadiyala | $100 |
| Nidhi Kharbanda | $50 |
| Dharma Pitta | $150 |
| Sridevi Pingle | $50 |
| Sudheer Tummala | $100 |
| Vincent Voravong | $30 |
| Siva Athiyappan | $500 |
| Anonymous | $20 |
| Shreesh Rao | $50 |
| Anonymous | $150 |
| Anonymous | $150 |
| Anonymous | $50 |
| Anonymous | $150 |
| Anonymous | $100 |
| Anonymous | $150 |
| Anonymous | $150 |
| Anonymous | $200 |
| Subbarao Boppana | $500 |
| Anonymous | $30 |
| Sanjay Singhal | $100 |
| Ninad Patil | $100 |
| Vijay Shinde | $100 |
| Deep Sharma | $100 |
| Gokulnath Venkatraman | $100 |
| Avi Deshmukh | $200 |
| Verizon Match | $100 |
| Anonymous | $400 |
| Verizon Match | $750 |
| Hari Premnath | $100 |
| Raja Chirumamilla | $500 |
| Rekha Sawant | $20 |
| Padma Ganne | $301 |
| Padma Ganne | $84 |
| Prerana Sharma | $216 |
| Anonymous | $100 |
| Michael Kaine | $25 |
| Reena Vashist | $20 |
| Raja Kandru | $500 |
| Murthy Varanasi | $100 |
| Rajesh Upadhayay | $51 |
| JL Kharbanda | ₹2,000 |
| SriRevathyPriya Nallasamy | $100 |
| Zalak Thakkar | $30 |
| Ruchi Rastogi | $300 |
| Jyoti Jain | $20 |
| Lakshmi Vedala | $100 |
| Prasad Jampala | $50 |
| Prasad Jampala | $150 |
| Dijjotam Raina | $500 |
| Kanchan Bhandari | $102 |
| Anonymous | $17 |
| Vasavi Tatavarti | $17 |
| Nimir Desai | $100 |
| Toshi Naik | $20 |
| Anonymous | $20 |
| Ravindra Divi | $100 |
| Smita Yellamraju | $100 |
| Anonymous | $20 |
| Krishna Vemulapalli | $20 |
| Vijay Vemupalli | $200 |
| Ruchi Tewari | $50 |
| Srinivas Bitra | $500 |
| SRIDEVI UPPARCHINTA | $200 |
| Anonymous | $232 |
| Anonymous | $1,000 |
| Bhushan Dommeti | $1,000 |
| sunanda Khambam | $200 |
| Rob Thomas | $250 |
| Anonymous | $50 |
| Anonymous | $1,000 |
| Ponsasi Kumar Krishnaswamy | $50 |
| Satya Rudrakshala | $35 |
| Samatha Tumu | $10 |
| Indu Vishwakarma | $25 |
| Lakshmi Dodda | $50 |
| Anonymous | $20 |
| Raghu Govindaraj | $200 |
| Chandrashekar Laveti | $50 |
| Sijil Oommen | $100 |
| Ela Govindasamy | $1,000 |
| Vivek Velmurugan | $100 |
| Kannan Venkateswaran | $600 |
| Ganesh Nambiattil | $500 |
| Gerald Chinnappan | $1,000 |
| Rama Jonnalagadda | $25 |
| Anonymous | $20 |
| Gautam Patel | $21 |
| Snehal Patel | $35 |
| Venkatreddy Tellapur | $50 |
| Subba Karnati | $100 |
| Suresh Sonkavelly | $60 |
| Ravi Talla | $25 |
| Prasanth Masina | $500 |
| Lakshmi Vedala | $400 |
| Mohan Mullapudi | $600 |
| Mohan Mullapudi | $600 |
| Eswaraiah Ganjikunta | $500 |
| MUNMUN MOHANTY | $20 |
| Srikrishna Posa | $25 |
| Vijay Vemulapalli | $250 |
| Anonymous | $100 |
| Venkat Burri | $20 |
| Anil Jagarlamudi | $50 |
| Vijay vemulapalli | $250 |
| Prasanth Masina - ICE Match | $500 |
| Prasad Tarkas | $50 |
| Raghu Kolluri | $50 |
| Sachi Pati | $25 |
| Srimadhavi Cholleti | $20 |
| Poulomi Dasgupta | $50 |
| Sayibabu Ventarapragada | $50 |
| shylendra pandravisam | $10 |
| Vijay Vemulapalli | $250 |
| Rajesh Adama | $50 |
| Vani Rajanala | $100 |
| Lakshmi Vedala | $100 |
| Mahesh Pawar | $50 |
| Vijay Vemulapalli | $250 |
| Madhavi Rekkapalli | $116 |
| Madhavi Rekkapalli | $116 |
| Kiran Manchikanti | $50 |
| Anonymous | $50 |
| Anonymous | $20 |
| Amrit Ghosh | $51 |
| Vasanta Kolacharla | $100 |
| Padma Ganne | $400 |
| Durgesh Das | $150 |
| Naveena Divi | $100 |
| Smitha Muddana | $255 |
| Smita Muddana | $150 |
| Sirisha Lingareddy | $100 |
| Hyma Yerneni | $100 |
| Radhika Tummala | $100 |
| Naveena Divi | $100 |
| Karthika Pulasani | $100 |
| Aneela Kandru | $100 |
| Roochu Shah | $100 |
| Anonymous | $10 |
| Sandesh Shinde | $50 |
| Tanuja Sathiraj | $51 |
| Anonymous | $1,000 |
| Nagarajan Dhandapani | $101 |
| Anonymous | $200 |
| Anonymous | $4,000 |
| Kajal Makhijani | $25 |
| coneti girimohan | $201 |
| David Zeigler | $50 |
| Anonymous | $500 |
| Gary Gordon | $100 |
| Durgesh Das - ICE Match | $100 |
| Harini kota | $10 |
| Shreesh Rao | $50 |
| Anonymous | $20 |
| Amrutha Paturu | $50 |
| Siddhu Chukkapalli | $200 |
| supriya Mallineni | $200 |
| Nagini Vemuri | $200 |
| Surashmi Gupta | $10 |
| Carol McIlvaine | $25 |
| Sajjan Sarkar | $25 |
| Sachin Jain | $25 |
| Atul Chouhan | $150 |
| Jigishu Dhabuwala | $100 |
| Kiran shetty | $200 |
| Anonymous | $10 |
| Anj Balusu | $500 |
| Narendra Singh | ₹2,500 |
| Sugandha Kotru | $10 |
| Nidhi Kharbanda | $44 |
Fundraisers for Vibha Atlanta