A Ray of Light in the COVID-19 Crisis - Vibha Bay Area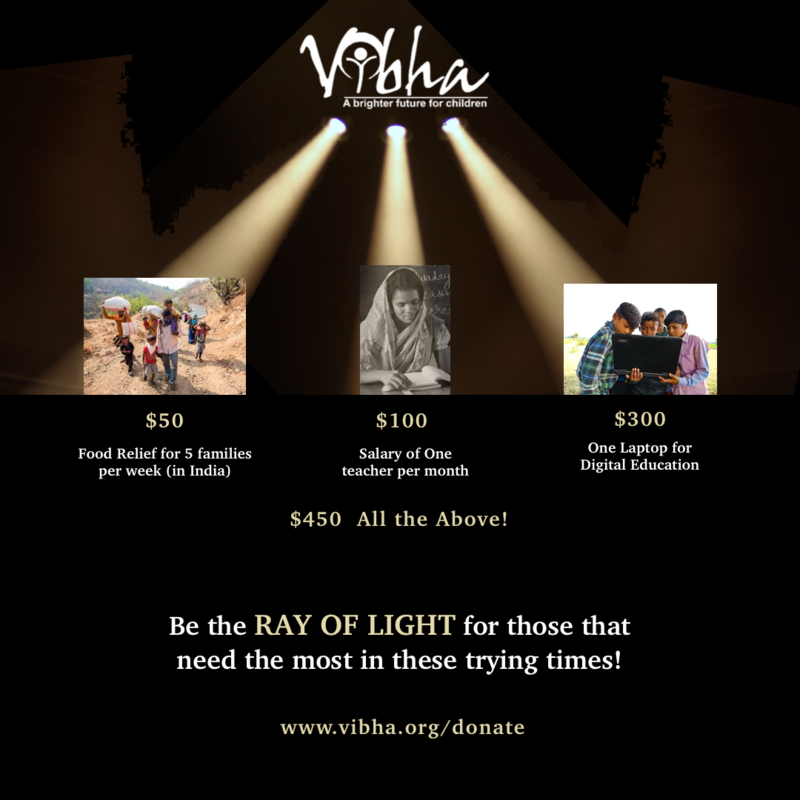 Vibha - A Ray of Light – continues to bring brightness in these challenging times ! Through our partner projects in India, we are providing immediate food assistance to migrant laborers and their families. We have given all of our 25 grassroots partners in India a steadfast commitment to continue funding salaries for their teachers and field staff through this pandemic. All our partner projects are actively participating in the COVID-19 relief efforts while staying safe by adhering to Government regulations.
We will continue to focus on education as soon as the schools open up in India after the COVID-19 situation improves. In times like this, access to Digital tools and programs has become evident. We recently delivered 50 laptops and funded 130 chrome books for children from low income refugee families in Atlanta.
Keeping the safety of each and every volunteer, donor and participants, we have cancelled all of our fundraising events – The Dream Mile, Vibe, Cricket Tournaments, concerts and many more. But the needs of our beneficiaries have increased during these times.
We absolutely need your support now! More than Ever !!
Your direct donation helps us provide support to underprivileged children in India and the US.
$50 - Immediate Food Relief for 5 families per week (in India)
$100 - Salary of One teacher per month
$300 - One Laptop for Digital Education
$450 - All the Above!
Together, we have always risen to the occasion whenever a disaster has struck! Let us come together one more time and show our collective generosity and make a big difference. Let us come out stronger through this pandemic!
***20% of the funds will be donated to local food programs and digital education efforts in disadvantaged schools/communities in USA.
About Vibha
Vibha's vision is to ensure every underprivileged attains quality education. Vibha educates, enables and empowers, individuals who wish to make a positive impact on the lives of underprivileged children. Since our inception in 1991, Vibha has supported more than 250 projects in India and 10 projects in the US. As a result, Vibha has been able to reach out to and provide opportunities for over 2.3 million underprivileged children. Currently, Vibha supports 15 projects in India and 3 projects in the US.
All donations to Vibha are tax deductible. Vibha is a 501(c)(3) organization, registered in the USA in the State of New Jersey. Vibha's Tax ID is 22-3122761.
Goal
Loading...
Thank You Donors
| | |
| --- | --- |
| Deepak Chandrasekaran | $1,000 |