Sahana and Araya's Dance Class For Charity
Sahana and Araya's Dance Class For Charity
Hey Everyone!!! We are Araya and Sahana, 14-year-old cousin sisters. Araya studying in Podar international and Sahana in Bombay Scottish School. When we heard about the teens all around us raising money, we thought we should do the same except in a different way. We wanted to raise money without any capital going into the effort, the only donation being out time.
We are dancers at the School of Classical Ballet and Western Dance and have been dancing for 8 years. So we decided to start a dance class of our own with 100% of the fees [and the extra donations we managed to get :) ] going to Covid relief. To our surprise we got many participants, and a lot of generous donations. Apart from the people we knew, many newcomers also joined the class.
The classes were conducted via zoom. Since we were new teachers, it was a challenge we had to overcome. The children we taught belonged to age group 5-10 and we adored their excitement which was a catalyst to our own. At the end we managed to raise 47,600 INR which was way beyond our expectation! Our goal was only 10,000 INR. It was an electrifying experience! It has inspired us to make this a practice every vacation.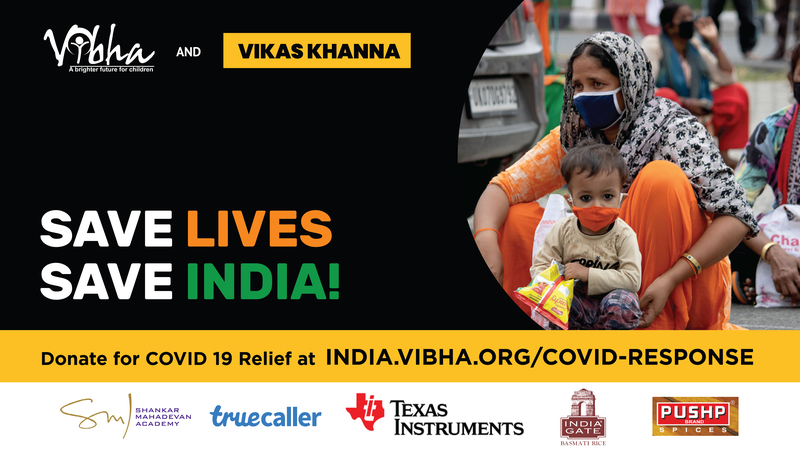 India is facing a dangerous surge in new COVID-19 infections. It is overwhelming the healthcare system of the nation leaving many families with no medical assistance. The lockdowns are impacting the livelihoods and basic food supplies for millions of families.

As our efforts increase to reach more and more of affected families, we know you have stepped up before and you will again. We absolutely need your support now more than Ever! And we and our project partners appreciate it more than ever. The need is immense! Please Donate !!
$800K disbursed for COVID relief
$650k - Partnered with Texas Instruments and Govt. of Karnataka to set up a 100-bed modular hospital in Bengaluru
1100 oxygen concentrators procured. First batch distributed to Ambedkarnagar (UP), Meerut (UP), Srungavarapukota (AP), Beed (Maharashtra), Bengaluru (Karnataka), Beawar (Rajasthan)
25k PPE kits, 240k masks and 180k gloves procured
Vaccination clinics in planning
About Vibha
Vibha's vision is to ensure that every underprivileged child attains his, or her right to health, education and opportunity. Vibha educates, enables and empowers, individuals who wish to make a positive impact on the lives of underprivileged children. Since our inception in 1991, Vibha has supported more than 250 projects in India and 10 projects in the US. As a result, Vibha has been able to reach out to and provide opportunities for over 2.3 million underprivileged children. Currently, Vibha supports 30 projects in India and 7 projects in the US.
All donations to Vibha are tax deductible. Vibha is a charitable trust registered under section 80G of the Income Tax Act of India.
Goal
Loading...
Thank You Donors
| | |
| --- | --- |
| Jasmine Vastani | ₹23,800 |
| Sohel Kamdar | ₹23,800 |