Nandini and Surya dance for Vibha's Vibe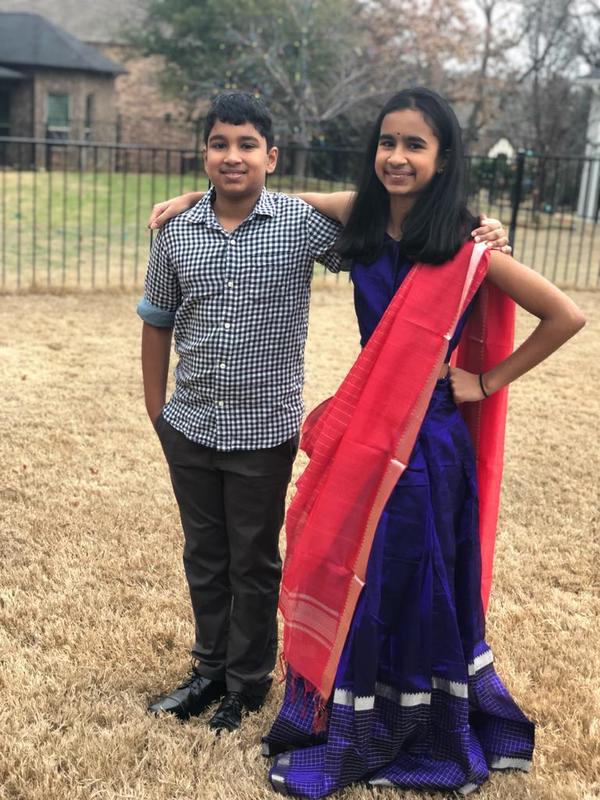 Dear friend:
As middle school-ers, in spite of everything that we would like to complain about, we must admit that School is FUN! That is where we met our best friends and have a great time learning alongside them. We would like the same for others who might not be as fortunate as us.
This year, through Vibha, we hope to help at least 500 children get to school and stay there.
We hope you will join us to help us support underprivileged children in getting to school and see how much fun it can be to learn, explore and make new friends.
Just $17 can support a child for an entire year. Even small donations can make a huge impact.
Thank you for your time and consideration!
Oh! By the way, we are also participating in an exciting fund raiser by Vibha – Vibe 2020. Links below if you would like to learn more.
Vibha: https://www.vibha.org/
Vibe 2020: https://campaigns.vibha.org/ca...
About Vibha
Vibha's vision is to ensure that every underprivileged child attains his, or her right to health, education and opportunity. Vibha educates, enables and empowers, individuals who wish to make a positive impact on the lives of underprivileged children. Since our inception in 1991, Vibha has supported more than 250 projects in India and 10 projects in the US. As a result, Vibha has been able to reach out to and provide opportunities for over 2.3 million underprivileged children. Currently, Vibha supports 30 projects in India and 7 projects in the US.
All donations to Vibha are tax deductible. Vibha is a 501(c)(3) organization, registered in the USA in the State of New Jersey. Vibha's Tax ID is 22-3122761.
Goal
Loading...
Thank You Donors
| | |
| --- | --- |
| Rajinder Bal | $50 |
| Anonymous | $25 |
| Anonymous | $2,760 |
| Anonymous | $1,380 |
| Anonymous | $51 |
| Padma Srinivasan | $25 |
| Hima Maligireddy | $50 |
| Anonymous | $1,000 |
| Anonymous | $1,000 |
| Satya Baddipudi | $50 |
| Srividya Papineni | $50 |
| Anonymous | $25 |
| Sateesh Yalamanchili | $50 |
| Laxmi Prasad | $50 |
| Subha Thathineni Prakash | $101 |
| Anonymous | $50 |
| Malleshwari Reddy | $20 |
| Anonymous | $51 |
| Sunil Gottipati | $102 |
| Chaitanya Venamadala | $50 |
| Naresh Reddy Voladri | $50 |
| Anonymous | $51 |
| Sreedevi Marthala | $17 |
| Sridevi palacharla | $50 |
| Hari Avula | $30 |
| srilatha Kandi | $101 |
| sai challa | $34 |
| Anonymous | $500 |
| SURESH KURRA | $51 |
| Anonymous | $100 |
| Anonymous | $30 |
| Anonymous | $250 |
| Keerthi Vyas | $85 |
| Partha Abd | $25 |
| Anonymous | $51 |
| Anonymous | $1,000 |
| Anonymous | $1,000 |
| Bhoopal Reddy | $25 |
| Jayshree Khatri | $25 |
| Anonymous | $100 |